Fun50couple-NEWS
Hello Sexy Friends, Its Valentine's Day! Have a good one! What have we been up to? Well apart from developing our websites and adding new products to the FUN-FIVE-0 portfolio, we've been touring again, this time to Edinburgh. Many of you will know we escorted across Scotland for years before moving back down south to England in 2016; we have many friends and 'irregular regular' clients north of the Border. Despite trailing the tour well in advance we were surprised by the number of former clients who contacted us while we were there saying they weren't aware we were coming.  So, we shall have to tweak our advertising, and run another tour in the Spring. The new Queensferry Crosssing is looking impressive and set to open in the next few months…we shall time our next visit so we can take a drive over the new bridge soon after its commissioning. The view from our hotel was spectacular, highlighted by snow on the Ochil's and very cold outside, but HOT as usual in the bedroom. We met old friends and a couple of newbies…both younger fellas, Read more in fun50couple-SCREWS. We've booked more tours including Wirral/Merseyside next week, London in early March, and London again at the beginning of April followed by Poole in Dorset. While in London, we shall be spending time at the Barnet Bastille, learning more BDSM skills from Miss Kitty.
Fun50couple-VIEWS
Some of you will have seen we ran a competition to coincide with February 14th aka THE BIG DAY. Numbers of entries were disappointing, (why can't people be bothered?!?! 🙁 )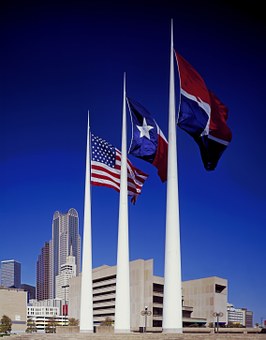 However, we have a winner @whatatangerine, who resides in Austin TEXAS, USA. Well done George!  This year there's been even more hype due to the release of Fifty Shades Darker…we're going to see the film tonight in Sunderland…all in the line of duty of course! Maybe we should all go while we can, before the PC brigade/UK censors get their way in the name of 'protecting children' and forbid responsible consenting adults to see such films. Like most informed members of the Adult Industry we are dismayed by legislation coming into force shortly imposed by the Digital Economy Act, and other measures, designed to restrict our choices and liberty.  Rest assured we shall find ways around it. There's yet another FSG film sequel due for release NEXT YEAR I believe….like everything else the money men are bleeding the brand to death....The one POSITIVE thing which comes out of all this exposure is that more and more folk are exploring their sexuality which is good for them, and good for our industry, stay tuned 🙂
Fun50couple-SCREWS
You'll see NEWS VIEWS n SCREWS this issue is a little shorter than usual, due to our hectic tour schedules and work on FUN-FIVE-0 taking up so much of our time. We really do need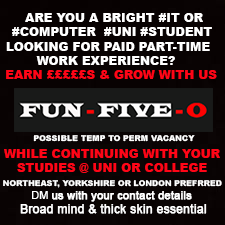 another bod to help on website development, ideally a keen young 'Generation Z' IT or computer science uni student. (Click image for full job description) Who we hope to find is some-one reasonably local to us in the North East or London, looking for part-time 'course relevant' paid work experience. I recently discovered a new 'Academy' in Newcastle developed especially for graduates who can't find a suitable job due to lack of work experience. The academy helps by putting graduates to work on temporary consulting projects, opening doors to more permanent work. You can imagine our frustration listening to endless tales of woe about student debt and employ-ability, yet not (to date) receiving a single applicant! 🙁  It just goes to show there's still a mountain of hostility towards the adult business out there, and a lack of initiative and/or sense of responsibility from so many of our young people; Folks….if you personally know a keen IT/computer student who could use around eighty quid a week to start, in return for 5-6 hours work weekly then please send them our way. The adult business is a 250 billion dollar industry worldwide, £250 million a year here in the UK and expanding. We hope to find some-one who'll want to grow alongside us at FUN-FIVE-0, with a strong prospect of well-paid full time work upon graduation.
Talking of younger people, we met two thirty-something fellas just recently in Scotland. Both were newbies to escorting and to visiting a couple. 'Paul' was sadly widowed a couple of years ago, 'Dave' was like many of our visitors…just a horny guy in a stable relationship and not getting enough kinky sex at home. In any relationship communication is crucial, but when a guy starts to get turned on by #bi thoughts, it's a risky strategy to open up about those fantasies to an ostensibly 'straight' partner and reason enough to pick up the phone for a meet with us.
Paul was well organised, and pre-booked a 2 hour meeting with us long before we arrived in Scotland. Often when guys say they want 2-3 hours with us and it's a first time, we know from experience they're as likely as not dreamers, especially if they sound out of breath while talking to us over the phone….some guys get off on fantasizing like that. Paul however had paid a deposit, so we knew he was serious. A two hour meet has to be planned a bit more carefully; you don't want the client spent in the first half hour and unable to come again, and while there is evidence that plenty of escorts encourage just that, in effect ripping their clients off, that is NOT our style. So at first we chatted with Paul who confessed to being extremely nervous. It turned out he'd been touched by tragedy, with a wife taken from him by heart disease after a few short years together…unfortunately  the kind of life experience we hear about all too often. He told us they were a very loved up couple and faithful too, with no inclination to stray, or to explore sexuality for that matter. These kinds of calamitous events so often change people's views on life….with many reflecting on the fragility of human life and spirit. Some choose to change direction dramatically, and most make more effort to live every waking moment to the full.  Life is indeed short.
Paul stripped off to boxer shorts, revealing a tanned hairy, toned body, obviously some-one who looked after himself. Jer hung back, while Minx engaged him in conversation and gave him a re-assuring hug. He'd got a girlfriend but no great shakes by the sound of it….yes they had sex, but nothing much more than vanilla; Paul admitted to getting very turned on by bi porn, http://www.fun50couple.com/bisexual-phone-sex-and-video/and increasingly so as time went by…it was something he'd been looking at and fantasizing about for a year or more, though up till now kept it in mind as a fantasy only. Some say that fantasies should stay just that….fantasies. Others say 'how ye think is how thou shall become', a phrase drummed in to many by motivational speakers….there is certainly a lot of truth in that. Sales and business types especially will be familiar with that train of thought. Listening to Paul talk about his other aspirations confirmed that he was indeed an entrepreneurial type and not averse to taking a few risks to achieve his goals…the kind of person we as a couple gel well with. Paul began to relax and seemed to enjoy playing with Minx's tits, by now bursting forth from a tight black basque laced with red silk ribbon. Sucking hard on her nipples he was asked if his own nipples were at all sensitive.  Many bi-
curious/bi/gay men get seriously aroused through nipple play;  Jer has been known to cum from nipple stimulation alone; we're frequently surprised though at how many men have no idea if their nipples are sensitive or not!  One of the main kicks from working as escorts is that we are, in effect, invited into other's most intimate lives; once behind closed doors guys will confide with us about all kinds of things, their kinks, their experience or more often their lack of experience...we're often privy to stories about relationships that have struggled on for years with neither partner satisfied, not in a sexual sense anyway.  All too often relationships revolve around money and material things….it's really no wonder many of these couples lack 'wholeness' in their partnerships. Bisexual tendencies also contribute to that 'lack of wholeness'….because unless a couple can be totally honest and open with one another, there will be secrets, and holding back, and temptation to wander. It's what we witness almost every working day. Escorting is a roller-coaster life and we'll sometimes as fun50couple bemoan the fact we don't have a lot of money, or live a life of luxury, far from it. What we DO HAVE though is a life rich in trust, in love, and a strong connection & empathy between two souls… Valentine's Day brings with it all kinds of tacky cliché's and slogans; one can count oneself very lucky indeed to share a life with a true soul mate in this World.
Anyway, back to Paul….'YES!' his nipples were open to stimulation, prompting Jer to start tweaking them gently, then a little harder as Paul relaxed, allowing Minx to remove his silk boxers. Paul's cock was bolt upright and on the bigger side of average and with a hint of pre-cum, but alas, no balls to speak of. Minx confesses to liking men with balls, both practically AND metaphorically speaking. It's probably not something the average person thinks about much….take it from us though that balls even more than cocks, vary wildly, from almost insignificant 'peas' partially concealed within the body, to others at the opposite end of the scale with balls like bulls. Since it was a two hour meeting and had started with conversation, Minx and Paul were not on the bed, but seated on the sofa, a large modern design with a plain canvas like fabric cover, firm but comfortable….solid enough for Jer to step up onto and stand beside Minx who by now was playing with Paul's cock while kissing him. Once Jer stood beside her, she turned her head to suck him, alternating her attention between the two men….taking Jer deeply in her throat, then going back to French kiss our client….Asked whether he'd ever sucked a cock, Paul replied he'd never even touched one….then said he often wondered what it would feel like or taste like, while simultaneously moving his head a tad forward, a bit like an animal, sniffing its prey.
It was no time to be pushy…just let the guy explore in his own time. No more than a half inch of tongue appeared from Paul's lips, as his head moved almost imperceptibly  further forward  towards Jer's impressively stiff penis, the bell end shining almost purple, veins in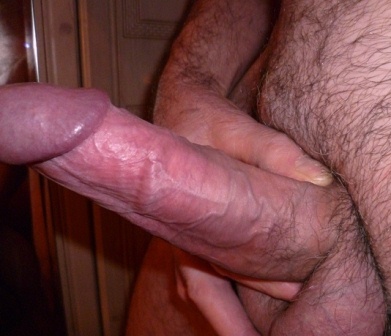 his shaft prominent and looking ready to explode. A second or two later Paul allowed his tongue to make contact for an instant, then back for more, then came the glorious moment when he finally threw caution to the wind and took Jer's cock deep into his mouth. Nerves were still obviously an issue because his body was now physically shaking, violently so. Gasps of evident relief came from his mouth, stifled and muffled due to hard cock filling his throat…then suddenly he withdrew, looking VERY emotional. We asked him whether he was OK and if he liked it; 'Fab, fantastic, I've always wondered, mmm the taste, brilliant'….words jabbering almost uncontrollably from his mouth, then it was briefly back down to earth, rubbing Minx's pussy and thighs, then licking, before resting back in the sofa against the cushion, with his head against the wall, beckoning Jer's cock for more…. 'You liked the taste, you liked sucking me yeah?'  inquired Jer, re-affirming Paul's perceived desire for more…. 'I wanna taste you more' he said…. 'you wanna taste my cum baby?' Jer asked…..Paul nodded while Jer stood upright again on the couch, masturbating within an inch of Paul's face. 'You ready?' murmured Jer, Minx warning 'Jer cums a lot you'll see', while tweaking Paul's nipple....then Jer shouting now 'I'm close, you ready?… before exclaiming 'Awe FUCK', then again 'awe FUUUUUUCK' even more loudly as a solid jet of white semen blasted from his penis straight into Paul's open gob….not once did he flinch, appearing to savour a good few blasts, allowing the remaining cum to splatter his body and the canvas cushion visible between his thighs….the eroticism was not lost on Paul, who couldn't help but furiously masturbate his own penis, coming HARD a half minute after, before collapsing spent for an instant….
This all took place about 40 minutes into our two hour rendezvous….the kind of timing we aim for as it allows a half hour for more conversation while gently re-kindling the fire, then another 30 minutes action, followed by 'warming down'…..
Sure enough, conversation flowed; like most Paul was keen to learn of our exploits, stroking his cock, while chat turned dirtier and more explicit….he wanted to fuck Minx. No problem. Minx asked to be stimulated lightly before entry, and our Paul obliged, causing Minx to gush lightly…another experience relished by our client. Jer had a condom ready and right side up, and helped Paul on with it, stroking him in the process and keeping him pumped up to the max…..Paul began to fuck enthusiastically before withdrawing after a few minutes. He asked if we could fuck between us, Minx and Jer, while he watched; that's a common request….many guys seem to like the idea of 'LIVE PORN' as it were, and find it an intense turn on. This time we were all on the king sized bed, and Jer adopted his favourite position, fucking Minx while on his haunches, allowing full view of Minx's impressive tits swaying to the rhythm, arousing Paul still further to the point once more of explosive climax, across the two of us. WOW. Jer had yet to come again, but withdrew, still horny to the extreme though…..Minx knows how to push Jer mentally over the edge for the sake of a second orgasm…it's not easy when you do sexwork for a living year in year out to remain 100% focused enough to ejaculate a second time in the space of 40 minutes….but talk of bumsex accompanied by a finger rubbed lightly against his wet hairy asshole did the trick….another impressive load merged with Paul's, in short what can only be described as a horny cumfest…a close and erotic experience shared between three kinky sex positive people, nothing more, nothing less. Isn't that what a great threesome is really all about…..Who's NEXT ?
We turn fantasy into reality, and we tell you the way it is….You subscribe to our newsletter 'NEWS VIEWS & SCREWS' and to find out what it's really like to be an EscortCouple, We thank you for your support, Stay tuned, safe sex always, until next time, Luv, fun50couple xxx
* Please note we NEVER divulge people's identities and we have changed some names and details to preserve complete anonymity