Fun50Couple-NEWS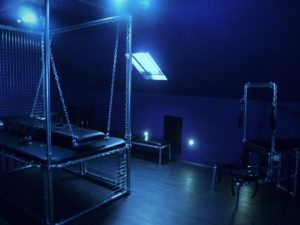 Hello Sexy Friends!  The big news this past 4 months is the completion of our new BDSM playroom 'somewhere in the North East'. All that remains to do before opening is some electrical sockets changing from temporary white plastic to more upmarket brushed steel, a new bespoke sissy dressing table & make-up station we're waiting on, 2 mirrors to fit, and we've yet to bring over all the escorting paraphernalia like wigs, strapons, toys, clothes, sex essentials etc etc. We believe we've thought of just about everything, even down to providing a glass in a chrome holder for mouthwashing in the deluxe rainshower room. No drafty industrial premises with antiquated dirty washrooms for us! We've sunk 40+ g's into the place and built a facility second to none; OK it may not be massive in size, (17 x 17) but there's still plenty of space, AND we've got another room to convert in the near future; In addition, we've got a photo studio set up complete with chaise longue & drapes; again, there are plans to build 2 more sets when time & money allows. The playspace will mainly be used by fun50minx who is rebranding as Mistress Orchid. We'll also consider renting it out to another dom part time and for private use by trustworthy mature couples.
Early July sees us hosting Paul Jones and friends from DirtyFunPeople; they're coming to look over the new place and to shoot a few XXX films on a content share basis; the event is open to mature bisexual men, bicurious men, CDs, subs, greedy girls/female escorts, and doms. Log on to DirtyFunPeople 'Event' page to find out more. Performers participating in scenes of a sexual nature will need to be certed, and your face WILL APPEAR in the vids, so serious folk only OK?
Other news? We've been investing in extra kit to use in the playspace. Minx has fab new boots, new latex outfits, and some serious strapons from specialists Babes&Horny. Wanna try them out? You'll need to be an established AdultWork member to be invited to the playspace for reasons of discretion. If you're NOT a member then we're happy to see you for a first time at the home location; once we know you then you're good to go at the new facility, OK?
The building has taken all our time and effort to convert in recent weeks; It's part of a larger premises which includes a marketing office used by Geeze; Once the dust has settled he'll be working on re-invigorating fun-five-o.com as well as building other adult & vanilla websites. Additional services include accommodation addresses, mail forwarding, logo creation, web design, photo re-touching, image manipulation, content writing & a meeting suite with Zoom conferencing installed enabling up to 22 people to interact worldwide via a 66 inch touch screen with Android. There's also a kitchen, breakout area and sunny yard for the use of delegates attending meetings, training or photo shoots. 
And there's more GREAT NEWS! (Especially for all you guys with shared bank accounts who find it difficult or well nigh impossible to place orders for sextoys discreetly, pay for phone sex or transfer money for escort deposits). The 9th of May saw Geeze travel to Manchester for TechShowNorth2019. Two exhibitors were of particular interest, and as a result we've signed up with one of them. PiP-it stands for 'Pay in Person' and it's a unique award winning payment system which has been under development in Ireland since 2016. So what is it & how does it benefit you? Lets say you want to pay for phone sex but you don't want to pay by credit/debit card, you don't want to ring a premium number, and/or you don't want to become a member of a site like AdultWork who promote phone chat. With Pip-it, all you do is notify us by email that you want to pay for 'x' amount of credit for phone chat. We then process the order ourselves and print off a barcode which we email to you or send to your phone. You then take that barcode to any Post Office in the UK, present it at the counter & pay the amount agreed. As soon as they've received the funds, we get notified you've paid and you're good to go. All you need to do then is to find a quiet spot, get comfy & dial for the filthiest phone chat on the planet. Or if you prefer, we can phone you. Get this though guys....No credit card, debit card or ID of any kind is required at the payment counter, and there is NO INDICATION WHATSOEVER on the barcode as to the nature of what you're paying for. So it's great for escort deposits too. Want male sextoys without the wife knowing you like to play with your ass? Simple. Pay using Pip-it and arrange to collect your goods yourself from a convenient pickup point...no bank record, no signing up for e-commerce accounts, no commercial emails, SIMPLE. It's easier for us to process if you have an email address but if that concerns you, simply open a dedicated private and encrypted email account along the lines of ProtonMail.com. We're still integrating Pip-it into fun-five-0 but it's already available for phonesex and deposits. Pip-it is available in many other countries too...more details to follow over the coming months!
Fun50Couple-VIEWS
All throughout our time supervising/assisting with conversion works we've been escorting as usual, and it's been a bumpy ride. When there's no feel good factor out on the street, the escort inquries dive, so it's taken considerable effort to keep marketing and to keep the clients coming in. Thank goodness we've a number of regulars! FeelGood factor is in very short supply up here in the NorthEast. Most areas are strong on Brexit, and people are disillusioned by the failure of negotiations and incompetence displayed by MP's of all shades. Today we've learnt that the blessed May woman is bound for departure in a couple of weeks; who knows what's in store, save for more months of uncertainty & bluster, which can only be bad for business, including our own trade. Of course there are winners and losers in any situation however dire; we shall just have to continue to be innovative, and to continue to deliver just that little bit EXTRA, over and above what the average client expects from a meeting...the art of good service, and the only sure way to keep customers coming back. Our #1 client has seen us 35+ times and there are several others not far behind so we must be doing something right I guess. Come see for yourself...we'd love to meet you especially if you're over 40, bicurious, bisexual, a CD, cuckold, sub or some-one who wants to experience the delights of tie & tease, forced chastity or electrostim. You'll not be disappointed. Geeze has also enjoyed some hot meetings with couples & solo men recently; if you've read our reviews and think you'd like to participate in similar meetings yourself then don't be shy, just jump on the phone OK? We travel UK wide for the right guys, & can even accompany you abroad as travel companions. There's no need to go away on vacation alone & HOPE you'll hook up with some-one! We can be with you/for you ON DEMAND with hot safe sexy fun guaranteed. What more could you want?
Moving on, regular subscribers to NVS will have read my predictions that some of the big players in the pleasure product industry were likely to come a cropper sooner rather than leader. News that Ann Summers is in trouble brought a wry smile to my face; They sold £110million worth of product in the last financial year and ended up with a £3.3million loss. They're blaming it on Brexit of course, and trying to renegotiate rents in the High Street. Personally I have no sympathy for them...for years they've been pushing sextoys without having to be licensed at the expense of genuine sex shops (a sex shop is "any premises which consists to a significant degree of selling sex articles, or anything made for use in connection with. . . stimulating or encouraging sexual activity" [Local Government Act 1982]) and from what we've seen as retailers ourselves, many of their products are own branded copies of main stream manufacturers...yet still they can't make money!  Anyway, enough about that, lets move on to the kinky stuff...
Fun50Couple-SCREWS
Men are or become bicurious or bisexual for many reasons. Some are born that way, with increasing evidence that it could be heriditory. It's reckoned that nobody's 100% straight or 100% gay, so that leaves the door open for a little experimentation; we've met countless men identifying as straight who admit to instances of mutual masturbation at school or college or while on some drunken binge. However straight you think you are, there are times in most peoples lives where you have a choice; it'll likely hit you when you're least expecting it. With a person you'd never suspect. Sex and desire are powerful forces. You'll get a 'feeling', you'll feel a little confused, and you'll probably have around a half minute to seize the opportunity. Or let it pass you by. Which way you take it will be down to a decision you make, either consciously or unconsciously. Have you been there? I'd wager a bet you have. It doesn't happen often, maybe only once or twice for most folk in a lifetime. Very 'sexual' people it will happen to more frequently, as they're more tuned in to the 'signals', the little nuances in conversation & body language that go un-noticed by others. Many escorts will tell you it's not the sex they enjoy most in their chosen profession; it's the people they meet and the tales they tell. Every one of them unique.  It's time to introduce you to Albert.
Albert is a successful property developer from the Midlands, aged around 60, fit, wealthy, and 20 years into his second marriage. He loves his wife dearly. Now how many times have we heard THAT ONE? I joke...many clients DO love their 'significant other' but the relationships often fall short in the SEX department. Which prompts many to search for a safe alternative as we all know. I'd go so far as to say that around 60% of our clients fall into that category. Bi people are 'sex positive' folk in the same way as swingers. As 'clients' they're usually very tactile & sensual. They will often focus more on ensuring their play partners are pleasured than the receiving of pleasure themselves.
Albert was one such man; undoubtedly 'hard nosed' in business yet a gentle and considerate partner in a group sex scenario. His story was as fascinating as it was unique.
His first wife apparently was 'not nice'. She'd pick a fight with him over the most trivial things. Two to three days would pass with them 'not talking' & Albert would bury himself in work, however, he told us 'she' was the one who always came back to him apologising; She would come on to him, say sorry, and demand to be made love to. You have to remember we're talking about 30-40 years ago, when things were very different to how they are today. Couples often tied the knot at a young age and were sexually inexperienced. Even today, there are millions of folk up and down the country in relationships that have 'endured' (just) for 4, 5 even 6 decades, who have never been with any other partner except their spouse, or experienced anything other than occasional 'missionary position' sex. So when Albert's wife from hell came on strong, he thought she was WET from feelings of love and a desire to make amends. This went on for 6 to 7 years before the relationship finally broke with her asking for a divorce. Then it all came out. She humiliated him, finally owning up to seeing countless men for sex over the years, usually in the periods immediately following the couple's arguments. The wetness Albert had noted, was NOT down to passion for him, it was sloppy seconds. He'd gone down on her and tasted her sex, not knowing that in reality, it was watered down seed from another man. Occasionally it wasn't just one man's seed either as she'd been banged by up to three men at once. So cruel was this woman, that on the final day of the split, she played Albert a tape recording. Remember there were no mobiles back then, just those big old tape decks. Knowing her hubby to be sexually naive, she wanted to 'walk her talk', sharing with him several recordings of sexual encounters, rubbing more salt in the wounds. Remarkably, Albert felt secretly turned on by these revelations. Months later after they'd parted, he told her that if he'd known about all of this at the time the relationship might have worked. And so the seed was planted. Albert was aroused by the thought of other men pleasuring his wife. Thoughts evolved. As they do. He wanted to see this kind of thing for himself as a voyeur. He wondered what other men had to offer that he didn't. Were their cocks bigger? Did they have more stamina? Were they're bodies better than his? All these things buzzed in Albert's head as he busied himself in work, chasing ever bigger deals, on his way to a fortune. Porn mags helped him to 'relieve the pressure'. They also fostered 'same sex desire' underpinning two or three casual male-male relationships over the years, one with an airline pilot which lasted three years before the guy moved abroad. There were occasional visits to saunas where he met gay and bisexual men. Women were on the radar too though, and Albert re-married. The new wife was sexually inexperienced and fairly prosaic in the bedroom. He told us she became a different woman after a bottle of wine, and a lot more un-inhibited, EXCITING even, nevertheless, Albert didn't dare divulge his story to her for fear of loss. He wanted to but he didn't know how to. That's why only 14% of bi men are out of the closet. Bisexuality in women is considered to be 'hip' and socially acceptable. With men it's a different story....why? Because of a penis! Two penises makes you gay right? Errrrr, NO! But that isn't how most of the 'macho' world thinks. If you're a man and you've same sex desire, for MOST PEOPLE it means you're on a one way trip to GayTown. Consider yourself a very lucky man indeed if you can share thoughts like those with your female partner. Love is Love. But it's a high risk game coming out; for many it's gonna be a deal breaker, so don't go there! Hence the 14% number, Sad, but true. After the airline friend ( a married bisexual too) had gone for good, Albert felt lost. He hankered for more bi fun but couldn't find a safe outlet & never considered paying for it. Until a fortnight ago when he called us.
Chatting firstly to Minx, then Geeze, Albert shared his story over the phone, becoming more relaxed as the conversation flowed. Encouraged by Geeze, he began to express his bisexual desires, but the call didn't develop into full scale phonesex. Albert was in his office and about to go on a weeks holiday to the Ballearics with his wife. A meeting with us would have to wait. He assured us he'd be in touch upon his return. We promptly forgot all about it...we get several calls like Albert's every week; a lot of men get off on fantasy talk with no intention of meeting. So when he called back it was a pleasant surprise. A couple of days later he was texting us from a local holding point, asking for directions. Soon after, a VERY EXPENSIVE car glided past with a stocky balding man in glasses at the wheel. In our mind's eye we had pictured some-one different, but hey ho, we're professional escorts and know not to judge. Albert swung the car around, parked up and made his way to our door. To be fair, he looked a lot better out of his chariot with the glasses off.  Five foot six, about 15 stone, tanned & a #1 style haircut he looked every bit 'the successful property developer you don't mess with'. Minutes later he was sat somewhat awkwardly on a sofa, not up close with Minx like most guys do, but separated by a foot or so, almost slipping off the end. Nerves were getting the better of him.
We're often surprised by the way hard men and high rollers in business so frequently CRUMBLE when it comes to sex.
His hands were shaking slightly, and he gratefully accepted a glass of iced water, asking what it was for? 'Nerves' said Geeze, handing it to him, while simultaneously brushing against the prominent bulge ruffling the fly of his trousers. Minx cuddled up to him close, and he began to lighten up. A very short dress, fencenet stockings, and a snazzy pair of police style boots in PVC and leather coupled with Minx's sunny personality put Albert at ease, and in no time at all HE was suggesting we go to the bedroom. Geeze hung back, giving the couple some space; it never hurts for a bicurious man to be given a little 1on1 time first with Minx. Remember this was his first time with an escort of any kind! He'd told us he was hoping to find some-one to meet with on a regular basis, so we didn't want to spook him. Geeze re-joined them around 10 minutes later; Albert by this time was naked & sat on the side of the bed, with Minx next to him gently massaging his stubby cock. For a 60 something year old he didn't have a bad body and best of all he smelt nice. Clearly he'd gone to great lengths prepping himself for the meet including douching; apparently he was a bottom with no interest in topping. Clearly desparate to feel a cock again following the split with his longterm male friend Albert lunged at Geeze's cock, standing tall & veiny at close on 7 inches. Taking it into his mouth he sucked on it hard almost to the point of pain, before moving onto Geeze's balls. Geeze and Minx snogged hard above him from a kneeling position. This always turns men like Albert on...interaction with a woman as well as a man in a threeway situation adds to the eroticism of it all...it kind of 'lends permission' for bisexual behaviour. It soon became evident that our property developer was experienced playing around with men. Moving behind Geeze he gently pushed down on his shoulders causing Geeze to raise his bottom. Minx lay down opening her legs so her pussy could receive attention while Albert's tongue found Geeze's hole. This was a rare and welcome delight. So many men shy away from rimming yet frequently expect it on themselves despite having no knowledge of douching or the risks associated with anal oral. Shit happens. If you're reading this and thinking about meeting for 'no holes barred' action then do your homework and buy a douche, and if you can't do that, come prepared to buy one and take time to use it.  Anyway, Albert was completely comfortable with his tongue probing Geeze and Geeze was even more comfortable on the receiving end, to the point of becoming frantically turned on, wanting to be fucked himself. Albert apologised, reminding us that 'topping' wasn't his thing; respecting his wishes, we moved on to stimulating him. His nipples couldn't get enough attention it seemed. Many men get brought to the brink by intense nipple play. We've learnt over the years that if a guy's nipples aren't sensitive to stimulation, he's probably not going to be be very bi; I'm not generalising by saying that...you have to remember we've seen numbers of men running well into four figures, and nearly all of them bi or bicurious, so we feel well qualified to comment! Two clips with very strong springs attached to a chain jerked upwards had Albert in heaven. Sometimes nipple play is like the action of flicking a light switch, it turns on the feelings down below, via connections in the brain, the master sex organ. Albert's stubby cock had thickened to an impressive girth & his ballbag tightened. Next on the menu was another drink, not iced water this time, but Minx's hot squirt. She demanded Albert's attention on her clit and labia, which gave Geeze a grandstand view of his ass, which he now gently probed with a gloved finger. Surprisingly tight, Geeze worked on it, soon hitting the spot; his prostate was deep but in reach of a middle finger. Gentle stroking illicited groans of pleasure soon drowned out by Minx's gush.
She squirted hard all over Albert's face and head. He managed to catch much of the first stream in his mouth before it overwhelmed him.
Minx passed him a towel, meanwhile Geeze had rubbered up. Motioning Albert onto his back Geeze took hold of his legs, raised them, spread them, pushed a pillow under his ass, then entered him. The working up in the minutes preceeding had done the trick. Albert's hole was willing, and as Geeze gently penetrated him he let out a gasp. You never know in these situations if it's a gasp of ecstasy or an expression of pain, though taking into account Albert's 'previous' Geeze was pretty certain it was the former. Albert inquired as to how deep Geeze was; in truth no more than the helmet was buried in his hairy hole, but to Albert it felt like more. Geeze told Albert to gently push on to him, then it was a matter of both men pushing intermittently until the whole of Geeze's length was accommodated aka balls deep. A pause followed, before gentle fucking, short strokes at first, then deeper ones and finally full scale POUNDING which went on for a good twenty minutes, with Geeze being given permission to cum. Kissing Minx passionately while fucking Albert hard in his ass felt SOooooo good; Geeze's body heaved one final time, then with a cry he let go. Sweat pouring off his head onto Albert's chest, Geeze withdrew and pressed his lips hard against Albert's. Minx joined us in a threeway kiss & cuddle. Conversation flowed and it wasn't long before we got back on to the subject of cuckolding. This had been quite an intense meeting and the guy had the foresight to book 90 minutes, so on this occasion Geeze was able to harden again in time for a second cum. Minx made it easier by allowing him to fondle her tits hard then pulling him close, gently rubbing his perinium, then his hole. She has a very skilful touch; that, coupled with sexual intuition & experience is why so many guys seek her out for a sensual tie & tease. Geeze was soon rock solid.  Dragging Minx across the bed by her feet he raised her legs and entered her at the same time telling Albert to get underneath and lick us like a good little cuck. Albert was a little wooden, not knowing how to position himself, it was quite funny....'No not that way, turn around, sit on the floor with your back against the bed, No NOT like that'....and then 'yeah backwards that's right, now get your face up under us....' Fucking while someone else gives you oral is a heavenly experience; the feel of face stubble & Albert's bristly haircut against our thighs & genitalia got us intensely aroused, AGAIN. Verbal humiliation raised the temperature still further as Geeze recounted to Albert the story about his wife. 'She'd gone with other men because Albert was inadequate...isn't that right Albert?'
'I want to clean Minx out'  he replied somewhat lamely, before adding 'Don't cum deep, just a little way in, so I can taste it'
'UUUUUahhhhhhhhhhhh here you go then Albert....' Geeze felt the second orgasm rising slowly up his shaft. Three good bursts of sperm found their target deep in her pusssy before he quickly withdrew to allow a fourth to hit Minx's silky smooth Mons pubis, just as Albert had wanted. There was no holding him back now...Dropping to his knees he licked and sucked and fingered and licked again; I wondered if his mind was flashing back to the wife from hell; was Minx on this occasion a substitute for his wife? Was I one of the men screwing her over in his imagination? Cuckolding is a common fantasy...it's actually THE MOST SEARCHED FOR form of phone sex in the UK but I digress! We both kinda felt for him; he'd morphed from a nervous first timer to a full-on player in the space of an hour and a half, now it was his turn to climax. Motioning him to the side of the bed, Minx told him to wank over her tits...dirty talk from Geeze and words of encouragment from Minx helped to focus his mind on the job in hand; masturbating vigorously for a couple of minutes brought his seed to the surface. Stooping low over Minx his cock dribbled thick creamy spunk onto her navel; Geeze dipped a finger into it and offered it up for him to taste. Albert sucked on the finger, savored the taste & texture of it for an instant,  then drew all three of us into a tight embrace...this had been a wonderful experience for him. Thirty minutes chat followed as we all warmed down; he was indeed an interesting and engaging man, with many a good story to tell. A bit like us. The very same week we met Albert we hit lucky with another meeting WAY MORE INTENSE than this one. Mind you, it was with a guy we've seen 35+ times over 4 years, so we kinda know what buttons to press, nevertheless the passion and the eroticism of it took all three of us by surprise. We're currently on tour in London, & OMG yesterday there was another...a really unusual one with a straight guy that I can't wait to share with you, so stay tuned, until next time... You subscribed to NVS to learn out more about our Escort Couple life. YOUR PLEASURE is OUR BUSINESS as we turn fantasy into reality. We tell you the way it is….and we thank you for your continued support.  Stay tuned, Be good, and remember: safe sex always! #KnowYourStatus, Luv, fun50couple xxx
* Please note we NEVER divulge people's identities and we have changed some names and details to preserve complete anonymity.
Like what you see? Then please share with others and tell them to pop their name and email addy in the box below to receive more of the same monthly 🙂 AND, if you're not already doing so please FOLLOW US on TWITTER