SUMMER 2019

'NEWS VIEWS & SCREWS'
MATURE ESCORT LIFESTYLE BLOG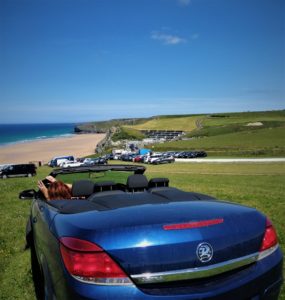 Hello Sexy Friends! We hope this latest NVS finds you well & you're enjoying the Summer. We had a fabulous week at Newquay in Cornwall early July with hot weather and decent waves for learning to surf. Surfin' is something that I've always been drawn to, though never quite got the hang of through not being able to devote enough time to learning; I've been back water-skiing this year, hence improved fitness, which prompted me to book two half day lessons in the surf while on holiday. Now I've managed to at least get up on the board albeit for a few teetering seconds only, but progress all the same! There were 3 brilliant young guys instructing, so enthusiastic & patient, they were a joy to be with. Check out https://www.surfingschool.co.uk/ . Can't wait to go back there in late Summer for more. Apparently September & October are Cornwall's best kept secret, with fine weather, warmish seas and no crowds; we'll see. Oh yeah, I nearly forgot, before the week in Cornwall we worked out of Heathrow for 6 days. We met some fab guys, ranging from a 58 year old straight-curious guy with incredible libido and a decent cock, to a lonely Asian widower who craved skin on skin sensuality, who unfortunately, had no cock at all; I tell a lie…around 2.6cms hard which is the same as an average 1-2 year old. https://www.medicalnewstoday.com/articles/323811.php He was such a lovely guy too. Minx & I are non judgmental and we've seen his kind before...some have never been able to f*ck though they've succeeded in fathering children
through insemination;  it may surprise you to know that even with men like these, one can still have a sexy fulfilling time; every-one has their buttons that like to be pressed and our man from India was no exception. We look forward to meeting him again sometime. The highlight of the week was going to see the Stray Cats at Hammersmith's iconic art deco Apollo theatre. What a fabulous night that was! We've never been anywhere better organised to handle a fun crowd; bar staff were 3 deep so there were no queues, everyone was good natured, with a varied audience ranging from teenagers to Boomers, blue collar to toffs, all mixing together, COMMUNICATING for once, & having a good time. Why can't more of Britain be like that? #Rockabilly.
Other news for Summer is that there's no doubt the country's experiencing a big slowdown due to the B****t fiasco with folk hanging on to their money. Our trade is suffering like many others; traders in Cornwall told us they were down 25-30% on takings pretty much across the board, as are we. At least the wretched May woman has gone, well nearly. My worry now is that we'll limp on from one crisis to another due to the parliamentary arithmetic, Meanwhile businesses in their thousands will not be able to sustain such sharp falls in turnover & profitability; worrying times. Today marks the 50th anniversary of the Moon Landing. The historic images posted of Mission Control overseeing the blast off stirred memories; folk had their problems back then I know, but overall I'm sure they were better times?
It also made me realise how short life really is and why it's so important for us all to do what we want when we can, and not leave things to chance.
At least we've just achieved another one of our goals, with the completion of our dungeon-playroom in the NorthEast. The place got 'consummated' with the help of another dom couple back in June, and more recently we've been filmed in there with others. (not a very
pleasant experience I have to say with a producer who has to be the biggest slimeball we've ever had the misfortune to meet, who still hasn't released our content, BEWARE!) To be fair, although we've done several photo shoots, full scale porn filming is new to us so we were 'on the back foot', nevertheless it didn't stop us performing as required. That can't be said for others, most of whom couldn't even be bothered to turn up...or to even inform us directly. Every cloud has a silver lining though...we saw how it all works. The way forward is what we've come to expect in today's world...to do it all ourselves. So if you're wanting to star in a MFM, MFF, MM, MF or BDSM film and you get to keep the content for either yourself or to share with others, get in touch. We're also promoting PAID shoots, where we pay you to perform.
And there's yet more news: We're planning a mini tour to Leeds at the end of the month. It's just an hour down the road but it gives us access to around 7 million souls and we can zoom back to Darlington if required. Stay tuned for details of when & where...most likely a 4* City Centre hotel. I've always had a soft spot for South & West Yorks folk and used to live there, so if you're from that area and looking for a funtime we'd love to meet you OK?
Fun50Couple-Views
I read an interesting article the other day called  'Trends That May End With The Baby Boomers'  written by a credible guy by the name of BEN CARLSON. His blog is called 'A Wealth of Common Sense'. It focuses on wealth management, investments, financial markets and investor psychology, all subjects of interest to many of our clients. The article struck a chord, firstly because a large number of our clients are Boomers and secondly because it verifies so many of the trends we're experiencing for ourselves on a daily basis. Discussing phone communication, he predicts it's possible that 'personal phone calls could all but go away as young people seem to prefer texting to actually talking'. And we would have to agree. It's well nigh impossible to persuade young guys to talk to us on the phone; We're not alone...a Liverpool mistress on her AW profile says:
'For those of you brought up in the Digital Age you need to actually talk, so dial and interact with me, I don't do texts'
SEX is our trade, and it's an intimate business, as much about communication as it as about having a dick. Last night we got three texts from a guy wanting to meet. They went like this [verbatim]:
"Available" to which we answered just as curtly "Introduction?

"Ferryhill" to which we answered "Hiya, is it incall, or outcall, what's your age, sexuality, & your expectations for the meeting?

"Outcall" to which we replied, "Please call to arrange".
We never heard anymore of course because he obviously doesn't know how to talk to people and/or hasn't the bottle. We get 20-30 like him every week. There's no way on this earth we're going to drive ANYWHERE or agree to see ANYBODY without sussing them out on the phone first. Do these people seriously think we're going to spend an hour getting ready, taking time and trouble with our appearance & prep on the strength of 2 or 3 monosyllabic texts??? But I'm not here to bore you, you'll have heard all this stuff before and more from other pro service providers. The men that see us all have one thing in common...they read the profile in full, they phone and talk sensibly for 3-4 minutes to fix an appointment, and they turn up. I do think Ben Carson's right...we're heading towards a world where fewer and fewer people seem willing to lay themselves bare and interact over the phone or face to face; they don't  seem to appreciate the advantages of doing so. Instead they choose to hide behind texts. No wonder so many of them can't form proper meaningful relationships.
Carson also predicts the fall of banks. We can't wait for that one! Minx has been a customer of one major high street bank for her entire life. Said bank now won't allow her to use her card in a machine because it's from a Scottish subsidiary, nor will they permit me to deposit cash on her behalf. So we like other's are switching to the new challenger banks.
Geeze moved to Starling last month. Maybe you've not heard of them; they are one of a new breed of online banks focused on efficiency, simplicity & customer service, take a look.
Golf too is predicted to wain in popularity, because young people apparently 'don't have the time' for those kind of activities. Maybe they're way too busy under a rock somewhere swiping right?
One thing I'm not so sure about however, and that's the demise of the 'Photo Album'. Minx often says how she misses the glossy photos of old, but hey! Just last week we learned of a brand new company, hyped up in the national Press! Apparently you send them your digital images and they will send you guess what by return? Glossy printed photos! Wow! I'm going to take a break now, Beer'O'Clock anyone?
Product-Review
Some of you will have heard,  I've been testing ZUYOSA ALPHABOOST Testosterone support supplement. It's a food product marketed to enhance sexual performance and it's ingredients include Tribulus Terrestris (TT) & Fenugreek. TT is a small flowering plant native to the Mediterranean also known as puncture vine and goat's head. The plant yields a fruit that is covered with spines. The fruit, leaf, and root are used medicinally to treat a number of conditions, most notably sexual dysfunction. It's said to increase testosterone levels, however, limited scientific tests have shown no definitive proof of this. It's been used by athletes to boost performance most notably by the Bulgarians; one of it's advantages it's a natural product and doesn't show up in Dope Testing.
Fenugreek is a plant belonging to the bean family, found in the middle East & India. It's long been known to improve the body's overall metabolism and health. It has benefits for diabetics, it lowers cholesterol, and it seems to do a lot of good in the gut, but it's one of those herbs which no-one to date fully understands. Except the Chinese who've been using it for 3000 years! Isn't it amazing that we're here today celebrating something as complex as the lunar landing 50 years ago, yet we still don't understand herbs.
Zuyosa have combined the two to make AlphaBoost, and I've just finished taking a jar's worth, 60 capsules over 16 days. I suppose I'm a bit different to Mr Average in that my daily work revolves entirely around Sexual Performance. It's something I'm very keen to maintain, and a 'state of being' that I monitor every day. The acid test of any 'enhancer' is whether one would buy it again, and with AlphaBoost I have to say YES! I'm not plugging the stuff because we sell it; we don't, but its something we might be stocking soon. Why? Because I've definitely been feeling more horny of late evidenced by an almost constant 'lazy lob'. Now whether that's because I've raised my fitness level by doing a lot of physical work connected to the construction of the playroom, or by water skiing and surfing, or whether it's to do with the capsules I don't know and can't tell. All I know is that Zuyosa's original performance enhancer had legs and it looks to me as if they're on to a winner with this supplement too. I for one will be re-ordering very soon. Recommended. Want some for yourself? Call me on 07756 209560 and I'll help you out. They're about twenty quid including P&P.
Fun50Couple-Screws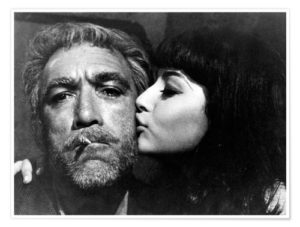 There have been a good many meetings worthy of note recently, but I wanted to bring you something a bit different for July. Its about a Greek guy we saw in the Midlands. Alarm bells rang when he phoned & Minx enquired (as she always does)about his sexuality, was he Straight, BiCurious or Bi? His reply: 'It depends on the day', Hmmmmmmmm. She asked him to text confirmation he'd be coming at noon the following day. Fast forward to 2PM the next day and there wasn't a cheep...another Dreamer perhaps? Then to our surprise he called saying he'd been held up and 'could we still see him?' An hour later a top of the range gold Mercedes drew up at the barriers guarding the entrance to our hotel. The football was on, a big match, and there was traffic mayhem; our client was flustered, not least because the window of opportunity he'd given himself aka the excuse given to his other half was fast ticking by. He took his ticket and parked up, while Geeze described what he was wearing over the mobile; minutes later Zorba was in the lift, onward and upward to our suite on the top floor. Geeze times things precisely so as to meet clients on the ground floor without stepping out of the lift, it neatly sidesteps the keycard problem. I read with amusement this week about a female escort who was told politely upon checkout, never to return to the hotel she'd been staying in. Why? Because unbeknown to her, she'd been clocked on cameras concealing a spare keycard under the leaves of a potted plant in the bar, for use of clients! There are certain hotels red-flagged by the chains where life is made difficult for 'working girls'...we learned this from a hotel inspector (a client). You can usually tell which ones they are because it's like walking into GCHQ, with cameras doubled even tripled up. Dartford Crossing budget hotels are prime examples, BEWARE!
Anyhow, Zorba turned out to be a well heeled professional gent who worked in finance; your quintessential Greek with olive skin, wavy silver grey hair and medium build. He admitted to being nervous to the extreme, and it showed, with fingers visibly trembling. Geeze thought it best to leave him with Minx for a few minutes & asked him if he'd like a drink, then left them to it. Sometimes if we're not careful the client 'bolts', not something we ever want to happen...there's really no need since we're friendly and non-judgmental; one sometimes senses its about to happen, hence the offer of a drink and a little space. Ten minutes on, and Geeze was back with a Bud and an ice cold Coke for our friend. It seemed he'd wasted no time 'getting to know' Minx; the pair were naked and Zorba was feasting on her pussy.. 'Awe look at YOU!' exclaimed Geeze, before adding: 'the nerves are gone then?' Zorba raised his head for an instant, looking a little sheepish before going back down on Minx. 'So what are you today Zorb, straight or a little curious?' inquired Geeze. Minx answered for him, saying he was Straight… 'So you're here on slightly false pretences are you Zorb?' To be fair, the guy partially admitted that that was indeed the case. He said he SOooo wanted to meet us, he thought it would be better to pretend he was 'curious' in case we blew him out as we sometimes do with 'Alpha Male' swinger types. Those kind usually want a PSE (porn star experience) with double penetration and lots of loud animalistic sex. Don't get me wrong, we like that too sometimes but not with guys we hardly know; anal is something 'a bit special' for Minx, not always on the menu and certainly not 'routine' as many of the straight brigade 'expect' or indeed DEMAND. Geeze held back, a little deflated. He'd been feeling extremely horny prior to the meet and had been looking forward to a lively session. Maybe it wasn't to be. Minx beckoned him on to the bed; Geeze knew she wanted to suck him and manoeuvred into position. Turning her head to one side, she reached out for his cock with her tongue, licking the head and frenulum, willing Geeze to drive his manhood into her mouth. This seemed to have an effect on Zorb, who shifted his attention away from pussy towards Minx's breasts. Geeze withdrew and kissed Minx, who pulled Zorba's head forward drawing the three of us together in a tight threeway kiss. This was new territory for the Greek.  His cock, formerly flaccid, now grew to an impressive 7 inches or so, arrow straight and druelling with pre-cum. 'Can I fuck Minx' he stuttered...Geeze handed him a partially opened condom which he proceeded to roll on; clearly the man was no stranger to escorting. He was rampant, he was desperate, he needed to empty his balls. Pulling Minx bodily away from the headboard he entered her. Geeze stood behind Minx leaning against the wall above the bed, gently masturbating while egging Zorb on. Then he moved forward slightly. Staring at Geeze's cock at close quarters, you could almost feel the cogs in his brain turning: Should he Should he not? 'Go on suck Jer's cock Zorb' whispered Minx in between what were now shallower thrusts.
Hesitating for a moment, heart over-ruled head and lurching forward, he took Geeze's cock in his mouth. The penetrative thrusting quickened again, deep and hard now; it was all he could do to maintain his balance while sucking and fucking simultaneously....
Climax came quickly, announced by a sharp exhalation of breath, and a look of horror. Pulling away from Geeze he repeatedly stammered 'I can't believe I just did that' three, maybe four times. Reaching for his boxers and darting to the bathroom, perceived perhaps to be a place of safety & refuge, it looked like he was back in 'bolt mode' AGAIN! Only around 20 minutes had elapsed, and we don't like our clients to feel short-changed….when the GUILT thing trips in some guys are off and away and there's no stopping them. Bucket listers most of them, but there was something about Zorb we liked. We felt for him. It had taken a lot of nerve for him to turn up even, and we were thankful for that. Geeze followed him via the open door of the en-suite seeking to re-assure him. He told him there was no need to feel ashamed, pointing out that he was simply a sex positive man who at least had the bottle to do something about his kinky desire. After calming him down, the pair eventually returned to the bedroom. Zorb started to make excuses to justify the oral on Geeze. He told us he 'thought he had to suck Geeze's cock because that was what was expected'. We have no expectations. There then followed animated conversation about more prosaic things, before the talk once again turned to sex. We gently quizzed him about why he said he was bicurious, there had to be a shred of interest there somewhere...but he wouldn't admit it. It's a bit like the straight guys who demand DP. They refuse to acknowledge that the thrill of DP is usually feeling another guy's cock pounding away at very close quarters, separated by no more than a thin membrane. Most of those guys are in reality, a little way off the bottom of the Klein scale, in other words there's a tiny bit of curiosity there, deep in the unconscious mind; that's the way it goes. And Zorb was no different. Pretty soon the three of us were laying back down on the bed together. Zorb by now was much more relaxed. So relaxed, that he didn't flinch when Geeze started to pleasure him as he in turn sucked on Minx's breasts. 'Let me suck both cocks together' Minx suggested. Geeze motioned Zorb to stand at one corner of the bed before positioning himself at right angles; both men's penises now almost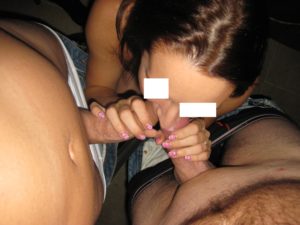 touched, it just needed Minx to pull them together with her mouth. She expertly attended to the cockflesh with her tongue, then, opening wide took both of them into her mouth;  the feel of her tongue swirling round the underside of both men's glans was exquisite, the kind of feeling you just can't get enough of it when it happens, you just fully relax and enjoy the moment, hoping it will never end. I'm sure you've been there! The sensation must have flicked a switch somewhere in Zorb's soul. This 'bi thing' might be OK after all. More than OK. OK to the point where he felt the need to go down on Geeze, first sucking him gently, then becoming hungry, deep throating to the point of gagging… 'Awe yeah, right, Oh Yeah...that's glorious Zorb, keep doing it, you're on the spot, keep it there man'...enthused Geeze. Minutes later the two men were in a 69, allowing Geeze full view of the Greeks balls and ass...isn't that what 'Greek' is all about? Google it. Five minutes of 'exploring' followed, then turning to us both he said 'Let me see you two fuck'. We wondered: Was this a sign the man was a cuckold too? He'd already told us that sex with his wife NEVER HAPPENED. He'd a decent sized cock, maybe she just wasn't interested in him anymore except for his money.
Many middle aged couples' marriages degenerate into something akin to a 'business arrangement' with money, lifestyle and a pension pot taking priority over more intimate matters. Sad but true....
One never gets everything. We have the sex and the passion for one another, but no pension, with a lifestyle that verges on the frenetic, while other's our age are awash with cash & gently winding down their lives. That said, I'm not complaining. I'm glad I'm me, my own person, and not 'one of the fold'. Minx is similar. Thank goodness. So 'fuck' we did, while he got underneath, marvelling at what was in effect for him LIVE PORN. Masturbating furiously he licked us, before moving on to mouth Geeze's balls quite roughly...how did he know that that was something Geeze adored? Intuition perhaps? That is the way things work for sexy people. 'Go on Cum' he ordered us, prompting Geeze to withdraw and wank himself partially into Minx's cunt, the rest erupting over her mons pubis and tummy. Zorb added to the mess, a second time for him within 30 minutes; there are not too many men in their late 50's we see that can perform like that. Fairplay to him! Going down on Minx he almost dared himself to taste it, not his own cum you understand, but Geeze's spunk; he rubbed the thick white jism into her skin, saving some for the tip of his index finger, gazed at it for a second, then put it in his mouth, offering it to Minx just as she was pulling us back together once again for another threeway snog and snowball. Which reminds me. Those Moon pictures have taken me back to the 60s & 70s again. Wasn't 'Snowball' one of the main characters in George Orwell's political allegory Animal Farm?  A schoolboy's GCE subject and almost unbelievably a regime we appear to be edging ever closer to as time goes by? What do you think? 🙂 Until next time... You subscribe to NVS to learn out more about our life as an Escort Couple. YOUR PLEASURE is OUR BUSINESS as we turn fantasy into reality. We tell you the way it is….and we thank you for your continued support.  Stay tuned, Be good, and remember: safe sex always! #KnowYourStatus, Luv, fun50couple xxx
* Please note we NEVER divulge people's identities and we have changed some names and details to preserve complete anonymity.
Like what you see? Then please share with others and tell them to pop their name and email addy in the box below to receive more of the same monthly 🙂 AND, if you're not already doing so please FOLLOW US on TWITTER