Fun50Couple-NEWS
Hello Sexy friends & Happy New Year to you all! Usually we're away on tour at this time of year, however with 'mass formation psychosis*' kicking in on the back of the MORONIC variant, the City emptied and we were forced to cancel our plans. On the flip side, there's been a serious uptick in Bespoke Bookings which have taken us to places like Newbury in the south & Liverpool in the North West. That seems to be the way things are panning out. Lifelong players, swingers, kinksters what-have-you, weary of current affairs but not over-ruled by them, are willing to pay for exclusive experiences in discreet surroundings with people they can trust. Several trysts have been with long time NEWS VIEWS & SCREWS subscribers. Thanks guys, you're awesome!
Fun50Couple-VIEWS
Most of you'll know we've got skin in the game when it comes to crypto. Things haven't turned out the way the pundits predicted, and BTC is struggling to hold $42000 right now. We'd got commercial premises up for sale with plans to use a portion of the proceeds to increase our stake, but took it off the market when the developer who'd agreed to buy couldn't come up with the funds. Other investors were keen, however, completion dates would have been around mid January, the very time the bull run was set to peak. Now it seems, we've been given another chance. With BTC faltering, its unclear whether it's going to trade sideways for 2-3 months before another attempt at the MOON, or, whether it's going to fall back down to $30k and back into a bear market for 2 or 3 years. For personal reasons a 3 year timeframe is important, so we're glued to the crypto news just now. With luck we may be presented with a gift in the shape of a BUYING OPPORTUNITY if we see a further fall. Time will tell.
Many of our clients talk about crypto. Most say they don't understand it, and nearly all have young relatives heavily involved in it. Teenage kids in classrooms are trading hundreds of dollars worth, some thousands. The crazy thing is, teachers are coming down on them hard...instead of actively encouraging entrepreneurism. (a dirty word to them) As we see it, most people will get to understand it over the next few years; as one tweet put it this week 'Bitcoin is the vaccine against fiat' as in fiat money not the car. It amazes me that so many people still think our money is pegged to gold and its actually worth something. Its not, and with inflation ramping up BIG-TIME, BTC is increasingly seen as a 'safe haven' and store of value. One of the reasons Bitcoin has grown so spectacularly this past few months is due to interest and investment from institutions, a trend that looks set to accelerate sharply.
Some of the clients tells us they 'want to understand it', others are starting to panic a little, feeling they might 'need to understand it'. Geeze loves it; its a detailed subject and a fast moving picture; The whole crypto space appeals to those of us who love freedom, are fiercely independent, instinctively anti authoritarianism & Big State, central banks and CONTROL. It is however, a subject you have to really immerse yourself in to do any good. If you can't do that, then at least HODL. Don't know what I mean by that? Then take some time to view a couple of these videos, you may thank me for the referral sometime in the future. Please note, they aren't affiliate links & we receive NOTHING from any of the links in these blogs. ENJOY:
Dirk Crpto Diggy is a very personable, articulate & intelligent crypto expert. We highly recommend him. He sells courses but does hundreds of videos for FREE, His YOU-TUBE channel is called Intelligent Cryptocurrency. Click on the image above to link straight through.
Money-ZG is a young English guy with many years experience as a forex trader before switching to crypto. He gets a bit technical, however, he does some really good free videos, including a 'must see' for beginners It runs for an hour and three quarters, but at the end of it, you'll be in a good place.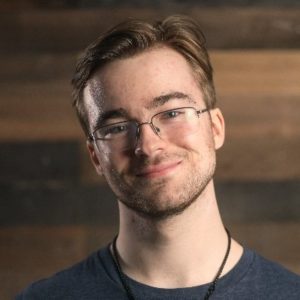 CryptoJebb is a 24 year old American located in Gainsville FLORIDA whos built a big following of nearly a quarter of a million subscribers. His YOU-TUBE channel focuses on Bitcoin Technical Analysis, and trading wisdom. Take it from us, he and his team  are 100% committed to improving the lives of ordinary people like you and me, teaching us HOW to think not WHAT to think. There's tons of weekly free content; they also do a course which covers EVERYTHING you need to know about trading and it's not that expensive either, Find CryptoJebb HERE.
Fun50Couple-SCREWS
Not one SCREW but two this month, how's that for VALUE? You'll see why when you read on. Meet Lee, a 45 year old construction manager from Sunderland. With a strong background 'on the tools' my guess is he was promoted due to his 'personnel skills' 🙁 With Eastern Europeans fleeing back to their homelands, his kind are in strong demand not for just 'what they know' but for 'who they know'. As we've repeatedly seen with Bitcoin, it's all about supply & demand. With skilled labour thin on the ground, Lee and the small company he works for are awash with cash as sub-contractors, commanding insane amounts of money for nothing much more than 'basic building work'. A quick browse through Company House records bore this out, with millions in cash on their balance sheet against a few hundred thousand in liabilities. Not that we make a habit of 'digging and delving' you understand, its just that what happened during this SCREW caused us to 'wonder'. The guy had a bit of form on the sex worker safety app, but nothing much to worry about; after a brief chat with Minx it was agreed we'd go over to his gaff not far from the banks of the Wear for an hour's outcall. He was bored apparently & wifey was away for the weekend with her pals, not that that would have made much difference because we learned the pair hadn't had sex for 18 months. More about that in a minute. Sunderland's not the most pleasant of places in my humble opinion. Alright, I'm sorry if I've offended you & you're a Machem 100% but we've had too many run-ins with Wearside folk while doing nothing more than minding our own business to ignore. Much of the city comprises bleak council estates. Its a region with its heart ripped out due to the demise of heavy industry, ship building and glass making in particular.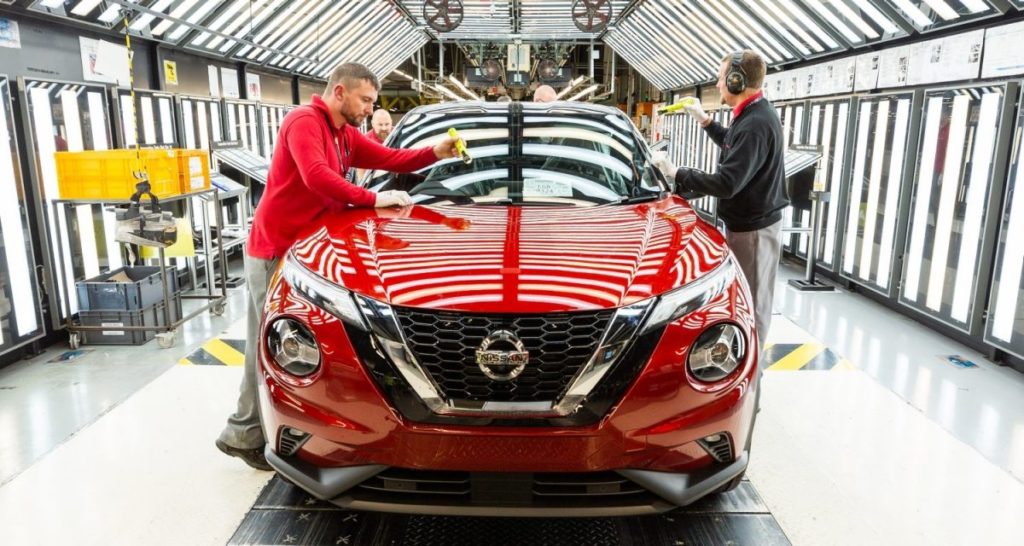 Nissan is its saving grace these days...the company chose to stay there post Brexit. I would imagine five hundred million quid in subsidies made the decision a little easier for them, but other than that, the area doesn't have much going for it. To date there's little evidence of improvement promised by the much vaunted 'levelling up' policy, but hey ho, what did we expect from the Eton elites? Sunderland voted more heavily for Brexit than any other area, and it's one reason Lee & his cohorts are laughing all the way to the bank, in the short term at least.
Parked up a few hundred yards from his home in good time, we surveyed the smart executive housing estate at our leisure; a jewel in a sea of rundown suburbs, infested with crime, deprivation, despair and hopelessness. In nearby Hendon, a million miles from its namesake in London in terms of fame & fortune, you can buy a fair size terrace house for twenty five grand**, in between others boarded up, front yards filled with rubbish, walls defaced by
graffiti, or if you're really lucky completely decorated with elaborate murals. The homes we were parked beside ranged from fashionable three story town houses, to 3 bed detached and much larger. As the top of the hour approached, we drew forward, slowly driving past the guys front door and into a layby he'd instructed us to park in. He was out there waving, and within a few minutes we were making our way up his garden path, dodging the remains of a garden wall scattered every which way. Minx commented on it as he ushered us in; apparently he'd been on holiday & some-one had backed into it while he was away (no surprise there son 🙂 ). With a shaven head, a hint of a tattoo here and there, and a stocky frame of a body looking a little past it's best, Lee fitted the brief of a former 'tradesman' now in management & fat on bonuses. His home screamed 'NEW MONEY' with every gadget & luxury item imaginable; the mega size extension warmed by a premium wood burner dwarfing the original house, an 8 seat hot tub illuminated outside by floodlamps, statues of everything from space men to bulldogs inside the house and out, Italian leather sofas, marble flooring etc etc etcetera, we're not talking a few thousand, we're talking well into six figures spent on home 'improvement'. He seemed pretty cheerful though. He told us he didn't think we'd turn up, and that he'd been 'pacing' for hours since making initial contact. He needed SEX. Desperately. Apparently it was a toss up between a ladyboy and a couple. He'd seen several transsexuals, but never a duo like us. The place looked pretty tidy except for the rug, which was strewn with fire debris and dog toys. He said he'd hoovered around but didn't do the mat in case it aroused suspicion with his wife.
And boy, did his wife have grounds for suspicion!
I'm careful with NEWS VIEWS AND SCREWS to preserve anonymity as you'll know if you're a regular reader, so I'll withhold some of the finer details, but suffice to say, Lee had eloped with a local escort who 'he felt sorry for'. She had a 'habit' and reading between the lines, succeeded in manipulating Lee into moving in with her. So he thought he'd be able to have kinky sex on demand, while she knew she'd have unlimited access to his money. And LOTS OF IT. In findom terms she was well and truly rinsing him. After a couple of months it all ended in tears of course.  Our man admitted he'd broken down. Turning back to his wife for help she responded by 'rescuing' him, collecting him by car, abandoning his possessions & taking him back in, to resume some kind of life as a married couple. Without intimacy or sex of any kind, except for one time fairly recently, which didn't work out apparently; there was no fire, no love, just two people existing, either one of them standing to lose a small fortune if they went their separate ways. She because of her minimum wage job, he because of the sizable mountain of assets he'd lose in any settlement. He told us all this in between threeway kisses, hugs and sticking his hands down his shorts to masturbate while watching us playing together. He was a bit of a voyeur and a tad bi curious too. It soon became pretty clear the guy was confused, in pieces and lonely. At one point he looked close to tears. Geeze put his arms around him & told him it was OK to cry. We've been there before. A lot of men seemingly have it all, but behind the façade, there's all too often chaos, and a lot of bad STUFF. He was upset about his body too; formerly fighting fit but now carrying too much weight as a result of gym closures during lockdown. He showed us pictures of when he was leaner, boasting an impressive six pack. We felt for the guy. Stark naked now, he asked us if we minded him shooting a line...he bragged about spending a grand a week on Charlie. It's not something we're remotely interested in...if only we had a tenth of that money to 'self indulge' on, we'd be happy bunnies! He told us we'd made his day...his words: 'Look at us all here, all naked, just enjoying ourselves and chatting by the fire' then adding.....'Here, let me show ya my dog? I've put him upstairs he's quite harmless but I didn't know if you like them....just in case'. It's not something I've ever mentioned in NVS, but Minx ADORES dogs. Way more than people in fact. So Lee put his shorts back on, & disappeared upstairs to 'go fetch'.  Normally we'd retire to the boudoir for sex but I think Lee felt more comfortable with us in the mega extension next to the fire with the rear blinds wide open; I asked him if he was worried about us being seen; apparently not; there was a fair size garden wall & the house wasn't directly overlooked. Moments later he was back down, proudly leading what I can only describe as a brute, officially defined as a Dogue de Bordeaux aka a French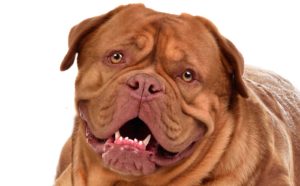 Mastiff. We'd already observed the stone statue of the breed in the garden, so we were 'forewarned' to a degree, but still weren't totally prepared for the sheer bulk of animal and it's wrinkly bull head. I'm not exaggerating when I describe it as 'lion like'. No amount of sweet talk from the owner praising up it's 'softness' could convince Geeze it was anything other than a threat; after all, isn't that one of the main reasons insecure 'men' go for these type of dogs? Canines have a sixth sense. They know when humans are on the defensive and they don't like it. Geeze felt distinctly uncomfortable sat naked and vulnerable on the couch with the dog just inches away from him. Apologizing to Lee, he requested he take the dog back to a place of safety; fortunately Lee understood and shut him in the hall. Around 45 minutes had passed by this time; Lee had been edging continuously but still hadn't cum. Activity had revolved around soft play, kissing, cuddling, & us playing agony aunt & uncle; now it was time to up the ante & bring the meeting to a close, hopefully with a happy ending. Minx demanded to be fucked on the rug by the light of the blazing fire. Lee wanted to watch. Geeze had been horny all night but the dog had affected his libido. He'd been bitten by a Mastiff as a child, and again last year, quite badly; nevertheless, the sight of Minx's peachy white ass illuminated by the fierce flames consuming the logs on the burner, spurred Geeze on. Rock solid again, he turned her on to her back exposing her fair hairy cunt. Wanting to get out of this 'situation' as fast as he could, he fucked her hard and fast, first on his knees, then in his fave position, athletically on his haunches, literally shagging her. Lee shuffled up close, wanking hard. His cock was around five inches and tapered; pretty soon he came...we all did, with him depositing a heavy load over the three of us. Minx & I exchanged glances; she knew it was about time we left, but not straightaway. Let the client down gently; he'd been in a mess emotionally and close to tears, so slowly-slowly does it right? Sitting back down on the sofa Minx cuddled up to Lee, while Geeze gradually cleared the toy's and consumables, ready for departure. Minx pulled the trigger by announcing 'Best not out-stay our welcome Geeze, time we made tracks....' She knows full well that in many cases once the guy's cum, they want rid of us. Job done so to speak. Lee got his running shorts on again, then the bomb went off.
'Where's my money?'
'What do you mean?' asked Geeze
'Where's my money, I had £300 in my pocket and it's gone' his shouting rising to a deafening crescendo.
'Looks like we're going to get accused of theft here hun, lets get the fuck out...' Geeze whispered to Minx...
'Agreed' she replied while Geeze hurriedly stuffed condoms toys and lube back into our sex case.
'Calm down.....you must have done something with it...check the sofa'
'You pair of lowlife cunts...you've stolen my money, there was £300 in my pocket before' Lee shouted, then again: 'CUNTS! You're cunts'
Geeze tried reasoning 'Here mate...we're the last people who'd do anything like that, we've shown you nothing but kindness tonight, you've probably forgotten what you've done with it or you're mistaken....'
'You've got my money, empty that case.' By now Geeze was on his feet. The heavy briefcase was on the kitchen counter, an island unit; opening its lid again, Geeze tipped the entire contents out, even opening the flaps inside for Lee to inspect. Meanwhile Minx was pulling her heels back on. Toys, condoms, nipple clamps, lube lay all scattered over the granite top but still Lee wasn't convinced; Next up for inspection was Geeze's coat, a silk lined Ted Baker mid length; Lee turned out all the pockets
'Here do you want to look up my fucking ass too? Bending over pulling down his jeans, Geeze mooned him, then stretched his bum cheeks to expose his hole, 'Satisfied?'
'No, you've got my money, you lowlife pair' he kept repeating over and over....
'Is it upstairs? suggested Geeze
'No you've got it', Lee said...the nonsense continued for a good twenty minutes; I've condensed it a bit for the sake of readability.
Geeze took out his wallet; Attempting to take the heat out of the situation he turned to Minx
'Shall we give this twat his money back & just get the fuck out? She nodded, Taking out the cash, Geeze threw it over the worktop, some fell to the floor; the guy had given us £200, the rate for an hour's outcall. Geeze forgot, there was £25 in there before, so in all, £225 got shaken out UGHHHHHHHHH!
Lee didn't see this as any sort of compensation or favour of course. As far as he was concerned he was still £100 down. Paranoid. It was impossible to persuade him we hadn't taken his three hundred quid. Our dilemma was that we didn't know if it was just an act, or if he'd genuinely misplaced the money. What we DID KNOW was that we'd never ever do anything like that! We'd just enjoyed a reasonably average meeting while giving him a shoulder to cry on: #sexworkisrealwork as they say.
Geeze needed the toilet; Neither of us were shaken or frightened, not even afterwards; I think for all of his bravado and former 'fitness' the pair of us could have handled him easily had push come to shove. Geeze was irritated though. We go out of our way to deliver a five star experience for each & every one of our clients. The guy's wife sounded too as if she was the model of kindness & compassion. SCREW this guy. Geeze left a 'calling card' hidden in the toilet, before gingerly exiting with the French Mastiff eyeing him up at close quarters in the hallway. At least Geeze had a measure of protection this time being clothed. Lee was ultra suspicious. Why had I gone to the toilet? 'For a piss for Christs sake you stupid man....Smackhead!'
'Ahh I'm a smackhead am I?' he roared.
Brushing past Geeze he moved to the cloakroom, checking everything, re-arranging ornaments and consumables, and of course he discovered the 'card'.
'You cunt!' While he was in there we got past towards the door & as far as the vestibule...
'Go on Fuck Off he screamed, slamming the front door against Minx's heels. At least we'd got out. The briefcase lid wasn't fastened properly, so we paused on the doorstep to put things back in order. We weren't worried about him coming out; it was early evening still and neighbours were to-ing and fro-ing, a couple of them were chatting together across the road. What did worry us though, was our car keys. During the chaos we'd left them in his home somewhere.  We had no choice...but to meekly knock on the door and ask for them. He responded at least, returning a few seconds later and hurling them as far as he could out on to the road before slamming the door again. We were free to go.
The night now was misty. Normally we cut across to Durham from Sunderland & home via the A1, but our minds were churning over the injustice of it all. In the fog, we missed the junction and ended up down the A19, a much longer way home, but an easy road with little to focus on other than the direction of travel. Thirty minutes later the phone rang. It was Lee apologizing a thousand times, 'can't apologize enough' Blahdyblah blah blah. He'd found the money. Evidently it had dropped out of his running shorts when he went to fetch the brute from the bedroom. We were in no mood to return.  He assured us he'd do everything he could to get it back to us, before saying sorry once again. He said he'd call back in the morning.
We felt like shit of course. AdultWork had just messed us about once again, bringing in a policy whereby contact details were hidden from anyone other than subscribers. So turnover for the month was down by nearly 50%. We'd been playing catch up, & really needed that money strewn over Lee's kitchen. But we never got it of course. Experience tells us that in those kind of situations it's best to MOVE ON RAPIDLY to the next customer, & then draw a line under it. Sadly it was a couple of weeks before we could do that because of the drop in inquiries caused by AdultWork made worse by the MORONIC hysteria. So the night's events kind of festered. In the meantime we did some digging. We knew who he worked for so we looked for them online. It's how we discovered their accounts and how they made their money. It seems other people had been looking too. Because in the Google search recommendations the company's name popped up linked to reports about road rage. Clicking on one of the YouTube links took us to Newcastle, and a video of Mr Bravado driving the wrong way down a one way street, then menacing a motorist who dared to question his behaviour. Geeze wondered if the cocaine habit might have contributed to the outburst the night before. BINGO. It turned out he was right. Text book stuff. Cocain.org hits the nail on the head 'Paranoia and auspiciousness are two very common outcomes associated with 'cocaine psychosis' and 'Essentially, cocaine psychosis is an overdose of the mind. The brain cannot handle the toxic levels of cocaine that were administered to the body and as a result the mind loses it's ability to focus on reality' Lastly: 'Cocaine induced paranoia may only last a few hours in which case the severity of the condition is not all that bad, though it could still pose serious risks to the user and to those around him or her'
I got this from 'Word Hippo' while checking the 'b' word....
'He put on a show of bravado, but inwardly he was seeking any way out of his predicament'
It summed Lee up perfectly....
One of the reasons people subscribe to NEWS VIEWS AND SCREWS is their curiosity about our life as an Escort Couple. Another incentive is because they're PERVS. Nothing wrong with that! So rather than leave you with a sour taste in your mouth from the shenanigans' in Sunderland, we'll finish with Andy from York. A meeting as different as its possible to get from the experience we had with Lee.
Andy's an estate agent God bless him, and he first made contact with us back in 2018. Like many men, good intentions fell victim to nerves, with him failing to appear despite messaging us twice. This time though he paid a deposit and assured us he'd be there. He told us he'd recently separated and that he was straight, but fascinated by the threeway dynamic.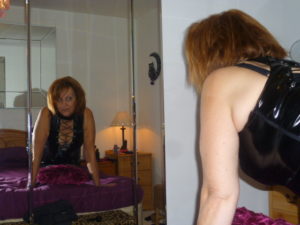 We decided a domestic environment would be best for what he wanted; our home has big wall mirrors in the guest bedroom, ideal for him to take in multiple views of the action. Aged 49, he was in very good shape, and looked younger than his years. Tanned, slim, verging on muscular and hairy but not overly so, he was an attractive proposition. Minx noticed his bulge straightaway, leading him astray & up to the bedroom, while Geeze got the guy an iced water. Upon re-joining them, Andy was naked, Minx was snogging him, and looking like she was enjoying it too. Andy said he was nervous to the extreme; I'd noticed him shaking a little when laying the envelope with his tribute down on the glass dining table. His cock was of the curved variety, straining &
pumped up harder than hard, dribbling fluid, balls taut and dark red. This guy was seriously up for fun. Threeway kissing got everyone turned on to the max, evidenced by two hard cocks now, prompting Minx to take both into her mouth at once, swirling her tongue around the bell ends & sensitive frenulum, that small tag of skin on the underside of the penis between the foreskin and the shaft. Health professionals sometimes refer to it as a banjo string believe it or not! Andy shrunk back on two or three occasions willing himself not to cum; When I was a kid I had all kinds of Meccano & 'science sets'; one was called Magnet Tricity. It was a whole lot of fun, and springs to mind while writing this missive. The three of us were drawn to each other like magnets, the sex came from the chemistry, the positive charge from the electricity. Have you ever been there? Hunger, lust, frenzy and passion all rolled into one. Cock against cock didn't seem to phase Andy at all. So Minx teased him about sucking one. To our surprise he went for it, gorging on Geeze hard and deep. We looked at each other knowingly, questioning his supposed 'inexperience'. He protested his innocence though, and we believed him. 'I'm going to have to STOP...' he cried, cock twitching. 'You twos fuck!' he ordered. Geeze loves these kind of meetings. Minx was horny, he was hard. She knows how to pose very seductively. There was no need for foreplay to lube her pussy. With one leg drawn up, the other stretched out straight, the folds of her cunt opened slightly, and then some more as she rubbed her clitoris. You could hear her wetness as her sex craved deep penetration.
Pushing in hard Geeze felt his foreskin forced right back down his shaft; he felt so horny he wanted his balls in too. Reaching under he pushed on his scrotum, trying to force one of them in....
Short sharp thrusts gave way to longer strokes, almost all the way out and back in again, hard & with force, causing her big breasts to sway like drunken jellies. Geeze knew they were pretty soon going to be plastered with his seed. Andy had been rubbing her mound as we fucked, feeling Geeze's penis too, but now he was away on manoeuvres. Threading his way underneath us we could feel his stubble against our thighs and his tongue clearing juices away as they dribbled from Minx's cunt. Swapping around, Minx mounted Geeze cowgirl style, stooping to snog him as he penetrated her. Naturally this gave Andy full view of the fucking AND her beautiful big booty. Pushing his face in between her cheeks, he stuffed his tongue up her ass, right in, causing Minx to squirm with pleasure; It wasn't double penetration 'per se' but it was a damn sight more comfortable. Andy was masturbating; Geeze sprung up, pushing Minx away for a second. Rolling a Skyn on to Andy's dick he motioned him to penetrate his partner doggy style. While Andy found her cunt, Geeze wriggled back, so Minx could take him in her mouth in a spit roast. I could see she felt dirty and slutty; she wanted to cum; 'I won't cum if you're in me' she shouted to Andy. Pulling back out, he allowed her to gush; Not quite expecting that scenario, he quickly got in on the act, swiveling back round and under to drink her copious squirt. Geeze was close to cumming. Withdrawing from her mouth, his cock smeared with her lipstick, he wanked crazily, ejaculating quickly, shooting into her face & over her back.  Not to be outdone, Andy, finally let rip. Still turned on from his anal encounter, & jacking off hard, he aimed his seed fair and square at her bumhole. It was WOW WOW & WOW again; the three of us all had juices running down our faces, the perfect excuse for another threeway kiss. Salty cum, sweat and squirt combined into a cocktail of pure hedonism. Sex on the Beach? Not quite but not bad either.....for Bishop Auckland!
You subscribe to NEWS VIEWS AND SCREWS to learn more about our life as an Escort Couple. YOUR PLEASURE is OUR BUSINESS as we turn fantasy into reality. #WhatDreamsAreMadeOf! We tell you the way it is….and we thank you for your continued support. Until next time, take care, Luv, fun50couple xxx
 * OMG! Not just two screws this time in NVS but two different types of Psychosis too!  Check out this interesting link, it may save your life. On a more sinister note, if you searched for the meaning of 'mass formation psychosis' at the time, Google manipulated the algorithm to skew the search results, with it even disappearing altogether for a while. (I checked to see if that was true at the time, it was)  Wake Up guys to censorship by BigTech BigPharma WEF & NWO.
** Property investor? NOTE: These 25-30k homes are achieving rents of between £500 and £595/600pcm. Get in there. [if you dare]
Please note we NEVER divulge people's identities and we have changed some names and details to preserve complete anonymity.
Like what you see? Then please share with others and tell them to pop their name and email addy in the box below to receive more of the same monthly 🙂 AND, if you're not already doing so please FOLLOW US on TWITTER