Fun50Couple-NEWS
Hello Sexy Friends and a SPECIAL WELCOME to all the new subscribers from the past 30 days! We've had a busy month as usual which included a trip North of the Border to Bonnie Scotland; three days in Glasgow followed by four on the Moray Firth staying with relations. It was good to be back on the Clyde...you'll read more about what we got up to in SCREWS. When you get sucked into a hectic working life anywhere south of around Leeds these days its easy to forget how much Scotland has to offer. The pace of life is noticeably slower, yeah, even in Glasgow, the folk are more laid back, and most refreshingly there's S>P>A>C>E!! We didn't even mind the average speed cameras the whole way up the A9 to Inverness...because it allowed us time to 'breathe in' the environment, especially on the way back down, when sunny skies rewarded us with some stunning vistas across the Highlands. There's a lot to be said for migrating North and if you've not been then treat yourself to a stay-cation soon. Over the last year or so, friends including some of our clients have been telling us about the North Coast 500, (#NC500) take a look at this. It's getting mega popular but some of the locals are complaining, about super-cars travelling the route against the clock...it's Scotland's answer to Americas's Route 66 so go hire yourself one of those new Mustangs and enjoy it before the Snowflakes, the NIMBY's and Old Bill shut it down. We're told that you need to book accommodation months in advance, but don't let that worry you because it's legal to wild camp in Scotland...what better way to wind down and recharge the batteries, ENJOY! (Just make sure the tent's big enough for three 🙂 )
Other NEWS for October is we're still battling to get work finished on revamping the FUN-FIVE-0 website. It looks like we may have it ready to go live this weekend (14/15th October) and we think it's looking pretty good, however, we would value YOUR feedback...why not drop us a line? There's still a ton of work to be done adding new lines and streamlining our portfolio. We had hoped to have the improved site up 'n running LIVE by October 1st ready for the Christmas rush, and we're a bit late....but hey ho! ..we ARE steadily getting there! 🙂 🙂  Y'all know its taken us over a year to find a suitable IT man; Making a site which is distinctly different to others using custom code is no easy task, but should be well worth it in the long run. FUN-FIVE-0 is a 10 year project so we have time to get it right; it's fingers crossed for some Christmas trade and we're already looking ahead to Valentines Day '18, which reminds me...did you know that the final part of the FSOG trilogy is released that day? It's called Fifty Shades Freed, and the hype promises it to be very different to the previous movies...we're NOT holding our breath though (or stocking up with overpriced 'Freed' merchandise at the behest of the likes of  the blessed Lovehoney). Talking of whom (I'll refrain from giving them the benefit of another name drop), there's been some fascinating articles in the ETO (Erotic Trade Organisation) magazine this past three months aimed at people like us running small e-com adult sites trying to compete with them.  Personally we don't give a tinkers toss about 'Love****y' as we have our own unique USP, and view FUN-FIVE-0 as a long term enterprise. We WILL prevail, and we WILL build a store worthy of serious consideration by our core niche AKA 'all kinds of men & sex positive couples, straight, bisexual or gay'. ETO magazine have picked up on a vibe in the industry...that many newcomers and start-ups feel overwhelmed & impotent against the global giants, thinking there's 'no point' in trying to compete. We (and they, ETO) believe there's still a place for others...every one of us has our own personal story to tell in relation to why we seek to trade in adult pleasure; YES the internet has spawned these megastores, but the internet also enables minnows like us to establish a credible presence alongside them. We've given much thought to how this can best be done; hopefully you'll like our new store image and product range once we go LIVE with it. Look out for a special PREVIEW coming your way soon, with some incredible offers delivered to your inbox; Guys please remember to add us to your address book, and also to help us by spreading the word, CHEERS!
Last but not least is that we've been discovering more about crypto currencies. Here in the UK, we're beginning to witness the onset of a currency revolution not seen in our country since the last big one over 300 years ago at the time of Sir Isaac Newton in 1699. We intend to profit from it if we can, and see it as one means of helping to safeguard our adult industry activities. Implementation of the hated Digital Economy Act is almost upon us (Spring 2018) and YOU my friend as a consumer of Adult Industry content (including blogs like this newsletter, not to mention activities as a punter) fall under it's censorship. YOU will be forced to divulge credit card details to maintain access to most adult sites and services. Blockchain technology appears to be a legal and viable way to circumvent these restrictions. Visit our new phonesex page on https://www.cryptopia.co.nz/MarketItem/7626 and while you're there take a look around. You'll see, if you dig deep, that you're able to pay for such services totally anonymously, with no paper trail, only a string of code which cannot be altered, to serve as irrevocable proof of payment. We're excited about it, and so should you be because it's cutting edge stuff right now, but surely destined to become mainstream, sooner rather than later. You may also like to check developments in the crypto world here and watch daily trends here at https://www.cryptocompare.com/. Keep informed, stay ahead of the flock, and remember...you heard it here first!
Fun50Couple-VIEWS
Regular readers will know that Geeze has followed trends in the sex industry for decades, and you may remember we touched on 'pegging' back in March. Recent reports seen by fun50couple indicate that from a recent survey of 14,000 people, 64% thought that male sextoys could become as popular as sextoys aimed at women, furthermore, it's reckoned to be a market worth in excess of £1 billion....76% of the survey said that men who hadn't tried a male sex toy were seriously missing out. WOW! It's fair to say that many men still shy away from sextoys, or may only use them in private, however, there are increasing numbers who actively embrace them. The more 'Sexually Liberated' men and couples see them not just as 'stand alone' toys, but as tools to enhance sex lives, and to promote discussions over likes and dislikes. A well known recent blog entry about pegging has set new viewing records; there's widespread interest across the UK with some suggesting it's becoming almost mainstream. That's maybe stretching it a bit (hee 🙂 hee) nevertheless, anal play IS something we're getting asked for more and more. It would seem also, that another 'fringe' activity AKA nipple play is also gaining traction. It's something we chat about early on in the course of an escort meet...years of experience has shown us that men who truly 'own their bodies' know all about nipple play and it's possibilities....Geeze has been known to cum from prolonged nipple stimulation alone...but it does take time...and can verge on being painful. But then we all know there's a fine line between pain and pleasure don't we!?  When a guy tells us 'he doesn't know' if his nipples are sensitive, has never explored, has never touched his ass not even in the shower, has never used a sextoy...well then we know it's going to be HARD WORK!  Hats off to these men though for having the guts to visit us. Obviously there's something lacking in their sex lives...it's up to us to leave them satisfied and wanting to cum back for more. For some, a visit to an escort is the first time they've touched on these pleasures. So guys, don't be shy. Life's short, don't go to your grave 'wondering'. Many men we see have waited decades to pluck up the courage to visit us or people like us, in the hope of enjoying an enhanced sexual experience, to push boundaries and set new limits. What possible harm is there in seeking ultimate sexual gratification? I'll conclude this month's 'VIEWS' with some words from one of our lovely subscribers.... a 'bi-curious' guy who we've actually met..he says this in a recent email:
'I had a night in ******* [city] the other night with some friends and before I returned I discovered a sex shop tucked away down a back passage (!!!!!). Had to have a peek so I went straight to the dildos and they had a reasonable selection. A very pretty young girl assisted me and asking what size I wanted. "Large"  I replied and I've bought a beauty. Last night I lubed up and eased a fair amount of it up my ass, as it hit my p spot I knew I was going to have a fab orgasm and I did. Again it was one of those that built up over a minute or so, I was sat on it over the bed and after I shot a wad of thick cum, collapsed in a heap. I always wonder if any of my straight friends have ever enjoyed wanks like this or if they've experienced pegging or just fingering? They don't know what they are missing.'  Thanks 'G' !
Fun50Couple-SCREWS 
We often get Twitter DM's that go like this:
'WOW, bi escorting sounds so much fun...Making guys and girls cum for a job (is) a dream job'

Reply: YOU think?

'Must be and get paid too' 

Reply: Reality is VERY different, an occasional mind-blowing meet interspersed with so so men, dreamers and time-wasters, and constant hard marketing effort required to make a living.

'Bloody Hell, never thought be time wasters when you going to act out your Ultimate fantasy..... ' 
I've just returned to writing this after an hour and a half helping Minx get the room ready, and cleaning round in readiness for a 'client'...a solo guy from Gateshead and yep, you guessed it another NO SHOW...the scourge of our industry and another number to add to the AW trade database and our own blacklist....and exactly how I'd depicted the 'dream job' to our enthusiastic follower. To a horny outsider, the world of sexwork looks easy and fun, and don't get me wrong, we DO generally enjoy our work, but not for hedonistic reasons. What we get out of it most is making people happy, especially the 'difficult' ones or the 'sad ones'... prima-donnas and widowers respectively to name but two. Flicking through the profiles on a host of escort sites reveals hundreds of service providers proclaiming they 'just love sex' and the 'sluttier the better' etc etc  Those truly 'in the know', for example longtime punters with lots of feedback themselves spanning years, often paint a very different picture of the escorting world. Less than savoury experiences, escorts bearing no resemblance to how they portray themselves in pictures, services listed but not on offer or if they are they're frequently charged extra for, other people in the same room for example a man watching over a female escort working without the prior consent of the punter, theft, violence, shortchanging on time...we hear about all these things. As we've said many times before....do your homework before calling a service provider, and dig deep. Look at the escorts' punters' feedback...laborious I know but it gives a much fairer insight about what you can expect. Here in Durham we compete against a local woman offering 30 minute threesomes at sixty quid a time, and she appears to be packing them in, advertising up to 7 consecutive slots at hourly intervals over weekends. Piling it high and selling it cheap. Are we worried? Not really, because she's playing to a different market.
What discerning gent is going to visit a couple for a 30 minute meeting hot on the heels of up to 6 others the same day??? 
Her 6 meets netting £360 equals our two one hour outcalls at £180. Yes, times are hard in the North East, but we won't budge...there's ALWAYS demand for QUALITY. You buy cheap, you usually end up buying twice. She walks a slippery path...once she's exhausted the demand from the £60 brigade, she'll drop down to 15 minute quickies at £30....a race to the bottom, and so typical of Britain and our 'gig' economy. Quality businesses thrive on repeat custom. That is what we strive for...Delivering such a good experience, that people just wanna keep cumming back. Our main SCREW this month is a guy just like that, on his twentieth visit to us, this time to our Glasgow hotel, and a meeting to die for. A meeting where we all got so sexed up, so C>O>N>N>E>C>T>E>D, that me & Minx are still getting aroused by it a month later. WOW. If only they were all like that! (like how our follower imagines!) Some service providers promise that every time...think about it, GET REAL! How many times are strangers going to experience an electrifying meet on a first visit? You need a certain amount of chemistry, experience, and connection to truly ROCK. Yes we can, and do, satisfy the vast majority of our clients and they leave happy, but Over The Top INTENSE experiences are the exception rather than the rule. Some of our hottest times are together as a couple. Always seeking to improve on our repertoire of services, quieter nights at home often evolve (especially after a couple of drinks) into 'staff training' sessions. We talked about 'pegging' trending, and once again folks, it's not like how you see it on Social Media or on the porn channels. Pegging is an art, and requires practice!  It's no good fumbling when there's a hot n horny guy in the room demanding his ass be filled, destroyed even! Minx is becoming more dominant by the week, and pegging is an experience in strong demand by sub men, even some straight men...what we should say is 'sexually liberated men'...How fortunate I am to be a lover of all things anal, and a bit of a Switch myself; the harness has seen plenty of action recently...meaning we're on top of our game; it's shown up shortcomings in strap-on design, so we're now on the look out for more robust equipment. There's a lot in the erotic trade press right now about this, so it won't be too difficult to find superior kit; we're even intending to bring some of it to Fun-Five-0.
Another area we've revisited recently is masturbation. I have to admit that the Twitter follower's comments gave us much food for sub-conscious thought; We're constantly involved in heavy three-way sexual activity, yet simple interaction between two long term lovers can lead to an experience just as hot! Masturbating in front of each other is perceived by many to be a fairly 'advanced' activity. Many couples frown on the act believing (falsely) it be some kind of admission that one of them isn't delivering what's 'expected' whatever that may mean. Getting comfy, setting a good view point, dirty talk, and edging together can bring on an incredibly strong orgasm, time it right and cum together and its WOW WOW & WOW again! Sometimes it's good to get back to basics, trust me.  So enough on staff training, let's talk about our man in Glasgow; we'll call him Don. Don is from the Midlands, and meets us frequently in County Durham, but as luck would have it, he was in Scotland on business,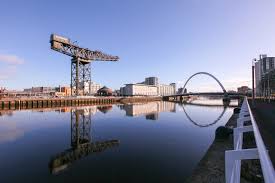 while we were there for a family occasion. We'd stopped in Glasgow for a couple of nights on our way to the Highlands with the intention of meeting old friends from the days we used to live and work North of the Border. Don booked an hour in the middle of the afternoon. Our hotel was first class, and we were given a room on the 5th floor, floor to ceiling windows affording a view directly down on to the Clyde. The famous Finnieston crane still stands proud adjacent to the hotel, a reminder of the days not so long ago when the Clyde launched around 3/4 of the World's merchant ships, with Glasgow acknowledged as 'the second city of the Empire' 🙁 . Don's a reliable chap in a high powered job, and constantly under pressure to 'bring in the business' as a senior sales director of a national company, and sure enough, at three minutes to three, the phone rang, him telling us he was on his way to reception. Geeze went down in the lift to meet and greet, and both men sat for 5 minutes sharing what they'd been up to since their last time together, before going back up to meet Minx.
Having met so many times, Don is more a friend, yet we always remember that primarily, this is BUSINESS. Let me tell you, that that sentiment is an emotion becoming more difficult to feel as time passes. 
Minx was sat in the corner of the room as we entered, dressed provocatively in a short wet-look dress, fishnets and animal print 5 inch heels. She tries to be in something different every time but 20 visits, I mean come on...We knew Don liked this particular outfit so 'all good'. It was straight into a threeway kiss/hug, before Don said he'd have to shower, because he'd come to us straight from work travelling. Don is always 100% clean & uses a douche...he produced it before disappearing into the bathroom..there was much laughter between us,
because Don's douche was the large size...but the same brand as ours; before catching site of it we'd told him not to get his mixed up with Geeze's...Don's cock is 9",Geeze just about gets to 7" on a good day....I rest my case 🙂 No shame though...the UK average is 5.3", and we see A LOT of 'Mr Average' in our travels. A 9" beauty is, in truth, a rarity. A delightful rarity it has to be said. Even during the kiss, the monster was visibly straining to get out of tight suit trousers; Geeze had wasted no time in unzipping Don and re-acquainting himself with it's taste and personality, before mention of the shower.
The minute Don re-appeared it was group hug time again, and group fingering, and group sucking, you name it, we were doing it. Holidays and training courses had meant we hadn't seen Don for around a couple of months. We'd started to miss him. It quickly became evident the three of us were HUNGRY for each other. Minx came to 'squirt' very quickly. When we first met Don a couple of years ago, he'd met with a couple just once before, and identified himself as straight. The first MF duo he went with we 'kind of' know. She's bisexual, with a reluctant orally bi male partner, but they must have planted a seed. The first time Don visited us he was hot, horny and definitely bi-curious. We would describe Don now as even hotter, even hornier and fully bisexual. With us he's found he can be his true 100% authentic self with NO INHIBITIONS. It would be fair to say that each meet builds on the previous one.
We're left wondering (excitedly) how far it's going to go. Ever onward and upward probably. Or we may never see him again, such is Escort Life.
We know he sees female escorts too, AND he's had extra marital affairs lasting three years or more, so we'll make hay while the sun shines. Geeze lay across the bed at right angles, Don stood over his head, cock down G's throat, with Geeze urging him to fuck his mouth....Geeze knows that very deep oral penetration to the point almost of gagging can feel VERY INTENSE and VERY EROTIC; an advantage of being bi is that you get to know what the ladies feel like, so when you're together as a MF couple you can act accordingly. Don lifted Geeze's lower body clean off the bed, to reach Geeze's cock, sucking on it frantically. Knowing  a guy well and knowing he's clean makes a ton of difference...the tension in Geeze's body mixed with the feelings of sheer lust emboldened him to go further and divert attention to Don's balls, just briefly because he's hyper sensitive around there...Geeze took the entire sac in his mouth, savouring it for a few seconds before moving on to his perineum, shaven smooth. Firm pressure from both thumbs and finger on this erogenous area, interspersed by hard licking deflected attention from the rising level of excitement, but only for an instant. Don's oral skills had brought Geeze to the most intense level of arousal he'd experienced in weeks; Bear in mind that getting 'turned on' is an almost daily occurrence for us, but this was extra special, prompting him to grip Don with his knees and wrap his legs tightly round his waist...Lust, a feeling of utter abandonment, surrender, WTF, whatever you like to call it, we were  in HEAVEN, if you've been there you'll know it, and if your mind's there NOW reading this, male or female, I'll hazard a bet there's a stirring down below, Am I right?.....the INTENSE emotion encouraged more intense licking, onward, upward and between the cheeks of Don's pert white ass, before reaching his sweet hole, tongue forcefully probing ever deeper;  things were reaching a peak and it was only 20 minutes in, STOP!! ...it was time to take a step back, for sense to prevail (really?!), and time to focus attention on Minx, herself intensely aroused by now, through watching and egging the two men on at close quarters. Both guys got to work on her pussy, Geeze stretching her flesh with the palm of his hand, Don expertly licked her to gushing orgasm, three times over. We're no strangers to this kind of scenario, and prepare for it beforehand, by chatting up the chambermaids and asking for extra bath towels to cope with the flood; Minx collapsed, temporarily exhausted, her pretty face drawn from the exertion, but smiling, prompting Don to lay back on the bed, his monster penis still erect and proud, pointing skyward, begging for Geeze to sit down upon it, but not before a little reluctantly (but absolutely necessarily) dressing it with a condom. Don's a 'stayer' so we keep the very best Skyns for him in Extra Large, for maximum sensitivity and enjoyment; If you're new to anal (including pegging) OR, if you're more experienced but wanting to take a giant like Don's, then the easy way to take a cock is to sit down on it at your own pace, absorbing it, drawing it in while simultaneously pushing down gently, always remembering to use plenty of lube. Learn the differences between water and silicone based lubes...we favour the former. Little by little you'll learn how to take it; once you've got that far, it's a case of getting used to the feeling and manoeuvering in such a way that you get it to hit 'the spot'. By that I mean the glorious P spot. You won't know whether to pee or cum, you will know it's a feeling you can't get enough of when it's done right. If you're really lucky (I have to confess I haven't quite been there yet myself) your cock will stream cum by itself, without manual or oral assistance.
Sex is a wonderful thing, there's ALWAYS another goal...if you're the type that wants to look for it.
It never ceases to amaze me/us how shallow so many men are in their search for erotic pleasure. Women learnt to 'own their bodies' through active exploration aided by sextoys and communication DECADES AGO! Most men have a long long way to go! Start your journey guys! I had hoped to arouse Don enough by riding his cock long enough to bring him to climax; I'd done it in the past, and knew it got him off more easily than any other way...sadly & somewhat selfishly I couldn't hold off indefinitely. The previous mutual oral had brought me to such a heightened state of arousal that I could only stand his penetration for so long before letting go in between sharp almost violent thrusts against his cock, noisy too with groans and dirty fucktalk, before a shower of watery pre-cum, pre-empted a forceful deluge of the white stuff. Plenty of it too! Don knows I can manage a good 6-7 pumps and opened his mouth ready, willing a jet of jism to land fair and square on his tongue; He was not disappointed, taking a good load more, swallowing it whole, before kissing me and Minx. The heat was ON, both Minx and I continued to work on Don, 4 or 5 minutes of sensual but firm masturbation started to illicit a response; Don's mouth began to curl as he groaned, intensely so.  Don's a star salesman, DELIVERS the goods and exceeds his targets, and not one to do things by halves; SEX is no exception. His face contorted with pain and physical effort. His body shook. An almost embarrassing loud cry announced the onset of a mega orgasm; then it was over JOB DONE. Everyone's different....Don's climaxes are almost dry, a tiny amount of semen erupted into his hand, then all three of us wrapped up naked together on the bed, arms around each other, hugging, squeezing, kissing. In short, it was the sort of meeting our Twitter follower thought was an 'every day occurrence'. We wish!
To put it into context I'll just share with you briefly another side of the coin. Meet Dave, a 47 year old professional geeky kind of guy, who works for the NHS. Dave had tried to meet us for months and had moved house in the meantime to Nottingham, far away from his native North East. Dave sent us a bundle of emails setting out in minute detail what he wanted/liked...to cut a long story he was a long time cross dresser, even sending us photos of himself in different outfits. A dark cherry red lace outfit and stockings looked particularly alluring, and we were both looking forward to the meet, in a hotel he'd booked for a two hour liaison. He booked through a site using a booking form, but we never meet without a phone chat first. On the day he called, we both remarked how 'snooty' he sounded...no matter though; we are used to dealing with all kinds, from street level, to Captains of Industry (and Government for that matter, nuff said, it might pay to have friends in high places one day 🙂 ) We arrived at the hotel, which was a bit on the rough side I have to say & knocked on his door. A glamorous mop of black curly hair appeared nervously from behind the opening.... a 'lassy' around a size 8 and looking quite tidy in stockings and heels....it can be a big turn on seeing a cross dresser for the first time and knowing you're going to have SEX, mmmm...in we went. It quickly became apparent that our man was indeed snooty, aloof and totally 'in control', and rather cold with it.  It's our job to handle these kind of situations...one thing was for sure, as we kissed him and rubbed his prominent 'clitty' it became clear he was super turned on. He told us in no uncertain terms he didn't do anal of any kind, he only liked minimal oral on others, and what he got from cross dressing was the thrill of the anticipation and the feeling of silk against skin. Not unusual, though we prefer the full-on slutty kind of CD's, the kind wanting to be treated like the dirty tarts they aspire to be. Dave's 'clit' grew in sizes to the point that it had to released from crimson knickers...he'd told us he wanted a cuckold experience, and we wondered if he had a small cock...he conceded sex was NOT on the menu at home AT ALL, poor soul. We weren't left to wonder long...he had an impressive cut cock, arrow straight,...upon release it was slimy all over to the touch, from Dave's excessive & continuous pre-cumming. Gentle questioning beforehand revealed he only saw escorts about once a year...and this was a rare treat for him while his wife was safely away. Our questions are for a reason, it gives us an idea as to how safe (or not) a guy might be, it's not infallible though. We are experienced enough however, to make a reasonable judgment, and felt re-assured enough on this occasion to take his wet cock in our mouths and suck him to maintain his state of arousal. He soon got into it. The meeting was booked for 2 hours, and we're not ones to make guys cum prematurely and then shortchange them. Nevertheless the meet was HARD WORK...with the guy failing to relax and really warm up until the hour 40 mark...a complete contrast to the Glasgow meeting described above.
Yes we got paid for it, and a good deal more than we'd get paid for working several days in some ordinary work place, but it was a chore, a 'so-so' meet. The best bit was Geeze fucking Minx...meets like this we tend to get into each other if the client doesn't want to interact too much. Some guys just like to get off watching. Dave massaged Geeze's balls as he thrust in and out of Minx...the massage was quite exquisite, bringing him to cum as Dave hoped, with a good load deposited in and around Minx's pussy, and a feast for Dave to clean up...just what he wanted. Eventually he himself had intercourse with Minx, and very gentle he was too, before getting himself off in the process...Fairplay.
Everybody's different, and this meet was a cold clinical affair, which took every ounce of our effort to warm up and deliver; Escorting can be very physically demanding and/or very mentally demanding, occasionally both, like the fisting scene last month. (Not read it? ..then check your JUNK files and + us to your address book).  Our Twitter follower thought our job was one big paid fuckfest, as do many folk. You win some you lose some. I've shared with you here 'A Tale of Two Cities'. Dickins anybody? [sic] We turn fantasy into reality, and we tell you the way it is….You subscribe to our newsletter 'NEWS VIEWS & SCREWS' and to find out what it's really like to be an EscortCouple, We thank you for your support, Stay tuned, safe sex always, until next time, Luv, fun50couple xxx
* Please note we NEVER divulge people's identities and we have changed some names and details to preserve complete anonymity
Like what you see? Then please share with others and tell them to pop their name and email addy in the box below to receive more of the same twice monthly 🙂 AND, if you're not already doing so please FOLLOW US on TWITTER