Check out the latest Product Review from fun50couple!
Emma: Super powerful wand vibrator with flexible heating head from SVAKOM reviewed by fun50minx
Emma had been sitting in a box in our office for weeks waiting 'for the right moment' to break open and test. Working as a full time escort (both solo and within fun50couple) is quite demanding and contrary to the belief of many, actually, HARD WORK! So at the end of a day it's often a case of putting my feet up and watching 'Housewives' on TV to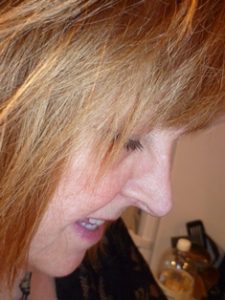 R>E>L>A>X and even then the phone can ring and I can find myself whisked off to some distant outcall at short notice. Even if I do feel like sex with Geeze, we'll usually put it off till later, then all too often we'll be tired! It's all part and parcel of working in the 'oldest profession' I guess. This Christmas we managed a couple of days off, and had promised ourselves some 'us' time and some 'kinky time'. We had a brilliant Christmas Day, relatives stayed till Boxing Day afternoon then the phone started ringing. This time of year CAN be very busy with many people brassed off with festivities so we were braced for it and looking forward to meeting new guys. I'd seen a client in the afternoon…it was an easy GFE meeting with a guy who was SO nice, and I was left with plenty of energy and quite turned on. Geeze had been horny all day after writing erotica all Boxing Day in the form of a short story for our #bi-monthly newsletter NEWS VIEWS n SCREWS. The story was based on fact and went down well with subscribers, some of whom sent in messages about how horny they found it. Apparently some of them had been masturbating over it….Great news…we like to satisfy all of our clients whether they be meets in person OR social media followers. Around an hour after the end of the GFE meet, Geeze and I went upstairs to the bedroom and thought we'd 
have fun with Emma (wand) and Rocks off Ro-Zen, one of Geeze's favourites, and a toy which can be relied on to get ANY guy seriously pumped up and horny. Not that Geeze needed much help…he just loves the sensation though. We'd literally JUST got layed out on the bed when the phone rang. Again. A mid 40's guy was fed up and bored with Xmas and wanted a threesome where he could be a bit 'bi-curious', a common enough scenario. He was in a very unusual job with high stakes involved, so it was understandable that he was feeling in the need of some extra excitement after 3 days with 'family'. To cut a long story, the meet was over in 45 minutes…the guy was seriously turned on, and unable (despite us helping him to hold back) to stop coming too soon; instead of staying and re-kindling the fire, he was away. No matter, he said he'd be back in the New Year, so all good.
So it was a quick wash and brush up, then out with Emma. I'd already unpacked her earlier in the afternoon. Emma comes well packaged in a smart presentation box, protected by a cardboard sleeve. The box is substantial and is plain white, bearing the SVAKOM name in silver along with a simple wave pattern. It looks and feels classy; it gives a very good first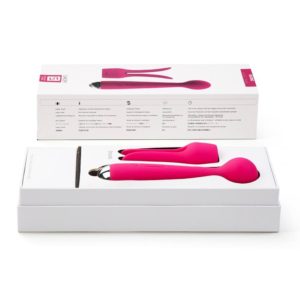 impression and an indication of the quality one might expect of the product itself. So potentially, it makes a great gift. Opening the box reveals Emma in two parts, the base unit, and the rabbit ears, presented in moulded foam with cut-out. A separate section contains the charger and storage bag + instructions.  There was also a handy little catalogue of the entire SVAKOM range, plus a registration card enabling you to register your product online which will validate a one year warranty. The instructions recommended charging up Emma before first use, which was easy enough…simply plug in the USB cable to a laptop or similar and away you go; the unit was already partially charged anyway. There's a light which flashes away to tell you it's charging before changing to steady once fully charged. They tell you to wash it first as well, before use. There are 6 different vibrating modes and you're able to enhance OR weaken vibration using the control buttons.
You'll also find a separate button which flashes red to indicate HEAT is on. I don't think the commonly used image of Emma does it justice in that it's difficult to judge its size; Emma is around 210mm long which is about 8.5" in the old money and weighs in around 215gms. It's made of silicone, 100% waterproof with a polymer lithium battery which is supposed to last for 48 hours of continuous use on one charge, WOW. The heating function heats Emma up to 38C which is close to body temperature, so no cold sensation when first using….very nice, I could certainly feel the heat. The cute silica gel rabbit ears fit over the top of the unit for extra stimulation….you need to push them on fairly firmly and to set them at the angle you want….Geeze demonstrated them at the beginning, but we chose to remove them and go with the base unit instead…..I  prefer the firmer feel. I told Geeze that we were in no hurry, he knows I like a long sensual build-up, and I told him to stay away from all the highly erogenous areas first. I wanted him to surprise me and excite me instead of going in like a bull in a china shop. He knows all that but I have to keep telling him…he's just too keen. I was wearing holdups and a Basque, lying on a cotton sheet protected underneath by another one in PVC, normal practise for us. 
After a brief flirt with the rabbit ears, Geeze removed them and started to stimulate all areas around my thighs and pussy, but not directly ON. Straightaway I could tell this was FAR SUPERIOR to any vibrator I'd ever used up till now, including expensive Lelo ones…Emma was very different. I'd been meaning to try massage wands for years, but never got round to it. BIG MISTAKE.  For I very soon found out what I'd been missing, and then some! Geeze is well used to finding his way around a female's private parts and getting the best out of them, and tonight was no exception. He hit the spots in no time at all. I've been told I'm not like many women in that I have a very small concealed clitty, and I'm also one for intense female ejaculation….a source of endless fascination to many of my clients.  Geeze started messing around with the speeds and modes; one in particular had me very excited, the one which was repeated short sharp bursts; I have to say though that all modes are pleasurable, intensely so. Svakom classify their modes as normal, caressing, joyous, passionate, climax, and Svakom mode. We haven't yet identified which one is which….believe you me, once you get started with Emma you're not going to wanna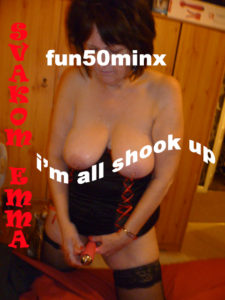 stop, and certainly not to check on instructions. I ordered Geeze to slow down the pace and the speed of the vibration, and together we played. Geeze was in a colourful thong, nothing else, and it was not long before he too got intensely turned on by seeing me in the same state. His cock was solid, straining against the Spandex material. After around 10 minutes or so I was coming…the sensation of the heated head on my labia and clitty was to DIE FOR, and when Geeze zapped up the power at my request, it took me totally over the top. The good thing though was that the vibrations at maximum were not unbearably intense…they were just right. I applied Emma to Geeze's shaft and balls….he particularly enjoyed the sensation to the former prompting him to remove his thong….I took Emma in hand myself and it was basically WOW WOW and more WOW I kid you not. Geeze had told me beforehand he'd seen porn clips of these kinds of wands producing massive orgasms with footage of women literally HOWLING with pleasure, and I joined them this night with Emma. I have NEVER come so much…the sheet was soaked…a good square metre and a half wet with my cum, time after time after time, till I lost count, and certainly many more after Geeze had cum big time across my tits….I used Emma lying down and standing up…I just wanted to climax again and again; the word FANTASTIC doesn't come close to describing it. In the end my head was in my hands as I savoured the moments…around an hour if truth be told…indeed, I had to force myself to stop for fear of running myself down too much…I'd have to sleep for a week to get over it. So ladies, this sextoy massage wand is the BIZ…seriously so. Well made, it looks good, its got great endurance, and it hits every spot you can think of; it works for me, why not get one for yourself? 10/10. Luv fun50minx 🙂