Check out the latest Product Review from fun50couple!
RO-ZEN from Rocks-Off REVIEW
The problem with dealing in sex toys AND working as a full time escort couple is that one's literally immersed in the World of Sex pretty much 24/7. There are usually several boxes of adult related merchandise in our office and they're best kept sealed, to avoid temptation. Nevertheless, there are some occasions when you just can't help yourself from 'over indulging' and breaking open a box. Last weekend was one of those times; Often people ask us what is the worst thing about working as an Escort Couple expecting us to talk about matters relating to the bedroom, but without doubt the most onerous part is suffering the vast numbers of dreamers/time-wasters and 'no shows'. Last week was even worse than usual so we were delighted when we got a call at short notice from a favourite 'regular'. This particular guy is in his early 40s & married to a wife who for health reasons, 'doesn't do' sex anymore…a common enough scenario, as was the guy's interest in same sex fun within the parameters of a MMF threesome. There are many 'sex positive' guys out there these days wanting to explore their 'bi' side with active encouragement from a kinky female. He'd seen us 4 or 5 times previously and as professional escorts we always seek to deliver a 5* experience, which means thinking up new ways to turn our clients on, so hopefully they'll return; repeat business is the key to escorting success. So that was a good enough excuse to try RO-ZEN. I'd been feeling particularly horny anyway due to the lack of much activity in the preceding days, and quite kinky…some of you guys will 'get' that I know…it's that animalistic EXTREME feeling…when one's in need of imminent and intense stimulation culminating in violent relief AKA orgasm. And we sexy peeps know that a little anal attention goes a L>>>O>>>N>>>G way in reaching that goal. 
So I bust open a box and rummaged. I love the power of cock-rings and often encourage guys to experiment with them. We see more than our fair share of guys who find staying hard a struggle, and rings usually help…BIG-TIME. I also like anal stimulation especially that filled up feeling often talked about by women enjoying vaginal & anal intercourse. In my view many men are drawn to experimenting anally after watching their female partners enjoy 'A'; it seems entirely natural to me for a man to want to explore those feelings himself…yes, I know, I'm a bit extreme and many men won't go there because they think that makes them gay; well, welcome to the 21st Century brother…I've got news for you…its well documented that male sex-toys and in particular 'P spot' stimulation is moving mainstream….get over it. Enjoy. The rummaging quickly revealed a white sleeved box with purple graphics…purple being my favourite colour btw: '7 speed RO-ZEN' and another printed message 'PLEASE REMOVE SLEEVE FOR DISPLAY PURPOSES'…alongside were two other opened cartons, 7 speed O boy and Doc Johnsons Optimale, both toys sampled on previous occasions with mixed results. Within the sleeve was a smart box containing RO-ZEN, blister packed and within an upscale professional looking carton fit to grace the shelves of the classiest retailers.  Unpacking RO-ZEN was a breeze followed by a quick inspection and removal of the cardboard disc within the battery compartment…you always want to do that in good time and way before sex so you won't spoil the moment later. It's also beneficial to familiarize yourself with the functionality before-hand. RO-ZEN has a 7 speed bullet. If you're familiar with ROCKS-OFF products you'll know how simple the control is; twisting the gold coloured knob OFF/ON and a black tit to change mode. I personally can take or leave vibe action, though admittedly it's nice to have it on tap for a little boost now and then. My favourite toys are solid glass…the attraction to RO-ZEN for me was the combination of two rings PLUS butt plug…three-for-the-price-of-one, and while we're on the subject of money, I feel this toy comes cheap at a RRP around thirty quid. (£24-77 on www.fun-five-o.com/product/zen-by-rocks-off-pleasure-redefined/) We had fun at FUN-FIVE-0 writing the product description for RO-ZEN and exploring the meaning of the word 'ZEN' finding the best definition as 'a practise that helps a man to penetrate his true self through cross legged sitting and to vitalise this self in daily life', well, the first part at least sounded good to us!
We're not ones for merely Copying & Pasting manufacturer's notes. We live sleep and breathe the sex industry; far better to talk to our potential customers from the heart, and often from experience we feel. It seems that the world and their neighbour are all out there selling sextoys these days with no interest in them other than as a cynical means to convert a pound sterling into £1.20 …money men…that's NOT our style. Once I'd done my homework and examined RO-ZEN it was time to put it down and ready myself with Minx for the upcoming liaison with our 44 year old client. After a refreshing shower and douche, it wasn't too long until there was a knock on the door, and in came our friend, beaming. He'd suffered a lot of stress recently due to un-foreseen fluctuations in his business so it was good to be able to talk…a problem shared is a problem halved.  We were soon into FULL-ON sex mode and this is not the place to share intimate details, needless to say, a good time was being had by all. Client had a problem staying hard while rubbering up, so we gave him a steel ring which quickly produced the desired result. At the same time the sight of the client's by now impressive hard on prompted me to reach for a ring myself, not because of any shortfall in performance,  but more because I craved the taut feeling one gets with a ring. What better excuse to trial RO-ZEN?
I never normally bother with a ring round my balls, a simple ring around the base of the shaft is normally sufficient, but RO-ZEN has both. I have bigger than average balls (Minx loves a man with balls, metaphorically and physically speaking) and pondered briefly as to whether ZEN's diameter was big enough OR whether the material would be strong enough when stretched.  This is something I'll be looking out for as time goes by. Stretching the ring around the scrotum with one ball in, enabled me to feed the other in after, followed by pushing all the skin through for a good tight fit; it was then very easy to stretch the smaller ring over my erect penis, leaving the plug dangling under. I'd already lubed up with a water based anal lube, so the next thing to do was to push the plug home…..delicious, though I found myself at first having to keep a finger against it to hold it in, or by squatting low against the bed. There are dimples moulded into the inside face of ZEN to stimulate the perineum though I wasn't taking too much notice of them since the feeling I was getting was quickly moving from so-so to good to intense. I found that ZEN stayed in place without manual help once I really got into it. Client was having intercourse with Minx and I was watching…he pulled out though due to going a little soft again and proceeded to masturbate instead, for he was getting very turned on seeing me turned on…big mirrors were a help too in effect, turning the scene into LIVE PORN. Doc Johnson's OPTIMALE and Rocks-Off O-boy had seen action on previous occasions and to be fair those two are designed with direct P-spot stimulation in mind. Optimale hit the spot but only after violent short sharp strokes which detracted from the overall experience to a degree, and O-BOY simply wasn't big enough. ZEN isn't designed for P spot action, nevertheless the orgasm was TO-DIE-FOR with an explosive climax, shooting far and wide to the utter amazement of 'client'…YES, I cum heavy, but this was even better than that…it was almost off the scale. That's why I like rings so much…this unit promised a triple whammy with 2 rings and a plug…and that's what I got…Thoroughly Recommended and cheap too….GO GET ONE GUYS!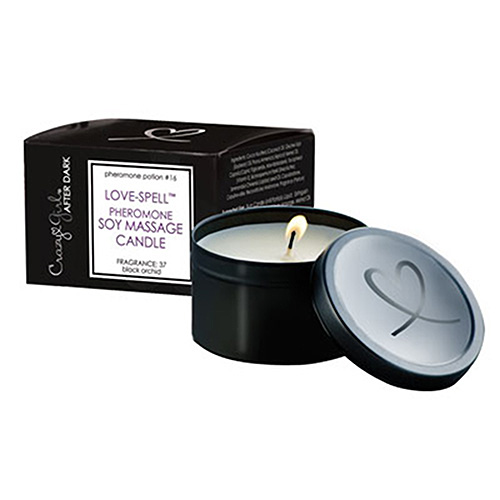 PS: I almost forgot….if you're a couple then this toy's for you too, it's not just for solo use, why? Because I can't impress upon you enough the substantial improvement to hardness/stamina and performance this kinda kit delivers….OK, I know, if you're a 21 year old stud then you'll maybe not need it ….(yet), but for those who aren't, it's a game-changer….ENJOY!
PPS: Dunno if this had anything to do with it but we had lit a LOVE-SPELL pheromone soy-massage candle, Black Orchid fragrance, was IT the key to the Sultry, Alluring Ambience in the room? We had intended to use it's massage oil but events overtook us...until next time. https://www.fun-five-o.com/product/love-spell-pheromone-soy-massage-candle/
[ ZEN was not supplied FOC for testing by the manufacturer Rocks-Off more's the pity, this is an independent and genuine review from fun50couple, the UK's #1 mature escorting duo, No animals or humans were harmed while testing this device ]