Fun50couple-NEWS
We're back from our first session at @MistressSchool in London. Our course consists of around a dozen modules taken over two periods, the next being the end of October. The first sessions were spent with @LondonJosephine consulting with us and assessing us as a couple, before moving on to corporal punishment. Instead of the school using a live model, Minx practised on me (Geeze). I have to say that prior to this session I was a little apprehensive….mild dom from time to time in the bedroom from some-one you live with and love is quite a different scenario from being in a full blown dungeon strapped down tight to a flogging bench at the mercy of two powerful women. I suffer a little from claustrophobia and as the straps tightened I have to admit mild panic set in. As a fiercely independent soul, I am not used to being under the control of others, and I found myself mentally fighting to stay calm….this may sound silly; after all, we were there to be taught and both women were on my side, but if you've never been there, then you won't know. Minx & I both identified as Switches in the past, however, we find that as we get older we're changing and becoming more dom than sub, Minx more so than me. Mistress told me that if I felt claustrophobic the session had to stop, so I pulled myself together and assured her I'd be OK, which I thought I would be…it's all a mental thing... a lot of what BDSM is all about. Then the warming up started; All good. Once I was deemed to be ready by the alluring Mistress Josephine, the punishment commenced. Full wall mirrors enabled me to see everything that was going on (just). I was expecting things to progress to the point of excruciating pain accompanied by a severely bruised ass….something I'd experienced on many occasions as a youngster from a Victorian father and school 'prefects' AKA bullies.
To my relief and complete surprise I found myself getting slowly aroused as the flogging got more intense
Mistress Josephine instructed Minx on the use of floggers, paddles, whips etc in various materials including suede, leather and rubber. She showed Minx how to lay across a sub's back to feel the weight of her tits and to dominate…she asked me if that was a turn on for me and I replied that it wasn't. Big mistake.
Mistress retorted by fiercely whispering VERY CLOSE in my ear that perhaps I would prefer to be beaten severely with a rubber flail which she forcefully slammed down on the bench just inches from my face….NOW THAT WAS AN INTENSE TURN ON to me…..
I was told to rate the pain on a scale of 1-10 but never got past 8/9, the latter value being administered by Minx. Mistress Josephine reckons I've got a high pain threshold. That's alright then. As an experienced Escort Couple who meet a fair few married subbies who don't want to get marked, it was surprising to us how hard one can be beaten and yet, not be marked. It's all down to the correct warm up and technique being used, and the reason we are investing in this training, so we can confidently take our service to the next level. Minx wasted no time practising over the coming days on my willing ass, which neatly takes me on to…..
Fun50couple-VIEWS
Talking about 'ass'. And more specifically male anal stimulation, a subject more and more in the NEWS because male sextoys/male pleasure/prostate massage/male sexuality is getting talked about a lot more these days; it's out in the open at last and moving mainstream. Male sextoys have been perceived until fairly recently as almost exclusively the domain of gay men…nonsense really, but that's how they've been portrayed. Not that I've ever given a tinkers toss about labels myself.
If it feels good do it is my motto and always has been….that trait too has a label btw it's called being 'sexpositive'…now you know.
But I still wonder what a 'tinkers toss' is all about? Answers on a postcard please! Back to my point though….prostate massage. Many of our clients mention it and some ask for it. For many men this is a new area, literally. Its also an area notoriously difficult to find despite what you might read. I never gave it much thought till around a couple of years ago, after I'd seen videos of twitching cocks leaking cum without even being touched directly, through no more than prostate massage.
This looked exciting. There were even suggestions of mega intense orgasms if you 'got it right'
I scoured the internet for more information. One of the most fascinating scripts was from a self-proclaimed expert, a former drummer in a rock band. This guy apparently, had discovered the delights of prostate massage through probing his ass with a drumstick. You see the P spot isn't for many people, despite what you may read, 'around an inch or two deep' in your ass….it's quite often a little more than that, and yes, you guessed, just out of reach of a probing finger. Mind you a probing finger with a healthy dose of lube www.fun-five-o.com/product/sliquid-organics-natural-gel-thick-lubricant/  in itself can bring on a very intense orgasm believe me. This guy's drumstick hit the spot. I was intrigued. A little while later....
I found myself alone in a hotel room one night, very horny, but alas, no drumsticks.
But I DID have a toothbrush case. Not ideal I have to say because it split in two to open, and of course had no 'stop' to prevent it going in too far.  You see all anal toys have a stop, because the rectum, unlike the vagina, has no physical limit…so there's a risk of a foreign object being absorbed, TAKE NOTE guys n gals. Anyway, the toothbrush holder WAS very smooth with rounded edges and a decent length PLUS there was the added bonus of a full length mirror at the foot of the bed, so in it went, in full view….Plenty of soap was on hand to lube and at first there was nothing very much, ZILCH. The drummer's tip was to tilt the stick towards the front of your body, IE the backside of the penis in order to make gentle contact with the prostate; It's quite hard to pick it up from diagrams but its as well to try and learn exactly & to visualise where your P spot is; believe me, many men have NO IDEA!  So after a while I started to tilt the fully inserted probe.
And there it was. That bittersweet feeling, & not anything like I've felt before ~ WOW & MMMMM in Equal measure
My erection had subsided, however, cum rose to the surface. I quickly withdrew the probe and finished myself off to the most intense orgasm ever. Now you guys don't need to use unsafe stuff like me or the drummer. For years I'd noticed prostate massagers out there but didn't ever get round to trying one. Our recent re-entry (no pun intended) to sextoy retail gave me an opportunity to get some of these pleasure enhancers in stock. Our collection is aimed specifically at sexually liberated men & couples, the niche we know so well as practising escorts. So it made sense to stock a range of prostate massagers. I ordered in Doc Johnson's Optimale P massage as well as Aneros Helix Prostate Massager, the former unfortunately temporarily unavailable.
Minx was tired one night late, and I was super horny so obviously, 'for the sake of the business' I had to try one out. Packaging is attractive, and it's worth noting the product's sub title 'Mens Sexual Health & Wellness';
The sextoy industry is increasingly moving upmarket and high tech, with many of the products perceived to be of benefit to sexual health,
in this case, keeping the rectum clear, and massaging the prostate….some say it helps with prostate enlargement problems and staying power due to regular use strengthening the PC muscles.  I'm no doctor so wouldn't know, however, it's a subject we're keenly interested in at FUN-FIVE-0 with daily updates from around the world monitored via Google Alerts and Buzzsumo.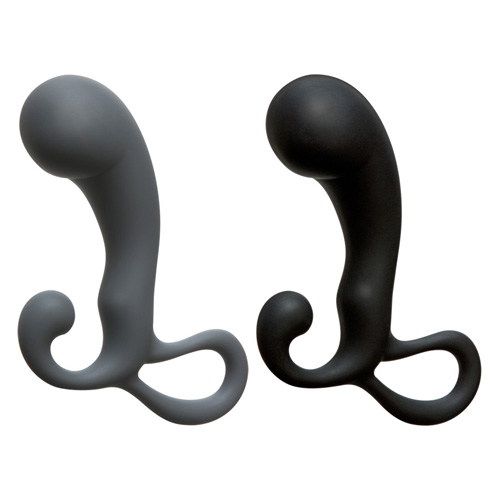 Unpacking the massager revealed a slate grey silicone product, smaller than I'd imagined. There's a decent sized bulb to one end and a smaller one to the other for perineum stimulation. There's a large ring for easy release. Easing the massager in was a joy, though I have to say its smaller dimension didn't at first give me the mind-blowing experience I craved. I figured it wasn't quite long enough to reach my quite deep P spot. As an aside, I've found out recently that toys designed for Asian markets are smaller….apparently their P spots are shallower in…you live and learn, who'd have thought?  I persevered because I've heard great things about these massagers…the full feeling was pleasant to say the least but I hadn't got to the level of the drumstick experience yet….had I had the Aneros unit to hand I would probably have opened that up and gone with it, nevertheless I continued with Optimale. I pushed it firmly in, mmm, feeling good, and then thought about giving it short sharp strokes of no more than a centimetre or so.
and WOW, after around a half minute, feelings got really intense. I just wanted more and more,
which is a common feeling with anal stimulation I've found. As have others I've spoken too.  I could last no longer, and fiercely came….I'm always a heavy cummer, and love nae, ADORE, the intensity brought on previously by cockrings and now this massager. So guys, you might like to try it. Its like most things…build up a collection that suits the mood and you'll never be short of an orgasmic sexperience.  Remember too that when it comes to quality, Doc Johnson are up there with the very best. www.fun-five-o.com/product/doc-johnson-optimale-p-massage/ I've had a stock memo that Aneros is re-available; stay tuned for an up-coming report on it.
And finally:
Fun50couple-SCREWS
September's been a bit of a quiet month with a fair few timewasters and worst of all several PrimaDonna types. ( the modern sense of the term) Nevertheless one meeting stands out. It took place in a London hotel and featured a 50 year old gent who picked us up on the radar on our way down to the Capital…quick phone call, booked through the site, no nonsense, and met as planned. Immediately after meeting the guy disappeared to the bathroom and was in there so long we began to wonder what was going on.
He re-appeared in a towel, which Minx removed to reveal an impressive cock and balls tightly bound cbt style and very neat too…
clearly this guy was an established player. A VERY intense meet followed. He was clean, friendly and smelt good enough to eat (which we did). Those kind of meetings always make up for the 'primas' and the voyeurs. It was true MMF. He had, allegedly, yet to experience anal penetration; he'd come prepared though having douched, which enabled us to warm him up after he'd been drenched by Minx's squirt (he had expert oral skills). There was no need for a softly softly approach after warm up, his ass was well ready for the sublime experience which followed and which I (Geeze) took great pleasure in providing; 5* feedback and field report  https://www.adultwork.com/FR?129029 verified that the gent had enjoyed the meet just as much as ourselves, and we look forward to meeting him again in the winter. Writing this just reminded me of one other ELECTRIFYING meet this month in a Holiday Inn up north; the 7th time we've met this gorgeous guy, Mr Respectable, Mr you'd NEVER expect in a million years to be so so SEXUAL.  But that's another story. That's it for now peeps!
We turn fantasy into reality, and we tell you the way it is….You subscribe to our newsletter for NEWS VIEWS & SCREWS and to find out what it's really like to be an EscortCouple, We thank you for your support, Stay tuned, safe sex always, until next time, Luv, fun50couple xxx
* Please note we NEVER divulge people's identities and we have changed some names and details to preserve complete anonymity