Fun50Couple-NEWS
Hello sexy friends! It's Christmas, I repeat CHRISTMAS.... & we vehemently refuse to bow to pressure from Government & the civil service in the spirit of 'diversity' and call it Festive, or as the Yanks say 'Happy Holidays'. Actually we rather like the latter, as people who have little time for Xmas hype and commercialism. Or religion for that matter. Years ago we enjoyed vacations in the Canaries and the US during the 'festive'...you could go to those places and not have it rammed down your throat 24/7, and if you timed it right, you'd step off the aircraft around the 2nd January and get straight down to work feeling relaxed, stoked, & motivated. I want to share with you a tweet from last week by a certain Jacob Shell, a geographer & author from Philly in the US of A. We went there too once. I think he's spot on:
"1990's middle class lifestyle" means 3 bedroom house, 2 cars, annual family road trip holiday, every 5 years overseas holiday, the 2-3 kids go to solid 4 year colleges, something like home roof repairs is financially non-catastrophic
'In 2022 I've described a 400k/yr+ household'.
That's about £329k in GBP, a small fortune to me & Minx. A mistake we've both made over the years as self employed people is that we haven't woken up to the divide; the reality of 21st century Britain. Rubbing shoulders with decent hard working people on 19 grand a year in places like Hartlepool doesn't help either. Britain is broken, but then so is most of the Western world. Did you know that money supply increased over the 'pandemic' by as much as TWENTY FIVE per cent in the US and the UK? For decades officials have allowed quantitive easing & 2% inflation to maintain the 'status quo', to keep them in power, as they've borrowed and borrowed & borrowed until we're trillions in debt.
Most don't care about such things and why would they? Media is run by the elites & BIG BUSINESS, so your average 'Joe & Jane' know nothing very much save for the 'official narrative' oh how I loathe that term, describing the information pushed by shills manipulated by this New World Order. As one eminent doctor [DrAseemMalhotraput]  concluded in a speech this week about psychopathic entities & how they manipulate 'the masses'
'they don't even know, that they don't know'.
Fortunately, we're critical thinkers and know exactly what's going on, and its the reason we're out there with others, PUSHING BACK. There are escorts, and escorts. Some are of low intellect forced into the oldest profession by circumstances, but they're in the minority these days. Others go into it because they love sex so why not make money out of it? Minx is in that category. Some, like me, are totally fascinated by, I suppose I could say 'humanity'. I don't think too much about the money. My thoughts are consistently focused on sexuality, relationships, injustice, inequality, self improvement & personal responsibility. I've traveled widely, worked in over 25 countries, & been exposed to some of the harshest environments on the planet, like the Sahara desert, the jungles of Indonesia & the mountainous seas offshore of the UK. I've worked with all kinds of people from what some would call 'animals', to high flyer sales types, entrepreneurs, doctors of science and politicians. So although 'opinionated', I feel I've got a fair grip on the whys and wherefores of life in the 21st century, and what's led us to where we are today. We recently met a guy in Dartford Kent for a bespoke booking. The Thames valley is an area very much close to my heart. I watched ocean liners at Gravesend as a kid, lost my virginity on Tilbury docks as a teenager, spent a decade or so in South East Essex as a businessman, then moved west of London to Sunbury & later Chertsey. The river kinda runs through my life and though now living in the North, I often wonder what I'd do if I made a fortune. Would I stay or would I move? That should have been 'when I make my fortune'... I'm still trying. I'm still HAPPY trying, it's what drives me. In the 1990's while living in Essex, they built the Queen Elizabeth ll Bridge at Dartford. It's a memory etched in my mind and barely a day goes by when I don't think about it. The economy was overheating. It was the start of the 'loadsamoney' culture. Life was good, for most. At the time I had gangs of men working for me in Kent and South East London. Most of 'em lived in Essex. All of them were greedy dishonest bastards with a tendency towards violence, out for themselves come hell or high water. Every morning they, & I, battled the A13 and A127 to reach the tunnel before total gridlock as eight lanes of traffic pushed shoved & funneled its way down to two lanes as the road dipped under Old Father Thames. It was LITERALLY every man for himself. On that road every morning, and in life generally, and in STARK CONTRAST to the lives and attitudes of most people living anywhere north of a line from Felixstowe to Bristol I'd say. The bridge got built in seemingly no time at all; as you entered the tunnel you could look right up at the towers for the cable-stay type bridge as they were constructed, red cranes perched on top, rising eventually to 449 feet above sea level. Now, thirty one years later little has changed. The Crossing is still a nightmare. Traffic routinely backs up 7 miles or so going Northbound, 5 miles south and if there's a 'fender bender' expect to be delayed for HOURS.
And so it was, a couple of weeks ago....on our way down the motorway sign after sign relayed messages about 'an incident' at Junction 1 of the M25 with 20 minute delays between there and J28. That time estimate increased by another twenty minutes every third gantry, so instead of following the sheep nose to tail around the Orbital, we sped straight down the M11 & the North Circ to the Woolwich Ferry, another location associated with fond memories. I walked that area as a teenager, when it was still vibrant docks, smells, hustle and bustle. Unbelievably we got held up by the bascule bridge over the lock as it enters the King George V Dock; there have been no ships in there for decades, but today one of the new ferry boats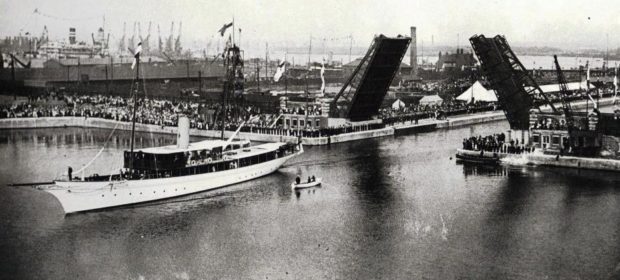 was passing through followed by a tug and barge carrying heavy steel caissons. [the picture shows the then Royal Yacht passing through the bascule bridge at the Dock's opening in July 1921] We had a deadline to meet, so swung the car round, diverting via Silvertown. One advantage of the delay with the bridge meant there wasn't much of a queue for the ferry, and we on board in no time. Minx got disorientated as the boat turned dizzily around, crabbing across the river in the strong current. Fairplay to TfL at least for maintaining the crossing, and investing in the new boats. We got to Double Tree Dartford 'pdq' once we'd cleared Woolwich; traffic was still stationary on the bridge though, but that didn't worry us. We'd arrived ON TIME, and pretty soon we were making ourselves at home in one of their king suites, in readiness for our client. As a matter of interest we've featured him in a previous NVS....'Grantly Budgen'. He'd been having a rough time, and was taking 3-4 days 'out' hence the reason he picked up the phone. He's led a kinky life in secret for decades & craved 'skin on skin with a touch of BDSM' . We were only too happy to oblige. A fun time was on the cards.
The meeting closed around 10.15PM, just time to get to the Chinese takeaway on the old London Road. Traffic by this time had eased, and even the following morning was running fairly freely, well at least for the first ten miles as we made our way home. After that it was stop start all the way until Weatherby Yorkshire....#sexworkisrealwork is a fave hashtag on Twitter & boy do we earn our money on Bespoke Bookings! Mind perhaps we should be thankful we can travel at all. Canterbury & Oxford councils are introducing what looks like a blueprint for the future at the behest of the WEF; you've not heard????? Well guys, they're planning to restrict you to a 15 minute neighborhood around your home and you aren't going to be allowed out of it for more than 100 a days a year, or you'll get fined, all in the name of reducing your carbon footprint. Oxford is expected to begin operating BEFORE the next general election. Unsurprisingly, there are already people virtue signaling on social media proudly proclaiming they're staying in their 'zone' to help save the planet. Meanwhile Just Stop Oil are being fed tea and sympathy by plod as they do all kinda things from stopping motorway traffic, defacing works of art and smashing up petrol pumps. We, on the other hand, while protesting against lockdowns in Newcastle were confronted by mounted police and batons. The same lockdowns that caused the 25% over printing of money supply, which is the prime reason there's so much turmoil in markets and currencies today. Increasingly there's talk of a depression like nothing we've ever seen before, (Blackrock, JP Morgan, W Buffet & others). These behemoths got to where they are by buying when people were fearful and selling when they got greedy. We're taking a leaf out of their book....
In 2012 we made the decision to escort full time after a family tragedy. We turned our back on regular income and took the plunge. We're about to do the same again as escort bookings dry up* due to a recession which isn't yet recognised (officially) due to the lag in reporting figures. Tattoo parlors, dog groomers, hot food takeaways, hair dressers, all the kind of businesses which depend on others having a reasonable amount of disposable income, are closing in droves, hit by a triple whammy of Covid induced debt, high inflation & crippling interest rates with worse to come. We know this from searching properties to replace the Darlington Dungeon which we sold at the top of the market in July. Now we're keeping our powder dry & waiting, preparing to snap up a repossession, or even for the possibility of a total collapse of fiat currencies. Some forecast it could be another 20 years, other's say its imminent. Nobody knows. One thing is certain. It's going to be a case of 'every man for himself', no different to what we experienced at Dartford all those years ago.  The alternative is surrender to the State. 2023's going to be a bumpy ride. Are you ready?
*Rest assured we're continuing in the 'oldest profession', but mindful of its decline due to economic strife & impositions of control measures, stay tuned.
Fun50Couple-VIEWS
Blue Pill or Orange Pill? I saw a reference to the latter recently and wondered what the hell it was. Many of our clients some as young as their early forties rely on the former to maintain an erection. As an aside, did you know that cock rings can help in that department too?
Check out this fabulous site. I'm ordering a couple of these, one for myself, & one for YOU perhaps, find out how in the postscript. They look incredible. We're often surprised at how little men know about sex toys, advanced stimulation, p-spots & male sexuality in general. Few men have ever tried a ring... yeah I know...you're such a stud you don't need one...but there may come a day trust me!  We recently had a client lose his mobile phone sometime between being with us and leaving a McDonalds on his way home. He sent us a message about it later via AdultWork. Naturally we hunted high & low for it in the bedroom. We'd definitely seen it lying on the floor at one stage, so thought it might have slipped under furniture. Amusingly, five years ago, a blue rubber ring pinged off a guy's dick & high into the air above the bed, and do you know what? We never found it! We looked everywhere; in the chandelier, under the bed, the side cabinets but it was nowhere to be seen. We've also had guys leave with them still on, by accident, or maybe by design? Anyway, we'd never searched with the aid of a mobile phone torch. Sliding the slim Motorola Android under one of the wardrobes revealed a dark object nestling under the very back of one of the heavy wardrobes. We couldn't see exactly what it was, until we managed to pull it out with the help of Mistress's cane. Lo & behold, it was the ring we'd lost! The phone was nowhere to be found sadly. The client thinks he may have accidentally chucked it out with his burger wrappers at the drive thru! You live and learn don't 'ya. Anyway, rings can be just as good as a blue pill. But what of the orange? What does it mean when you're orange pilled? That's where it gets complicated. Because Blue Pills have other meanings too. Click on this 'must read' article... you may thank me for it one day. Oh and by the way, we're no longer shrimps, we've morphed into a crab. Next target is Octopus, mind that's going to take some doing. Those that know, KNOW. Right?
Fun50Couple-SCREWS
So guys, on to this month's SCREW! Meet Ian, a 52 year old engineer from Hartlepool. He introduced himself by email, saying he was fully bi & into women as much as men, with an expectation of a meeting where everybody had a good time, not just him. He told us though outwardly masculine, he felt 75% female. Interestingly he revealed that he was an erotic author too, with published works. He 'used to be a player' apparently but hadn't seen anyone for three long years. Worst of all, his wife wasn't interested in sex. At all. She didn't even know he was an erotic writer, she just assumed he was doing 'geeky stuff' in his man cave for hours on end. He kindly gave us one of his books... 531 pages no less! Like many men, he found it difficult to get away; people get into routines, especially when they're in permanent relationships. That's one reason we do a good many bespoke bookings these days... we can travel TO a hotel close to a client, so he doesn't have to account for lengthy periods out, save for the 2-3 hours of the meeting. Unbelievably (to us anyway), vast numbers of folk remain 'working from home' post pandemic. Some reports suggest that only 35% of office space is currently occupied, as workers refuse to go back. Consequently escort bookings by 'passers by' are way down as business travel gets replaced by the blessed Zoom. Fortunately for us though, Ian's wife was away on holiday with her chums, Rhodes I think he said, giving him the opportunity he longed for. It can't be easy for an erotic writer to restrict sexual activity solely to masturbation. I often wonder about that... many a time we see guys who 'love their wives' but there's no sex...they only do something about it IE indulge with an escort once in a blue moon. I suppose its a combination of busy lives, days running into weeks, months, years, always something else in the way etc etc but life's short, it really is. We reckon you should 'look after #1'. If you're the kind of guy who NEEDS SEX, you aren't going to live a happy fulfilled life without it, so why try? Its not like you're having an affair. Anyway, once Ian had seen his wife off to the airport & she'd texted to tell him she was boarding, it was PLAYTIME.
An upscale 4x4, electric of course, drew up a couple of hours later, and out stepped a younger looking guy with glasses. To be fair he did look nerdy, with short cropped brown hair, & stubble around the face, dressed in chinos, a palm leaf print cotton shirt and Vans Old Skool shoes, clutching an ASDA carrier bag. He wasn't at all how we imagined him from the brief telephone conversation we had prior to meeting. Once we'd got him in, it became pretty clear he didn't want to sit down & ice break, not even for a couple of minutes. Delving into the carrier bag, he pulled out a copy of his latest novel, & handed it to us along with his tribute. It's lovely when guys bring us 'stuff'...it shows thought and consideration! Geeze loves reading, not fiction too much, but politics, 'how to' technical books, that sort of thing. I'm half way though 'The Wyckoff Methodology in Depth' and 'Secrets on Fibonacci Trading' just now, but wasn't about to look a gift horse in the mouth either...the book wasn't just any old book, it was one of Ian's masterpieces, published under a pseudonym. God knows when I'd get time to read it. But it promised to be raunchy, so definitely worth wading into.
Ian was booked in for two hours. Minx led him upstairs while Geeze got iced waters, but by the time he rejoined them Minx was already fondling a promising looking bulge in Ian's briefs...no boring boxers!!! Just a skimpy spandex tanga style, matching the tropical theme of his Nordstrom shirt.
'Look at THIS Geeze' exclaimed Minx...
'Yeah I can see, mmmmm'.....
Guys are forever worrying about size including me it has to be said at nearly 7 inches. To be honest, we go months sometimes and never see anything more than 5 inches hard. Only once have we seen a true MONSTER, thicker than a forearm, not that it really matters in the grand scheme of things. We saw a micro cock one time in Hounslow, less than an inch hard I kid you not, and unable to fuck. He and his wife conceived by artificial insemination of his sperm. Nevertheless, we had a VERY SENSUAL meeting with that guy; I remember it well, in the Hilton Garden Hotel, Hatton Cross. Pulling Geeze toward them, Minx placed his hand on the bulge. Ian already had one of her tits out of her tight black wetlook dress; it kinda spilled over, willing Ian to suck on its nipple. Ian was like a man possessed, feasting on it, relishing the opportunity, living the words he'd written so many times into his novels.
It wasn't very long before the briefs were off, and we could enjoy Ian totally naked. I emphasize the word 'enjoy', because his body was perfect, to our eyes at least... don't know why his wife wasn't interested! He stood around 5 foot ten, not muscular nor flabby, but somewhere in between with a few curves, smooth skin without a trace of body hair, breasts (almost!) and an arrow straight dick, veiny with a 'mushroom' head and BIG BALLS, similar to Geeze. I've told you readers before, Minx does like a man with balls, physically & metaphorically speaking.
Three-way kissing got pretty intense pretty quickly. At the same time, hands were wandering... tbh we couldn't keep them off one another. This was yet another meeting (like the Autumn NVS) blessed by strong C-H-E-M-I-S-T-R-Y. Ian didn't get to indulge in his bi tendencies very often... no-one within his circle of friends & acquaintances had the faintest clue about his triple life... respectable married man, competent and sought after engineer, erotic bisexual author & kinkster. I marvel at how his kind manage to keep a lid on it all, especially the sex; surely if you're that way inclined how come you can abstain for such lengthy periods....like they're torturing themselves? Discipline's the answer to that one...these people are able to compartmentalize their lives, and remain sane & under control. I have to confess I can't, but then I don't need to, now. I have to pinch myself sometimes to recall two rubbish marriages in the dim & distant past, where I too, had to suppress sexual feelings. Ughhhhhhhhhhh! Minx sometimes tells me I must remember how things were, what things were like with previous partners, the sex, the desire, the reasoning, but truth is I DON'T. It's as if the mind's obliterated it, almost totally.
At last able to play freely with another man, Ian proceeded to suck Geeze. Let me tell you, I've seldom felt anything like it. A lot of women 'fellate' then give up too early or break their rhythm just when their guy's getting seriously aroused. OR, they're too hard or too shallow or they keep straying off the hot spot, you'll know what I mean I'm sure..... but Ian was an expert. I think he must have written about it so many times (the novel he gifted to me has sex on every other page), disguised as his own wants/needs. He knew precisely HOW to GIVE. The more we escort the more we see how selfish so many men are, and that's okay. We're getting paid to deliver a service and its all about them, not us. Sometimes though its three ways. His introductory email had given us a clue... he wanted everyone to ENJOY, and it showed. While he gorged on me, I was telling Minx how good it was, in-between snogging her. Guys, that's a feeling to die for...connecting with the one you love while receiving attention from another, it massively amplifies the sex-perience. Its easy to see the attraction of swinging. I mean genuine swinging, without the politics, the catty behaviour and the cliquiness associated with most venues. Time & time again we've had inquiries from single guys who've been disappointed after visits to such places! Ian was skilled for sure, edging Geeze orally until he could take it no more. Minx was horny. She'd been gently rubbing herself all the time, we needed now to focus on her. Licking and mouthing the flesh around her curves got her going more.
'Fetch me Emma' she ordered Geeze....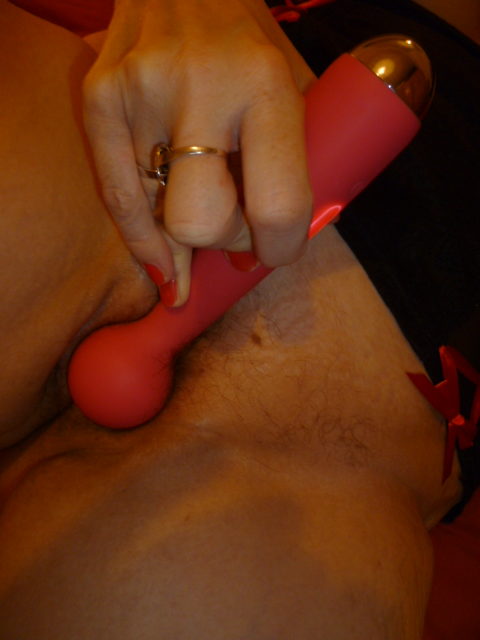 Emma's a high powered wand vibe from Svakom; it's got heat too. She pressed the button & rested it on her pubic mound in such a way as to get maximum stimulation in & around her concealed clitoris. That, combined with Ian's tongue brought on the Mother Of All Orgasms... a big O, an internal one, the best she tells me. Her whole body heaved, then whipping the vibe away she relaxed for a moment, before returning it for another shot. Powerful after shocks rippled though her torso...So many men think pleasuring a woman is about rough fingering, or hard fucking. Everyone's different we know, but what works for Minx is the gentle touch; Once she's had the big internal 'O' she's ready to be fucked... that would come later.
During the cunnilingus session Geeze had managed to manoeuvre himself underneath Ian so that he could suck on his balls. It wasn't easy...we were a jumble of arms and legs but we've been there before many times. Geeze knew there was a high probability he could get Ian seriously turned on if he rimmed him. It turned out he was right. Every stroke of his tongue around and into his dark hole caused Ian to bury his own tongue too, deeper and deeper into Minx's sex, further contributing to her climax. Over quarter of an hour or so, Geeze had elevated Ian's level of arousal to the point of frenzy... evidenced by him thrusting his bottom backward & forward. Geeze took that as a signal to rubber up. Usually there's fingering and beads and toys involved before intercourse, but experience prompted Geeze to try gentle penetration with his cock. Once again, he made the right call. Ian was crying out to be fucked. Not literally you understand, it was his body screaming the language. Ian felt tight but not too tight....pausing,
'You okay Ian?'
'Yeah!' Geeze went further. Soon he was all the way in, his body flush with Ian's, skin tight against skin, shaved pubic area pressed against his bottom. 'OAHHHHHHHHHHHHHH' breathed Ian, 'that feels fantastic'. They were words Geeze wanted to hear...he was doing his job.  Withdrawing for a moment, he re-positioned himself so his legs pinned down Ian's thighs. Spreading his bum cheeks wide so he could view Ian's squeaky clean crack & ass in all its glory, he pushed in again. The fucking resumed. Many times a guy will just take a cock or dildo for a few minutes, and not be entirely comfortable with it either physically or emotionally but like I said before, there was CHEMISTRY. It was one of those rare occasions where real rhythm established itself.... with Ian responding favorably, actively squirming in harmony with Geeze thrusting. It went on for ages. We were sliding in and out of each other in perfect unison, it felt AMAZINGLY WONDERFUL & so different from vaginal sex. Those who are into anal will understand... it's not just the physical aspect... whether it's MM MF FM or FF, there's still that little bit of taboo about it which ups the ante. Geeze had selected an ultra thin rubber reserved for times just like this. Ian could feel him letting go deep in his ass. I think he may have thought I hadn't got a condom on at all & I reckon he was beyond caring.... that's the danger & something you have to avoid! Safe sex always!
Exhausted, the two men relaxed, giggling involuntarily....
'You enjoyed that didn't you Ian' suggested Minx
'You can say that again...' was Ian's barely audible response. Now he was wanking...the thoughts about what had just happened spurred him on, he needed to cum, and he wanted to fuck. Minx was ready for it. She wanted him. He wanted her. Geeze had cum hard, Minx had enjoyed an internal 'O', now she wanted to be penetrated to the point of squirt and physical release. Ian fucked her hard but sensitively it has to be said... he was hitting the right notes, there was that tell tale squelch-fuck FUCK FUCK sound, her squirt was lubricating his rock solid penis. Geeze went around the back and crouched down. Ian's cock was a good 7 and a half inches, and the sight of it at close quarters, pounding his partner's pussy turned Geeze on, as did the growing pool of female ejaculate held in check by a rubber sheet strategically positioned under the bed cover.  Watching Ian's big balls swaying crazily as he fucked turned him on too, especially when they visibly tightened just prior to him cumming. 3/3 ain't bad. We'd all cum and cum good. When Ian had told us he was not only bi but versatile, Geeze had high hopes he'd be screwed too, but it was not to be. The other two were well and truly spent... and that's how the main 'paid' part of the meeting came to an end.
Following that, there was deep discussion about writing, editing, polishing & publishing; it's not every day two writers get together to compare notes. It was astonishing to find out how much we had in common, and probably one of the reasons there was chemistry. You might remember back to when you were dating... sometimes it was there, most often it wasn't so it meant moving onto the next... only fools stay with some-one where there's no 'spark' hoping things will change. Even sapiosexuals experience chemistry of a kind; the trick is How To Keep That Fire Burning in a mad world. Some people grow together. Some couples there's one that does and one that doesn't aka a relationship doomed to fail. Other's diverge and even become enemies...all part of the rich tapestry of life, unfettered (for now, and only just) by technology. Food for thought.
Which brings me to Zuckerberg. He's getting a lot of flak right now from investors and shareholders as shares in Meta aka Facebook plunge by up to 60%. But he's sticking with it against all odds. People think he's focusing too much on the Metaverse. Competing projects have been liquidated. There have been hundreds of thousands of redundancies in this nascent sector. Meta's been fined tens of millions of $$$ in just the past 2-3 years by regulators, especially from the EU, over data breaches. Small change to him. But I think he's bang on the money, sadly. People are shutting down. They're starting to surrender to authoritarianism. I think he knows we're on the brink of a dystopian world. After all, he's one of the ones promoting policies that shape such a world, ESG for example.  His idea is that people miserable in the real world, (one controlled by the state in ways inconceivable to those who aren't yet aware, & already reality in China & North Korea) he thinks they will don VR headsets, and seek solace in a virtual world they can build for themselves...which will make them happy. I say Meta shares might be worth a punt. What say you? Until next time..... You subscribe to NEWS VIEWS AND SCREWS to learn more about our life as an Escort Couple. YOUR PLEASURE is OUR BUSINESS! Would YOU like to experience a meeting like the one I've just shared with you?  We turn fantasy into reality. Get in touch for #WhatDreamsAreMadeOf! Thank you for your continued support. Until next time, take care, Luv, fun50couple xxx
POST SCRIPT: Try this for fun. Every month we lose subscribers and gain new ones, with a net trend upward. We lose people mainly when they get upset by our views. I say you can't have it both ways. We're 99% true when it comes to our accounts of meetings, so why shouldn't we be 99% open about our thoughts, dreams & observations. It used to be called 'wearing your heart on your sleeve'. How come we're so liberal on some things, yet so right wing about others? It's a question we ask ourselves, increasingly so in these turbulent times. Recently we dropped on this fascinating test from 'Psychology Today'. (Go directly to the test if you prefer HERE) It helped us to understand more about who we are and why we think the way we do. It is very interesting...take a look & email or DM us with your results! We'd love to know where you are on the scale, so much so, that if you email a screenshot of your result, or DM it via Twitter @ScrewsViews we'll award you FIVE free entries to our Cock Ring Draw, in addition to the entry you get automatically for opening this ish of NEWS VIEWS & SCREWS! Oh and while you're at it you might like to do the BemSex & Klein Sexuality test too, but it's only the 'Twitter Compass Test' result we need for the free entries. Got that? Good!  We found that all three results tied in with where we are and likely the reason we get on so well as a couple. We'll share with you our own results next time around.  So guys, finally finally! Where's the music for this issue of NVS I hear you ask? Well we couldn't not include this monster Christmas hit could we? Take it away Noddy....
PPS! They say history doesn't repeat itself but it often rhymes: I did think about leaving you with John Lennon's 'So This Is Christmas' but chose not to... with the state the world's in the lyrics are so very poignant, play this link & you'll see for yourself....maybe we'll have to wait a few years.
Do stories like these turn you on? Are you one of those 'wishing'? All we share with you in NEWS VIEWS AND SCREWS is true*!  You, yes YOU, could be participating & enjoying scenarios like these a few short hours from now, anywhere in the UK. So, pick up the phone! Don't be shy. The number you need is 07981-726237 (Minx) or email support@fun50couple.com. See you soon!
If it's phone sex you're wanting, we prefer you call our private number rather than go through AdultWork. Click the revamped phone sex page on fun50couple.com, then get tissues, get comfy & dial. Calls cost £1.50per minute.
* Please note we NEVER divulge people's identities and we have changed some names and details to preserve complete anonymity.
Like what you see? Then please share with others and tell them to pop their name and email addy in the box below to receive more of the same monthly 🙂 AND, if you're not already doing so please FOLLOW US on TWITTER