Fun50Couple-NEWS
Hello Sexy Friends! Well guys it's nearly the end of April & punters are drifting back as they realise geo political 'events' aren't going to stop the World turning anytime soon. No thanks to the mainstream media's Project Fear Act 3 though. So we've had some good meets, with several long distance 2-3 hour outcalls. Cheers to that! Are YOU thinking about taking the plunge & joining us for kinky threeway fun? We hope so; don't be shy, pick up the phone. A trip to the Cirencester Gloucestershire area is on the radar, sometime in May, but it needs to be a Sunday thru to a Tuesday or Wednesday. If you're interested in hooking up, you're going to have to make a firm booking & secure it with a deposit of £50-£100; call Minx on 07981-726237 & she'll sort out times & dates with you. Phone's on from 7AM daily. We've got another short tour to the Thetford/Newmarket area planned too...possibly May/June, again, get in touch if you'd like to meet.
Other news is that our upcoming move is progressing, at a snail's pace, mainly due to council officials & solicitors 'Working From Home'. They've quoted a whopping 16-18 weeks timescale for the relatively simple transaction, so it looks like we're going to have to wait until August to get the keys to our new establishment on Teesside. There'll be a manic 2-3 weeks of refurbishment work, then we should be good to go again, come September. We're copying the features we have now in Darlington, so expect to see luxury bathrooms, high attention to detail, new decor, mood lighting, a cosy bedroom for overnights, PLUS some new equipment....sleepsack, fucking machine, vertical cage, new hoods, gas masks, pumps & more. Stay tuned.
Fun50Couple-VIEWS
You may have heard about Elon Musk buying Twitter? We used to have 3500 followers on there, but nuked the account following years of frustration over shadow banning, then when that practise got outlawed, they turned on a Search Ban. This effectively meant that for every new follower we got, one was taken away, meaning the account got nowhere. Why? Simply because we're involved in 'the oldest profession'; Our current @ScrewsViews Twitter is relatively new, but it too, is suffering censorship. Let's hope things change for the better under new management. Twitter's a left leaning platform so a lot of folk are going into meltdown right now, fearful that Musk is going to be true to his word & restore FREE SPEECH. Could Musk's intervention be the catalyst the world so desperately needs right now as people fight for TRUTH and JUSTICE over LIES & TYRANNY? I think it could, & I think it could herald a sea change in the balance of power, basically restoring good from the jaws of evil. One fly in the ointment is his relationship with China. Time will tell. In the meantime check out this interesting video made in the days leading up to the final deal struck on April 25th.
Fun50Couple-SCREWS
We struggle with Millennials, mostly because they can't communicate, and so very few of them turn up when they do make a booking. I know, it's wrong to generalise, and this month's SCREW is a case in point. Meet Justin a 34 year old farmer from just outside Carlisle, Cumbria. Justin first met us around 4 years ago, one Sunday evening, while his wife worked on night shift. He fits the definition of an 'old head on young shoulders' perfectly. Managing several hundred acres & an equal number of livestock, while navigating a plethora of rules regulations & political diktats especially those surrounding Brexit & farm subsidies, requires skill, patience and tenacity. Agri-businesses have struggled in recent years, so profitability has been borderline for Justin, leading to stresses and strains far beyond what most 'turn up on a Monday' people would consider 'normal'. A recent 'new addition' to the family had meant more 'adjustments', not least the drastic reduction in sleep, & consequently sex. Nevertheless, our man remained very stoical about it all; stoicism doesn't talk too much, deep down though, he needed to 'look after number One'. Hence his phone call to us one Saturday in early April.
'Don't know if you remember but I met you about 4 years ago, I'm from Carlisle, I'm a farmer, a bit bi, enjoyed a bi 69 last time, wanting to take it a bit further this time, you available?'
Minx was relaying parts of this to Geeze, hovering close by, filling in the blanks from snippets of the conversation himself. Minx couldn't recall the guy, but Geeze cottoned on pretty quick. He could recall the details but couldn't remember the face or the body. Fast forward four hours to a knock at the door, & a stocky guy in working boots, jeans & an FCUK flannel shirt presented himself...looked like he was 'keen' too, because his zip fly was half way down, barely containing a prominent 'bulge'. Things looked promising. Straightaway Geeze knew he liked him; thoughts about the guy's circumstances & positive comments we'd written in his review came flooding back. He'd been depressed and skint at the time of his last visit, in common with many in his profession. National TV had aired documentaries about rising numbers of suicides amongst farmers...there's no doubt his kind have a hell of a lot to deal with, and for very little reward. It turned out that in recent years profits for the whole farm had dipped to just a quarter of what his wife got paid annually as a public sector worker....food for thought [no pun intended] next time you're at the veg counter at Tesco's perhaps.
He'd put on weight since his last visit, in a good way. The stockiness suited him, it was kind of 'in proportion' to his big round face, crowned with a generous mop of curly brown hair & sideburns 70's/80's style. Remember Noddy Holder? Take a trip down memory lane, courtesy of Noel Gallagher..... (love the way he calls them a 'geezer's band btw heehee)
Ushering him through to our reception area, he'd arrived a bit ahead of time, so Minx was still making her way down the stairs, and very fit she looked too, dressed in black lace up dress, fishnets, & animal print heels. A chunky chrome necklace adorned her neckline, perfectly complementing her big breasts barely contained within the tunic. Smiling warmly towards our visitor, there was no suggestion she hadn't the feintest recollection of him whatsoever; her over-riding thoughts were #1; it looked like she was about to have a GOOD TIME, and #2: his tribute.
Once the business side was dealt with, Geeze offered Justin a drink. A good many guys request water within minutes of meeting...to quell nerves & dry throats! Justin felt comfortable though...we were picking up where we left off the last time...HOT HOT HOT, so a cold Budweiser was more than welcome. We like it when guys wanna share a drink with us...YES we know they're driving, but when there's good reason to expect a prolonged meeting, what's the harm in a half? Some guys say they're put off by us advertising as 'professional escorts' leading them to the 'false' belief we're cold and clinical. Nothing could be further from the truth. We push the 'PRO' word so men can see we're 100% reliable, trustworthy, SSC (safe sane & consensual), and know what buttons to PRESS for a fun time. So yeah, we treat meets as 'social' as well as 'sexual' events, in contrast to many stories we hear...about guys getting booted out the minute they've cum, or being threatened, or robbed (quite common sadly); like I've said before, many AW service providers leave a lot to be desired these days, especially Eastern Europeans!
Justin couldn't keep his hands off Minx, and no wonder. She looked fab, cuddled up close to him on the futon. All three of us were engaged in animated conversation, and EXPECTATION. It wasn't long before we felt the need to 'head up' to the boudoir. Minx led, followed by the horny farmer. She hadn't bothered with knickers, and the dress was short as in 'Newcastle Big Market on a Friday night SHORT' leaving little to the imagination. Long legs & womanly thighs, muscles tautened by the stiletto heels, supported her big booty. It's deep furrow concealed her anus, & pointed directly towards the folds of her cunt, intermittently visible as she climbed the stairs. She knew it, and she worked it...but not in a way that was obvious. Subtle seduction are the words I'd use to describe her movement. Up on the landing, she veered off into the master suite, directing the men a little 'sternly' to 'WAIT FOR ME' in the back bedroom. She'd witnessed too many times two men getting down & dirty the minute her back was turned. Justin was a star performer and this was HER NIGHT TOO!
So Geeze & J got chatting. Who had he seen since we last met? Why had he waited four long years before returning? Was it an 'itch' that had intensified & needed to be addressed? Apparently wifey was 'working from home' hence the...but before he go any further Minx re-appeared 'So guys! This is my lucky night is it?' she beamed, before sitting down on the edge of the bed, legs crossed, pushing her tits out. Justin laid a hand on her leg, gently rubbing the fine nylon mesh of her stocking, before running further up her thigh, over her stocking top & suspender strap, to find bare flesh; lyrics from Garth Brook's 'That Summer' come to mind,
'And then I watched her hands of leather, Turn to velvet in a touch
There's never been another summer where I have ever learned so much...'
though in this case the roles were reversed...brushing her lightly & clearly sensitive to her needs, Justin continued teasing & tantalising her with his fingers, all over her body, then her lips as he kissed her, softly at first, then deeply. 'One on each of my tits.....' she cried, directing both men to her chest. Her breasts were falling out of her dress; made from a black wetlook material with a strand or two of lycra which allows it to stretch.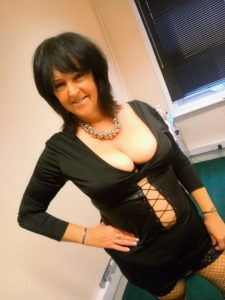 It's a high end sexy outfit that's stood the test of time, & infused with her perfume too, adding to the eroticism of the atmosphere. Justin helped her peel the dress off & down as far as her waist while Geeze undid the flowery patterned bra. Once free, her big 34G tits spread, prompting the guys to push them hard together and upward, so they were bulging with the nipples erect, a serious turn on for any red blooded man. She consented to some light nibbling & sucking; in days gone by they would have been on fire for hours, exhausting many a 'stud', but age comes to us all, and with it change. A few minutes was all she wanted, besides, pussy was screaming for attention, but NOT SO FAST.
Both of us work hard to match the expectations of the clients. Minx had noticed the two men hadn't played yet 'So are you going to suck cock today Justin? Mistress wants to see some cock sucking....' she demanded, slipping into domme mode for a moment. Still kneeling from attending to her tits, the two men turned towards one another, kissed briefly, and then more passionately as Justin found Geeze's nipples and tweaked them hard almost to the point of pain. On a couple of occasions Geeze has cum from nipple play alone. It arouses him and causes him sometimes to self lubricate. Both men's cocks were solid, evenly matched too at 7 inches apiece, his surrounded by hair, Geeze's shaven smooth. Geeze went down on Justin, causing him to sigh, then groan, and arch his back as his balls tightened. Geeze could taste him, but chose not to fellate him for too long. Rising to his feet, & standing on the bed he offered his own dick to Justin. Taking it into his mouth and putting his arms around Geeze, he reached for his bum, pulling him in close, until his cock was wholly down his throat, balls deep. Maintaining that position for a good couple of minutes, Justin was eventually forced to back off, as he gagged involuntarily. Fighting the reaction by breathing deeply, he took him in deep once again, more easily this time as Geeze's shaft was well lubricated with his spit and phlegm.
Justin as a a farmer is used to dealing with animals...and the animal was now showing itself in him...oral sex performed with skill and passion can get VERY INTENSE, even more so than penetration...
This time was no exception. Both men knew their limits, & were able to control the stimulation so as to prolong the fun, mindful of Minx, and her needs. Spreading her legs wide, she invited Justin to gorge on her pussy; going down on all fours he obliged, willingly, 'Oh YEAH, oh YEEEEEEEAH' she gasped. Still horny to the max, Geeze wanted in too. Threading his head backward and under Justin he started sucking his cock, then his balls. We both like hairy men, and J's was moderate...not all over, but just in the usual places, arm pits, chest, pubes and ass...this turned Geeze on even more; he still felt stoked from the fellatio, strongly. Notes taken from the previous meet 4 years ago had indicated HEAT & PASSION... there was clearly chemistry between the three of us, and it's times like that that one feels like going 'all the way', not because you feel you have to as in 'job description' but because you REALLY WANT TO. Sucking on Justin's balls then moving to his perineum, Geeze pulled Justin down and stretched upward at the same time, finding his bumhole with his tongue. Rimming him lightly and flicking his tongue in out and around his hole, he felt a deep guttural feeling prompting him to stuff his tongue in that hole as far as he could, to taste him, to excite him, & to turn Justin on bigtime.  The kinky farmer started to writhe a little, still latched on to Minx's pussy. 'I wanna see you fuck' he whispered...we'd briefly discussed cuckolding before. Geeze was rock solid from the anilingus. Roughly pulling Minx towards him as Justin moved to one side he tapped his cock hard against her ruby red hot cunt before thrusting it in. She was wet AF nevertheless Geeze could still feel her. She felt amazing. Gently wanking Justin while fucking Minx & even managing to kiss her too, three actions at once, felt SO-ooooo good. Geeze took Justin's hand and layed it upon Minx's mound so he could feel Geeze's cock going in and out, but it was too much for him. J started masturbating hard. We knew things had come to a head. It was no use trying to prolong the tryst any further...we were all passing the point of no return.
'Let's ALL CUM TOGETHER, all THREE OF US' Geeze shouted. A tall order, and we didn't make it TOGETHER but it was a neat 1,2,3.
Justin let go first, all over Minx's tits. Loads of the white stuff, plastering her chest. Geeze still felt close emotionally to Justin since the oral. He NEEDED to taste his seed....coating two of his fingers with his sperm, he took them in his mouth while still fucking Minx hard. Her sloppiness meant there wasn't quite enough friction to promote ejaculation on it's own, but the act of tasting the other guy's cum pushed Geeze over the top. Cumming hard in Minx he pulled out so Justin could clean up. Minx was on the edge too....withdrawing slowly, Geeze got taken aback. In all the years we've been together (15) I've never felt her so hot. A scalding stream and I mean SCALDING, blasted on to his penis, startling him for a moment. In times past he'd drunk her squirt, let her gush over him, & even taken her piss... all over him, but NOTHING LIKE THIS. Wow. It felt SO-oooo.....'exquisite'. Yep, that's the best word, the only word.  I'm still enthralled by it today, still feeling it, 3 weeks after.
The last two and a half years we've been to hell and back as we've fought to survive the 'Covid nonsense' along with millions of others. Our farmer was no exception, but that day 3 weeks ago I'm sure, will remain etched in our minds forever. Would you like to experience something like that? If so pick up the phone....which makes a neat little bridge for the concluding part of this NEWS VIEWS AND SCREWS.
The next morning, ten hours after the meeting with Justin we got a call. It was an 0208 number, & we knew straightaway it was for phone sex. A lot of guys knock XXX chat. That's because they've either never tried it, OR more likely, they've been ripped off in the past by unscrupulous chat operators.  Despite heavy regulation, XXX chat lines remain a minefield. You're having to deal with premium rate numbers or dodgy payment options, disinterested &/or inexperienced operators, and worst of all in most cases, several minutes 'statutory warnings' which you're having to pay for, BEFORE you get thru to your chosen 'girl' or couple. A lot of men when confronted with all of that, give up or don't bother. The fire aka 'horn' will be well and truly cooled by the time you get through to an operator, who's rarely the person advertised. I remember watching a documentary about the industry once, featuring a  woman bragging about how she made money out of phone sex while doing the ironing. Her average call length was around 3 minutes, no wonder. So, guys its definitely a case of  'Caveat Emptor'.
Done right though, phone sex can be mind blowing. The brain's the most important sex organ, did you know that? And I'm talking about the brain both ends of the phone line. You can't really do XXX chat unless you've a ton of sexual experience; it enables an operator to rapidly paint a picture for the client, chiming with their expectations. So when Paul from Harrow phoned the Sunday morning following our meet with Justin we were still stoked from the sexperience. 'I wanna hear you two fucking' he told us. Point of fact we'd barely opened our eyes after a good night's sleep. We were in bed still, chatting about the night before, so Paul's call was like Manna from heaven, effectively monetising our dialogue. 'You'll have to get Geeze hard first' Minx told him. We asked what turned him on...the usual stuff, watching close, cream pie, cleaning out etc. Then we asked age, build, location, his physical position and more....ask what their biggest fantasy is and build upon that. The likelihood is that we've been there at some time or another so we can draw upon the experience and tell a real story. That's when the breathing starts to get heavier. We're continually telling guys that great sex is all about good communication. Don't hold back...let go....and so on. Pretty soon Paul was revealing his kinky thoughts. He watched threesome porn. He loved older women, he was a tad curious, ah right! Cue for us to talk about frotting, getting him to imagine doing it. Holding the phone next to Minx's pussy, Geeze worked on it, so Paul could hear her wetness for himself. Geeze can get very tuned on as a phone sex operator...often to the point of cumming simultaneously or shortly after the punter himself. Same goes for Minx. We don't usually get to actually fuck, because they shoot their load and immediately hang up. Paul was different though. Considerate, communicative & horny, the type of guy we'd groom with a view to meeting. We've hooked up with several phone chat clients over the years & DELIVERED THE REAL THING. Paul began to talk dirty & it became pretty clear all three of us were on the same page, just like the night before, albeit separated by a couple of hundred miles! Geeze was once again solid, teasing Minx's clitoris with his bell end, giving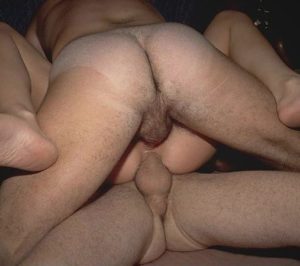 Paul a running commentary on what we were doing together. We 'gave Paul' Minx's ass for a spot of double penetration; previous experience meant we could tell him exactly how it felt, and what it looked like...he was imagining his foreskin getting pushed back as it penetrated her tight sticky hole. We were describing to him what Geeze's cock looked like deep in her pussy while Paul positioned himself for anal penetration. We told him to clench his fist and close his eyes, to immerse himself in the scene, and then to push his cock hard into the hole formed by his fingers & thumb, then all of a sudden it was BOOM as the brain did the rest. With graphic descriptions of how these kinda scenes work in real life, it's possible to spark an orgasm almost as powerful as that which you'd enjoy if you were really there, in the real world, & so it was with Paul. We could hear him getting close, then came the prolonged groans almost of pain. For a good many men, cumming hard is quite a rare event, but what these men lack in quantity they make up for in quality. It's like they explode. Believe me, it's very satisfying for us both to hear them orgasm like that.  The best guys stay on the line and warm down with us for a few minutes, as did Paul. They thank us profusely; genuine heartfelt gratitude the kind of which can't be faked. It's a wonderful feeling to know you've brightened some-ones day in these dark times, and all part of our colourful life as the UK's best known mature escort couple. Who's next? You subscribe to NEWS VIEWS AND SCREWS to learn more about our life as an Escort Couple. YOUR PLEASURE is OUR BUSINESS as we turn fantasy into reality. #WhatDreamsAreMadeOf! We tell you the way it is….and we thank you for your continued support. Until next time, take care, Luv, fun50couple xxx
Do stories like these turn you on? Are you one of those 'wishing'? All we share with you in NEWS VIEWS AND SCREWS is true*!  You, yes YOU, could be participating & enjoying scenarios like these a few short hours from now, anywhere in the UK. So, pick up the phone! Don't be shy. The number you need is 07981-726237 (Minx) or email support@fun50couple.com. See you soon!
If it's phone sex you're wanting, we prefer you call our private number rather than go through AdultWork. Click the phone sex page on fun50couple.com, or the SHOP page on fun50couple.co.uk. Then get tissues, get comfy & dial. Calls cost £1.50per minute.
* Please note we NEVER divulge people's identities and we have changed some names and details to preserve complete anonymity.
Like what you see? Then please share with others and tell them to pop their name and email addy in the box below to receive more of the same monthly 🙂 AND, if you're not already doing so please FOLLOW US on TWITTER