Fun50Couple-NEWS
Hello Sexy Friends! So guys, NEWS...as usual we've been busy-busy, with bespoke bookings, further education within the crypto space, and kicking the asses of overpaid solicitors proceeding at a snail's pace on our property sale & purchase.
The most noteworthy booking was to London's Hotel Café Royal in Soho, to hook up with a lovely guy we know from across the Pond. Regular readers will know we favour the US & our countries 'special relationship' & it's always fascinating to hear what our American cousins have to say about current affairs, not least their opinions about contemporary Britain. It was a 7 hour meeting which meant we had to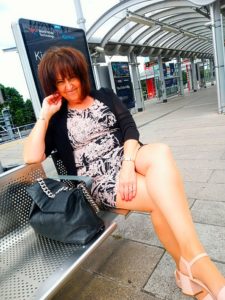 book into another London hotel ourselves. It's a 260 mile journey each way & not really feasible in a day, so we chose Premier Inn at Docklands next to City Airport. I mention it, because we've been there before, the service is outstanding, furthermore, they've added Premier Plus rooms. Guy's if you've not yet sampled them, they're worth every penny & on a par with what you find at your average Hilton I kid you not. We planned our trip precisely, which meant we'd have to bid farewell to our friend at 2315 in Piccadilly Circus so we could make it back on the last train. Taxis are charging £60 to £100 now for the 8.6 mile journey from London's West End to Prince Regent, so it was the Bakerloo & Jubilee Line to Canning Town & Docklands Light Railway from there. DLR stops around midnight, but we weren't overly bothered about the final leg, which can be walked... a pleasant stroll along the old wharfs which incidentally, Geeze first visited as a young merchant navy cadet with Ocean Fleets. Back then it was a buzzing community, serving tramp ships & freighters from all corners of the world, in basins protected from the tidal flow of the Thames behind giant locks.
Stevedores by the thousand worked under cranes made famous by Stothert & Pitt, a British engineering company founded in 1855 in Bath, England. It went out of business in 1989. Their cranes were 'the gold standard' of dockside 'light lifters', seen in almost every port in the World, before the onset of containerisation & the heavy lift gantry cranes we see today. The 90's saw closure of most of the Royal Docks, & redevelopment in the form of City Airport, Excel, Canary Wharf and others. It's somewhat ironic, that buildings like Canada House, until recently home to 10,000+ workers, face an uncertain future as
85% choose to work from home (still), playing into the hands of a Government besotted by globalism & control. I'm talking about the 'Fourth Industrial Revolution' and 'Great Reset' perceived by the masses sadly, as some sort of 'conspiracy theory'. If you're one of those people, then please #WakeUp, and quickly. But I digress. Making our way via escalators down to the labyrinth of tunnels which is London Underground we eventually stood together on the southbound platform of the Bakerloo Line (the name's derived from Baker Street & Waterloo termini) A soft ringing sound from the rails signaled the approach of our ride home... as it hurtled along as yet unseen, but nevertheless heard, somewhere south of Oxford Circus.... then came the rush of wind as it pushed the air along in front of it....a pungent smell of ozone (caused by electrical arcing) mixed with underground Victoriana, piss & humanity. You'll know what I'm referring to if you've ever been there. The ringing became a clatter, the laser like beam from the train's headlight grew in intensity, until it blinded us for an instant as it sped past, the brakes screeching as they fought the momentum, eventually bringing the train to a halt & an automated announcement. 'This is a Bakerloo train to Elephant & Castle, Change here for the Piccadilly Line' blah blah, then 'Stand clear of the doors'....people of all nationalities piled out while others, strangers perhaps, fought against them, panicking, thinking they weren't going to get on. Minx & I squeezed in leisurely; she held on to me tight, unable to reach the carriage's overhead grabrail while I looked down, wary of pickpockets and scumbags. The doors closed, hesitated then re-opened. Passengers were jammed tight; it was likely some-ones coat-tail was trapped in a door somewhere, preventing them from 'going all the way'. On the second attempt they finally secured. The train lurched forward, lights went out for an instant and then we picked up speed towards Charing Cross. I've lived up North since the turn of the century after selling a limousine business based in the South East. The capital was my home patch & I have a fondness for it still, from the docks in the east to Heathrow in the west and all places in between including the tube network. Minx hated it, so did The Jam. Remember this? Enjoy!
Nights like that really bring home to you the North-South divide; Here we were, on just a single train, amongst thousands of revelers and workers at MIDNIGHT on a Sunday!! Back in County Durham nothing much moves after 10PM any day, let alone a weekend!
The following morning broke sunny and HOT. We'd had a fairly good couple of months tradewise, so we allowed ourselves a 'treat'. Instead of going directly home, we booked a hotel in Newmarket for a night, just 90 miles up the M11 from Newham. The racing industry throws us a good many customers, but that wasn't our main reason for choosing the town, although we did 'cast our net' just in case we could pick up a short notice booking. You see, we never really STOP working; in common with most business people we're always 'at it' whether it be touting out on the internet, improving websites, discussing sex & sexuality, talking phone sex or ACTUALLY DOING IT so to speak. It's a lifestyle. And the reason you read this e-zine. Thanks guys, we appreciate your following!
Our motive for booking Newmarket was its closeness to US Air Force bases at RAF Mildenhall & Lakenheath. Mildenhall caters to the heavy side with Air Refueling & Special Operations units, while Lakenheath a couple of miles north is home to 48th Fighter Wing operating F15s and F35's. Geeze is a private pilot with a lifelong interest in aviation, and we'd planned a visit here for months, mainly because of the Ukraine 'situation', meaning the bases are in effect on a war footing, with a lot going on. That's another topic most people, in reality, know little about, save for the propaganda fed them by the BBC (an organisation trusted by no more than 55% of it's viewers, according to a recent audit, placing it second from last in a long list of international media). We follow Flight Radar & a host of news commentators with reputations for reporting on matters as they really are & a solid track record of 'getting things right' in the way of predictions. Trends Journal is one example; We'd also noticed a dramatic uptick in military aircraft traffic over eastern regions of the UK during recent weeks, so we expected to see a lot of action. We were to be disappointed; Monday June 20th, unbeknown to us was a Federal Holiday; JuneTeenth celebrates the end of slavery in Texas in 1865 & is marked by Afro Americans & others annually on June 19th which this year fell on the Sunday. Both bases were closed on the Monday but we did see a few flights; most of all we enjoyed relaxing under hot sun, in a grassy spectator area just yards from the main runway. Tuesday was a better day, with even more sun, 27 degrees heat, and flights aplenty, including spectacular comings and goings by Osprey tilt rotor aircraft,
as well as F15s & F35 fighters at Lakenheath. In recent years you'd be lucky to see anything more than occasional departures but on the Tuesday it was non stop. Clearly the military (unlike our virtue signaling politicians) see the 'situation' potentially spiraling out of control with nuclear Armageddon, something not contemplated since the Cold War. Anyway, two days sunbathing, plane spotting and 'together time' worked wonders for the soul... fortifying our resolve for the weeks ahead as we prepare to move, and then refurbish new premises on Teesside. The relocation is an opportunity for us to make significant progress, still heavily involved in the Adult Industry, but setting us up nicely for later life. Part of that dream is dependent on finance for the NEXT PHASE, and we're very lucky to have been given a 'second bite of the cherry' in the form of a crypto crash, enabling us to BUY IN to an asset, which despite the FUD, STILL continues in an uptrend over extended time. Forty year high inflation, the worst economic outlook according to several reliable indicators since the 1930s, & recent predictions from the Bank of England's Andrew Bailey about UK inflation set to be highest out of the G7 with the slowest recovery all point to one thing: OPPORTUNITY. As Warren Buffet famously said: Sell when people are greedy, buy when their fearful, and that's what we're doing, what about YOU?
PS: Buy while you can! Our own banker's are 'asking questions'. Down Under it's worse, take a look at this clip. (You're looking at 'CONTROL of money is HERE! PULL OUT' make sure you UN-MUTE it when it loads)
Fun50Couple-VIEWS
2nd July 2022 marks the 50th Anniversary of the first ever PRIDE EVENT which took place in London. Around 700 people attended back in 1972; this weekend hundreds of thousands are expected for the main Pride parade in the capital, with a quarter of a million or so others participating in parades nationwide. Leading today's march will be veterans from the original gathering, including LGBT+ rights activist Peter Tatchell (70). I remember as a youngster hearing his name, & headlines about Gay Rights; Tatchell was a member of the Gay Liberation Front(GLF), the first movement of openly lesbian, gay, bisexual & trans people. LGBT's back then were seen as sad individuals; homosexuality was still viewed as an illness, lesbian Mum's had their kids taken off them, and thousands of men were arrested for 'consenting gay behaviour'. I'd experienced same sex and heterosexual desire from around the age of 8. I now know, looking back, that I was/am bisexual, born bi probably but others didn't see it that way. You were either 'normal' or 'queer' end of. Tatchell got bad press if he was lucky to get any coverage at all...most news outlets wouldn't cover such matters. At school I was bullied relentlessly for 'being different' but as time passed, peers grudgingly accepted me on the grounds of other shared interests; to be fair, the boy who got bullied worst was an unfortunate soul with a micro-penis. Teachers did nothing very much about homophobic behaviour, if anything they encouraged it. Anyhow, I know how I felt.... guilty, embarrassed and at pains to hide my desires until well into later life. There would be occasional 'experiences' which were intensely erotic and enjoyable, I can recall every one of them in minute detail to this day. The concept of BISEXUALITY wasn't even on the radar unless you were an activist, or a student possibly. You just knew you were turned on playing with MEN, and equally so with WOMEN, in parallel. That's how it was for 40 years. Two marriages failed not because of my 'leanings', which sometimes lay dormant for years, but through incompatibilities; I'm a strong willed individual, ambitious and fiercely independent...not ideal qualities for an enduring relationship; Failure can breed success though, and once you know who you REALLY are as a person, and you're not frightened to express it, things change for the better. As fun50couple, professional escorts, we see SO-ooooo many men in fractured relationships living a lie, unable to live their authentic selves. Despite decades of LGBT activism, there's still 'shame' especially among older people, men & women. Many times we've been told by clients their marriages would be over in an instant if partner's ever got wind of their man's hidden bisexuality, or curiosity even.
Over recent days leading up to Pride there have been numerous re-prints of an article written by Tatchell back in 2016, headed 'The future is bisexual. Get over it!' subtitle 'The gay-straight binary is eroding – and that's good for us all'. Even for 2016 it was mildly 'controversial' but there's no doubt in my mind that what he predicted then has come to pass; take a look at this video version.
Earlier this week I tweeted on Twitter 'Last night was one of the hottest experiences in 10 years of escorting....' I was referring to an MMF tryst with a 'regular' we've seen close on to 70 odd times over 6 years. It goes without saying, we know each other VERY WELL by now. The interesting thing is that no two meetings have ever been anything like the same. When 'X' met us for the first time he'd seen a M/F couple once only for a mild MMF. It was his first experience of MM contact; he enjoyed it, but didn't go back because he wasn't (according to him) over keen on the guy. His first meeting with us he described later as a little 'clinical' but we must have done something right hey! What prompted me to tweet was the intensity of the meeting we had this week. It really was GLORIOUS. It was by no means a client/punter 'arrangement'. It was three sexy people, 100% comfortable in their own skins, indulging in intense no holes barred sex, and all SO VERY NATURAL. Cynics will say we're highly sexualised & immoral, and that we've lost sight of 'what's normal'. I think Tatchell hits the nail on the head:
'human sexuality is much more complex, diverse and blurred than the traditional simplistic binary image of hetero and homo, so loved by straight moralists and – equally significantly – by many lesbians and gay men.

'Homosexuality as a separate, exclusive sexual orientation and identity will begin to fade – and so will its mirror opposite, heterosexuality – as we evolve into a sexually enlightened and accepting post-homophobic society. The majority of people will be open to bisexuality – the possibility of both opposite-sex and same-sex desires and relationships. They won't feel the need to label themselves or others as gay or straight because, in a non-homophobic culture, no one will care who we love or sleep with'

I am happy and comfortable to say: The future is bisexual!'
Cheers to that 🙂
Fun50Couple-SCREWS
This month we're featuring Daz, a local lad who surprisingly, we've yet to meet. Hmmmmmm?!? Let me explain. Daz is a phone sex client but don't let that put you off. I don't recall the first time we ever spoke... but it has to be a couple of years ago at least. He's a longtime NEWS VIEWS & SCREWS subscriber and often sends messages of support by email. Most months we get positive feedback from people; NVS is like a spark that kindles a fire within... & its not unknown for subscribers to cast inhibitions aside, eventually, & meet us 'in the flesh' after following us for YEARS. I suppose its all down to trust. Most of this category of clients, we've noticed, are extremely secretive... paranoid about web security and getting found out by 'significant others'. By devouring NVS, month after month, it's kinda like they get to know us. There's a ton of rubbish, clickbait and fakery online, and a lot of people are taken in by it sadly. Some sexblogs boast subscriber numbers in the hundreds of thousands; obviously they're hitting the right notes, or NOT, depending on your POV. Most people 'follow the fold' so content writers tend to align themselves with MAINSTREAM OPINION in order to capture the largest share of ROI. They're not overly concerned about whether they agree with it, they just want your pound or dollar. It used to be reckoned that the average blogger got a $dollar per subscriber per month in revenue. This comes from product sales, affiliate marketing, kickbacks etc. In short, you're cynically manipulated. You'll know if you're a longtime NVS reader, that we do none of those things. We make no money at all directly from this blog. Busy fools? Maybe, but what we write is straight from the heart & if you don't like it you can leave. People do, usually when we've expressed an opinion at odds with the mainstream, but we REFUSE to compromise on content just to build subscriber numbers. How could we, & stay true to ourselves? That honesty is recognised and rewarded over time. It comes through naturally, & fosters trust. It's what prompts men to pick up the phone & 'start a conversation'. As did Daz.
He deals with us directly, wary of big platforms' payment processors & 'tracking analytics'. Unless you've been living under a stone the past 5 years or so, you'll have noticed if you've got an Android phone, the evil Google listening in. How else can you be discussing something with some-one, something you've NEVER searched for online but only spoken about, and up pops a Google SEARCH SUGGESTION? Within minutes. Pervasive, unaccountable BigTech for sure... so we do what we can to mitigate against it. When you're a web developer and crypto savvy as well, you tend to be right up there with 'tech' developments, nevertheless it's a fast moving picture and bewilderingly huge in it's scope. Daz wanted pictures sent to him. We never do Facetime or Webcam, it's just not our thing; there's nothing worse than fumbling with devices when you're having sex, especially if you need glasses for fine detail. Also, if you're concentrating on playing to a camera it 'ain't gonna be real!' That doesn't stop millions subscribing to it on Only Fans or the plethora of copycat sites, one of which I'm reliably informed went from a turnover of £77,000 a month to a MILLION a month in the space of a year (during lockdown in 2020). Anyway, we encouraged Daz to get hooked up with Protonmail & over time he's gotten used to the platform & it's privacy controls. These include advanced encryption, timed message deletion & secret passwords and phrases so there's not much chance of a user's penchant for XXX filth bleeding over into his vanilla online activity.
All these years we've been escorting, it's only just recently we've begun to realise we're a bit 'unique'. I'm not being big headed here; both of us for most of our lives have suffered from low esteem. Even though there have been periods where we've enjoyed moderate success, we've never really thought of ourselves as anything special. It's quite ironic: Minx works as a Pro Domme with a number of high net worth repeat clients, yet she still has a low opinion of herself. The way you're brought up can have devastating consequences for decades...yeah I know... when you're an adult you can do what you like, but fact is, some children are, in effect, BRANDED by their parents, Mums & Dads who almost ALWAYS had the best intentions. But they're blinded to the big picture; I subscribe to the 'kids will find their own level' philosophy to a degree.... encourage them by all means, but gently does it, don't OBSESS! #JustSaying. We've just thought of ourselves as a sexually enlightened couple who chose to monetise our interest, which helped us financially, gave us more time with each other, and guaranteed the kind of kinkier SEX we used to talk about. Nothing more, nothing less. Only recently have we discovered, that actually, there just aren't that many service providers out there like us. We'd always assumed we were just one of many. Granted there's a thousand escort couples on AW, but DYOR and you'll find very few do what they say on the tin. There are increasing numbers of 30-somethings who've been on there for 5 minutes charging 50% more than people like us who've been on there for years. Needless to say, these providers have no feedback or if they do its in single figures, and they only outcall. Oh yeah, they usually say they'll just let 'you watch' too. FUCK OFF. Each to their own obviously. My point is, and we've only just cottoned on to it, few escorts go out of their way to really DELIVER like they're lives depend on it. By which I mean financially, or as a 'given' to ensure the best chance of repeat custom.
I suppose we're lucky as a couple in that we really do connect, physically & spiritually, nothing is hidden or faked or lied about, and that comes across in our interaction with others, whether it be via the written word, in the street or bedroom, or over a phone. This newfound awareness I believe stems from us casting our net further to find clients. The North East is a region in itself, separated from other conurbations by at least 80 to a hundred miles of nothing very much on three sides; moors, dales etc. The fourth is the North Sea. Its an area steeped in 'tradition', codespeak for a reluctance to move with the times. There are fewer SME's in our region than anywhere else in the country. Entrepreneurship is almost a 'dirty word' and there's a strong religious undercurrent, invisible but palpable nonetheless. After a few years, local supply slows... in other words the numbers of men that fit our niche are finite, so we need to attract passers by. That's been easy given our proximity to the A1, A66 & LNER, but more difficult since Convid, as business people stop travelling. So we've promoted ourselves nationwide for around a year, attracting a steady stream of bespoke bookings from guys whos main concern other than having a good time, is privacy & discretion.
Accounts of some of these trysts have continued to enthrall NEWS VIEWS & SCREWS subscribers; as we publish more issues, the depth of our interest and exploits gets more widely known. Men are less inhibited when contacting us for the first time.
It took Daz a little while to open up, but little by little we learnt more about his kinks and desires. Aged 52 he's on his second marriage, but from what we know, it's FLAT sexually. A lot of guys second time round that happens. They seem to be content in every area EXCEPT SEX. I'd call that a recipe for disaster, but it works for some, but only because they know they can find an outlet for their passion/kink/obsession/addiction elsewhere. From the outset, Daz came across as spellbound by Minx. He'd phone us as a couple, but she'd be the centre of attention. If Geeze spoke at any length 121, Daz would cool, never hanging up like some do, rather steering himself back to conversation with the female; and perceived safety. You see, guys like him, with a 'little seed' in their heads, otherwise known as 'COCK desire' behave like that. Involving a woman lends respectability to the scene in their eyes. They manipulate the conversation subtlely, as does Minx, until ultimately their TRUE desire get's flushed out into the open. From then on it builds. And builds. Until it's a fixation. Another way men try and make things respectable and 'less gay' is to ask to be penetrated by a strap-on. If a woman's fucking their ass, it's OKAY and oh so totally different to being fucked by another man. Or so they think. I've seen guys take all kinds of extreme insertions, even to the point of assgasm, and then proffer to penetration by a cock way smaller; it's all about the RHYTHM & the EMPATHY.
When you speak to thousands of men over the course of a year mostly via email, but on a phone also, you see patterns. One such form is the way a submissive person communicates. The fascinating thing is, they may not even know they're submissive. But we do. It comes across loud & clear...and No I'm not going to share those snippets, because I don't want to influence YOU. So, we pick up on these traits; from that information we get a good idea of where we can take someone like Daz. Few of these men have any idea about what Sex Positivity is. Same sex desire doesn't mean you're gay right? Daz & men like him have this deep seated guilt or shame, when they really shouldn't have any cause to, in this day and age. We've covered sex positivity in NVS before. Scroll back through archives and look for it, along with Klein Grid and Bemsex.
Most subs have periods of disinterest between 'sessions'. They can be dormant for months, years sometimes, or in Daz's case a week or two at the most.  I'm wondering...Do you believe in psychic powers? We do. There's obviously 'something' there... a tiny few people have super powers, a 'sixth sense' way more developed than most. Every part of everyone is somewhere within a spectrum.  For example, there's fierce debate right now about what is a woman and what is a man. The holier than thou's say there are only two genders and WON'T HAVE IT any other way. Fact is though, there are people born with a vagina AND a penis together. The condition's known as pseudohermaphroditism. OKAY, its very rare, but it DOES HAPPEN. (Interestingly, men born with two penises exist too!) So the cold hard fact is, there aren't just two genders. The Bemsex test discovers where a person is on the spectrum of femininity & masculinity. When we submitted to this test, Geeze fell in the androgynous quarter, while Minx's score put her in the 'undifferentiated' zone,  further proof positive we think as to why we click. Anyway, back to Sixth Sense.... Geeze has it, but hasn't developed it or tried to.  It's at the weaker end of the spectrum, nevertheless it's there. There have been too many coincidences over decades for it not to be real. People at the highest level are of the kind the Police bring in to help solve crime.  So a sub will pick up the phone or schedule a session because his 'itch' has re-awakened. When that happens, come hell or high water it HAS TO BE ADRESSED no ifs no butts. (heehee)  The re-awakening has occurred due to natural causes, chemical imbalances perhaps, but there have been occasions when we wonder if it could have been 'super-natural', times when we've tuned in to the client mentally & purposefully, willing them to make contact. It's not just with sex... vanilla life events too. Anyway, when Daz gets the itch he hits the keyboard. There's a deluge of text messages and emails. We learnt that a previous relationship he'd been in was of a D/s nature, but they'd gone their separate ways. Over time its become clear it's where Daz really wants to be. He craves it. Like a drug. Some subs are infatuated by us; again I'm not bragging.... these admissions sometimes slip out during conversation, they're fascinated by our relationship & 'How can it Be?' They have a thousand questions.
Daz like most subs, is highly organised. A 'session' once it starts will go on for days. He knows this and schedules a live phone chat 4-5 days hence, his 'reward' for not cumming. I've just discovered the meaning of 'Gooner'. You'll laugh probably at my ignorance, but hey, nobody knows everything!  Other than being a supporter of Arsenal Football Club, its sexual meaning is 'someone who practises a modernized version of tantric masturbation without the spiritual aspects, where a person enters an almost hypnotic, semi-meditative mental state'  This happens over a prolonged session, when you become 'deeply in the bliss of masturbation, at one with your body and your mind merges with your cock' In effect, YOUR MIND is YOUR COCK. You're within it. I think its a bit blurred, because the brain's the most powerful sex organ...I'd say its an amalgamation of the two.
Daz IMHO is the very definition of 'a gooner'. It goes beyond edging. You have to be able to edge properly and for long periods of time before you can hope to reach this new 'heightened state'. I wonder if more people living alone, coupled to freely available hard core porn 24/7 has something to do with 'gooning' becoming 'a thing' and more mainstream. After all, there are many men who will masturbate for hours while surfing online porn sites...that's not something you could do very easily even as recently as twenty years ago. I believe I've experienced this feeling myself, but not the way most people describe it. I've got there with the help of Electrosex...it short circuits the prolonged stimulation over days, by supercharging penis/ass/prostate and brain simultaneously over an hour or two, delivering the kind of earth shattering hands free orgasms' few men will ever get to experience. Ass-gasms are similar...not something you can just turn on... its a whole mind/body thing.
Daz will send message after message, all grammatically perfect and polite. We're busy people and sometimes get sidetracked so we might miss a text or two over a couple of hours.  When that happens Daz fears the worst, thinking he might have overstepped the mark, and been a bit 'forwardsome' meaning we may cut him off. It's like he or more likely his cock, hangs on every word. He apologises profusely about 'being disrespectful'. In case you're wondering, his cock is fairly impressive. A camera can lie despite what people say, but from what we've seen, he's a good 7 inches plus, take a look....
Sometimes he'll edge using a urethral sound and send us pictures. He's forever on about chastity. I don't think he has a cage, YET, but there's no doubt control, orgasm denial, and PERMISSION are high on his list. All this gives us plenty to feed on. We've gained momentum. Although he's still in the realms of 'virtual' we feel we understand him. We know him well enough to share intimate details. We can confidently plant ever more kinky scenarios into his brain. He's still to an extent living in a fantasy world. We've never met but I'd say the odds are we will. One day. Minx went away one weekend recently, and Daz was emailing. He's quite happy for Geeze to talk to him now, 121; This particular Friday night he must have been ultra horny as was Geeze. Daz had a house full of people apparently....he must have been messaging in full view of his guests...little did they know the content of his missives or the subject of his thoughts...that aspect only adds to the eroticism of course. Geeze told him to come round & he'd help Daz to relieve the pressure. Daz craved to have his ass penetrated but alas, he's still a million miles away from that ever happening, at least in reality.
Some people say fantasies are best left as fantasies. I beg to differ. Those kind in my view, are people who play safe, who don't have the balls to take them further. Whenever I've seen a guy's dirty dream come true it's been 100% positive. At the time. Unfortunately there are some who the minute they're set free, get hit by a guilt trip, and they're GONE. That's pretty rare though, & even some of them, once they've processed it in their minds, come back for more. Needless to say, Daz never came to visit Geeze that night, but the edging continued. All weekend. When Minx returned, Geeze shared some of the dialogue, and we looked forward to his pre-booked phone chat Monday morning. Sunday evening though, he'd kept emailing asking if he could cum. Minx in 'Mistress Mode' expressly forbade him.
Over the years we've brought you numerous accounts of MMF's and occasionally MFM's, but as our journey continues, we find ourselves deeper & deeper in the world of Kink. It's a place where we both like to be. We've lived hard lives & suffered significant events in the way of trauma and misfortune...one instinctively knows when things feel right and you're in a Happy Place. You catch yourself involuntarily humming or singing; it happens when we're in the dungeon clearing up. The trick is to act on it & not to dismiss it. That's one of the reasons we're selling up and moving to bigger premises...we're embracing our skills and using them to further our careers & well being. Club50 used to be a membership option for NVS readers, now defunct and superseded by the Private Gallery on fun50couple.co.uk. We're now resurrecting Club50 as a proper bricks and mortar establishment, a full blown kink club open to the public; it's going to take another 3 years but we're well on our way. Stay tuned. In the meantime we'll bring you more content orientated towards the lives of subs crossdressers and sissies. Don't get us wrong, we still love to meet bi-curious first timers...those meetings are uncomplicated and FUN for sure, but you don't wanna be reading about them all the time do ya?
Subby doesn't just call at the pre-appointed time. Oh no! That's not the way a sub does things. Firstly he has to ask permission; 'Is it OK to call now mistress?' Then another, 'Does Mistress & Master want me to cum?' then 'Does Mistress & Master want me to eat my cum?' followed by 'Shall I make the transfer now Mistress?' then 'Gagging to cum Mistress!'
Sex is our job. We constantly discuss clients, and crucially, how we're gonna change things next time we see 'em, new stuff, etc etc. Geeze knew Daz was loaded & in agony almost. Ready to explode. We never script anything. We just go with the flow, using past discussions as 'markers' or signposts if you will, to direct the way a meeting or phone call proceeds.
RING RING, ring ring, Minx answered 'Well hello Daz!' She has a soft spot for him, we both do. This comes about after calls we've shared here there and everywhere, by the side of the road, in the office, all sorts of places in all kinds of situations; this morning we were in bed together, Geeze naked, Minx in a long silk nighty. We use burner phones for sex to reduce the risk of tracking by law enforcement, so its not easy for all three of us to chat, not like a smart phone. So it's passed between us, meaning we're very close to one another. Minx knew about the Friday night & weekend edging/gooning and was preparing herself to be fingered and fucked allowing Daz to listen in. This time though we didn't go that far. Geeze had other ideas. Often, a phone sex request first thing in the morning is music to his ears... a chance for an early morning screw, or at least a good dip before a guy shoots his load. A lot of men get themselves to the brink just before calling. Input from us pushes them over the edge and they're gone in a few minutes. Daz though will chat & edge for 20-30 minutes...call us soft, for sometimes he's only paid for 10! One things leads to another though, and 3 horny people lose track of time. It was 7.35AM and Daz has to be off for work before 8, so time was of the essence. WE got talking about different positions & how he could interact. Would you suck me while you fucked Minx?' inquired Daz, adding 'I think that's all I could get myself to do at this stage, I don't think I could actually go down on a man myself, handle maybe, but not suck....' The dirty conversation had made his cock as stiff as a steel rod, but alas, time was marching on. He knew he'd have to ring off shortly & head to work, & begged to be allowed to ejaculate, but we shut him down. Minx put the phone to her waist so he could listen to Geeze beating his own hard cock on her pubic mound.
Daz requested Geeze to fuck her, but Geeze told him No. 'You're not going to cum Daz, not for another 4 hours. You're going to go to work and you're going to call us around 1130 from the works toilets, and that's when & where you're gonna cum right? Silent call. You won't have to talk, OK?'  There was a short silence, then Geeze continued....'You haven't cum have you.....? Are you soft now?' Now some of you might be thinking we're 'aving a larf... 'of course he came and never told you, he kept it secret.' But if you're thinking that, you have no idea about the secret life of a sub. Just to be certain though, we asked him to show us his cock. He responded immediately, with a picture, which made us think it was from a gallery. We asked for time proof...next thing we got was an image of his semi hard dick wearing an electronic watch, displaying the correct time. It was 7.57AM. 10/10! #Compliance #Obedience #Submission #Control #edging #gooning
After another couple of minutes banter he hung up.  We had appointments at noon, so needed to get Daz sorted by 1130. He did as he was told. The phone rang at 1115, earlier than expected. There was silence on the other end, save for a cough to acknowledge it was him; Minx couldn't see his number displayed on the phone...'haha, it's Daz Geeze' 'in the works toilet'. Geeze knew everything had to be kept silent. He also knew he wanted to get Daz so worked up he'd cry out loud. Geeze wanted to elevate Daz to 'couldn't care' mode, to get him so fucking horny he'd not just metaphorically EXPLODE, he'd do it literally, and verbally, and messily. We hadn't dressed. The morning had been spent on web work prior to us getting ready for the lunchtime incall. Geeze didn't really wanna cum, he wanted to save it for the meeting. He wanted to FUCK of course, but he didn't want to actually cum. Minx was horny. Currently she's in one of those HIGH phases with regard to libido, long may it continue. Slapping his cock once more against her cunt, she opened her legs further, all the time describing her POV for the benefit of Daz. Then Geeze took over the conversation: 'I''ve got my cock right in now Daz, I want you under me licking. Go on get round the back and watch, I wanna feel you under us... Awe Daz, I've come out, my cock is so wet'. I don't know why but this particular morning upon withdrawal, my cock looked like it was sheathed in a condom. A thick sheen clung to my shaft, obscuring the veins...it was like a plastic/rubber coating...she was so wet her juices stuck to me as firmly as filings on a magnet 'OMG Daz she's so fucking horny'  Geeze continued to talk, describing the scene in minute detail as a tribute to Daz, who remained silent on the other end. I've Googled it and I'm sure there must be a name for it; they're normally seen on mature and/or curvy women; I'm talking about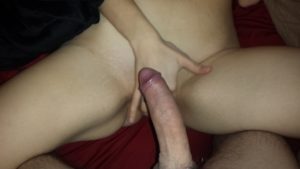 those indented areas atop a woman's inner thigh....those spots have always turned me on, even in pictures...Daz must have felt the same....'I'm rubbing Minx's inner thigh Daz, you know that indented area adjacent to her cunt, mmmm, it feels so good, so horny, I'm gonna lick it;'  Daz starting to moan uncontrollably. Geeze could actually hear him, wanking faster and faster. 'A couple more words from Geeze did the trick...'I'm now feeling her cunt, I'm smelling my fingers Daz...' breathing in deeply so he could hear, then a second time 'if only we could bottle that smell and sell it eh Daz, do you wanna smell?' deep breath  'Go on!.... 'smell it, let me rub your nose with my fingers.... go on, breathe right in...! ' It turned out just as Geez hoped. Throwing caution to the wind, and unable to control himself (for once) Daz cried out loud. We could clearly hear him emptying his balls over the cubicle's door, then the phone went dead. Job done. He messaged us later to say he'd nearly been caught 🙂  heehee.  Since then, we've dreamed up another scenario, destined to push him further into the world of submission and ultimate control. What is it? That's for us to know and you to wonder, including you Daz (yeah we know you'll be reading this, & you'll not be 100% certain if it's you we're talking about because as always, names & locations have been changed) Who's next? You subscribe to NEWS VIEWS AND SCREWS to learn more about our life as an Escort Couple. YOUR PLEASURE is OUR BUSINESS as we turn fantasy into reality. #WhatDreamsAreMadeOf! We tell you the way it is….and we thank you for your continued support. Until next time, take care, Luv, fun50couple xxx
Do stories like these turn you on? Are you one of those 'wishing'? All we share with you in NEWS VIEWS AND SCREWS is true*!  You, yes YOU, could be participating & enjoying scenarios like these a few short hours from now, anywhere in the UK. So, pick up the phone! Don't be shy. The number you need is 07981-726237 (Minx) or email support@fun50couple.com. See you soon!
If it's phone sex you're wanting, we prefer you call our private number rather than go through AdultWork. Click the phone sex page on fun50couple.com, or the SHOP page on fun50couple.co.uk. Then get tissues, get comfy & dial. Calls cost £1.50per minute.
* Please note we NEVER divulge people's identities and we have changed some names and details to preserve complete anonymity.
Like what you see? Then please share with others and tell them to pop their name and email addy in the box below to receive more of the same monthly 🙂 AND, if you're not already doing so please FOLLOW US on TWITTER