We've had some interesting meets recently not least this one from a guy looking to 'experiment'. Specifically he wanted to experience electrosex and booked a two hour session in London. Fifty-something years old with greying hair and a senior job in IT, our friend (we'll call him Nelson) arrived with trembling hands and a bit of a sweat on from rapid travel around half of the M25 from his home in Essex. We like his kind; No silly text tennis, no endless questioning about things clearly covered in our profiles and websites….Nelson was a man on a mission and knew EXACTLY what he wanted. He'd clearly done his home-work. He told us he identified as bisexual having been penetrated around 4 times by a male, though he'd never done oral or even handled another man….so a strange type of 'bisexual' I suppose….but then Bi's are all the rage just now aren't they! (Have you seen the trailers for the new bisexual dating show on TV? Or the 'The Bisexual' drama which started a couple of weeks back?) I digress. Nelson wanted to get down to business straightaway and since he'd planned a 2 hour meet Minx and I had mapped out a rough schedule.
If electrosex is all gobbly-gook to you let me explain. Also known as electrostimulation it's a sexual practise involving the application of electrical stimulation to the nerves of the body with particular emphasis on the genitals and other erotic hotspots, using a power source coupled to electrodes for the purpose of sexual stimulation.Electrostimulation has been associated with BDSM activities, and erotic electrostimulation is an evolution of that practice. Early devices were adapted TENS units commonly used in hospitals for stimulation of nerves for therapeutic purposes. TENS stands for Transcutaneous Electrical Nerve Stimulation. Twenty + years ago, BDSM enthusiasts started adapting and improving these units for sexual stimulation, and E-StimSystems in the UK were pioneers. We invested heavily in a range of E-Stim's equipment a couple of years ago and we are forever learning new tricks with it in an effort to satisfy our lovely clients. Right from Day 1, they have not been disappointed 🙂 (Check our AW feedback) E-stim isn't all about pain, unless you want it to be. (There are power units designed for that). Our kit is about SENSATION…and no two people react to it the same way. So we NEVER KNOW how exactly, it's going to pan out.
There are safety considerations to consider when wiring anyone up, including the all important SAFE-WORD, before you're good-to-go. With Nelson we started with gentle surface play using Wartenburg wheels and an ElectroWand. (By the way, don't confuse E-stim with Violet wands…they are not the same thing). A combination of nerves and expectation didn't yield fantastic results to begin with so we moved on to cock loops and pads…Nelson started to respond, evidenced by a cock growing substantially out of a forest  of hair… no shaving for him….he was OLD-SKOOL, but hey, every-one's different. Geeze worked thru the modes on the power-box and Nelson was particularly impressed by the 'Sound' mode, which enables the unit to respond to voice commands…a sharp exclamation produces a sharp boost in sensation. Deep kissing and a little oral on Geeze (another first for Nelson) raised the temperature a little further, so it was time to discuss anal play. Clearly 'N' was in the market for penetration, so Geeze obliged with a beginners vibe, followed by a cock dildo, both wrapped in condoms…moaning suggested Nelson liked the feelings these probes produced, especially when Geeze rotated the curvature slightly to 'find the spot'. About an hour had passed by now though we never clock watch; years of experience means we can time these meets to perfection aiming for a climax closer to the end of a session, unless a man has indicated he can cum multiple times…a rarity it has to be said 🙁  Nelson assumed we'd used the cock dildo to 'open him up' so he was somewhat surprised when Geeze slipped in a smaller metal plug in the form of E-stim's bi-polar Satin Flange. Inquiring as to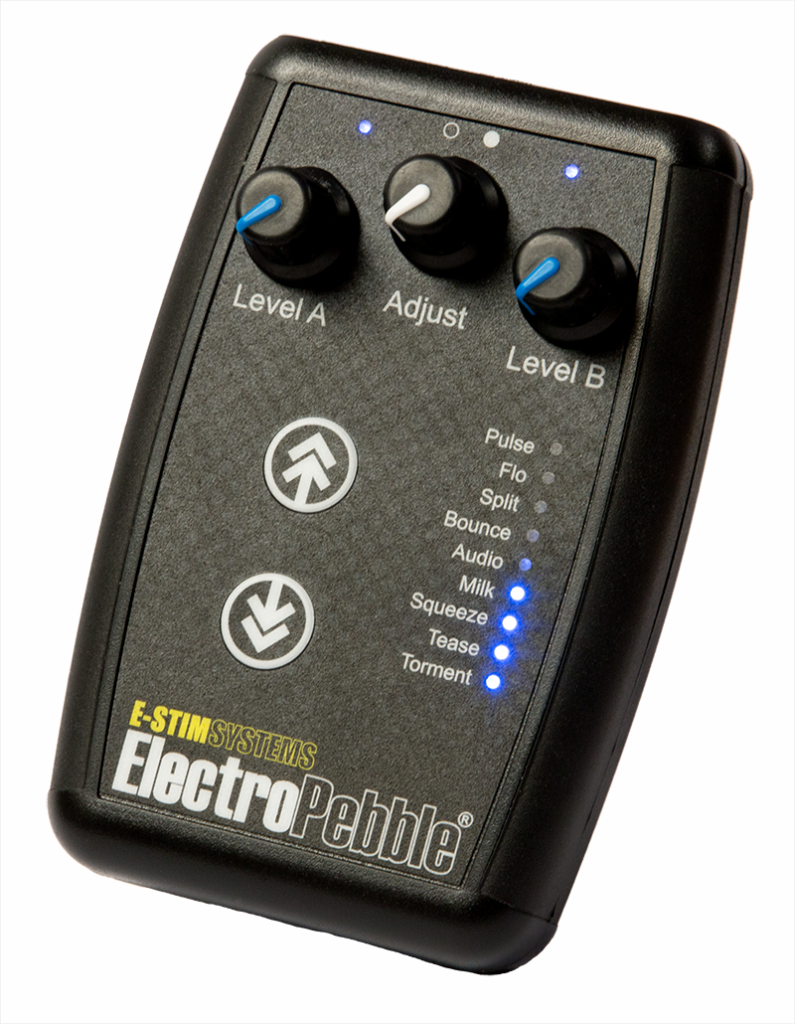 what it was, Geeze answered by means of the rotating knob on the ElectroPebble control unit, gently adding power to the probe. Nelson had NO IDEA what to expect and Geeze asked him to rate the pleasure on a scale of 1-10. Pretty soon, Geeze heard the words he was hoping for, from a satisfied client, words like 'AHHHHHH, OOOOOH, OH MY GOD, KEEP IT THERE, OH F*CK!'….you get the picture. Nelson seemed to like Flo and Squueze modes with sensation around the 8-o-clock mark….If you wanna know what all that means you'll have to book a sesh with us right? Three naked intertwined bodies, skilful power box control and dirty talk combined to help Nelson to an EXPLOSIVE orgasm. For a moment we were concerned as to his well-being; what started out as a fit looking but shaky & nervous 'suit' now lay there naked and utterly spent, drained, elated, prompting Geeze to ask…'You OK?' You want more? "Please turn it OFF" he gasped….Geeze was unsure for an instant as to how to respond…..'Why?'…..'Because I am soooooooooooooooooo stimulated' was his reply. Ecstasy is the word that springs to mind, and NOT the chemical kind….music to our ears. People often think life as an escort couple is one big f*ckfest and it's all like a porn movie; In truth it's nothing like that at all. The joy we get from our chosen vocation is from delivering upon customers expectations and gently exceeding them….or in the case of Nelson, massively exceeding them, Who's next?
Call 07981-726237 for an electrosex session in London, North East England or ask for a Bespoke Booking Nationwide.