Fun50Couple-NEWS
Hello Sexy Friends! Apologies for being late with this issue of NVS, but we've been plagued with computer problems. Geeze's laptop started to play up and after a wrong diagnosis, we discovered the motherboard to be faulty, a victim presumably of excess heat, something HP machines seem to have a reputation for. We ordered a new computer, but found it wasn't compatible with Windows 7 or 8, and then had problems getting Windows 10 installed, now fortunately resolved. In between all this, we toured to Scotland, spending three days in the Queensferry area, meeting several new guys and one or two old clients. There seems to have been a drop off in Escort Couple numbers across Scotland, however, two or three professional couples remain on the scene, and you can see why, with their feedback consistently strong like ours, coupled with daily marketing effort, Fairplay to them! Other NEWS....we've had a healthy increase in NVS subscriber numbers recently and a few readers even bothered to check out their sexuality using last month's Klein Sexuality Grid and kindly forwarded us their score. Thanks guys! We picked and published a winner too, as promised, on the 9th February. Check your inboxes & junk for a 'fun50couple'
email...the #giveaway remains unclaimed, despite us emailing the recipient with the good news, and even offering to arrange for him/her to pick up their prize directly from us while we were in Scotland. If we can't even GIVE AWAY sex toys, then God help us trying to sell them. There are big changes coming soon to www.fun-five-o.com and our Twitter activities as we re-focus on the kind of people we want to help. Stay tuned.
Fun50Couple-VIEWS
The longer we're away from Scotland the more able we are to look at it objectively when we return for our brief tours...there's no doubt that taking all things into account, it has to be one of the finest places to live in the world....it's something you really notice when you go back there, especially when one tours the UK widely, and whose place of residence is a depressed area of Britain aka Northern England. No-where's perfect of course,
but Scotland has a lot going for it for sure, with scenery, space, friendly folk, and a more socially inclusive political agenda; on the down side we noticed huge swathes of empty industrial space particularly in Livingston, an area we know well, announcements of shipyard closures at Burntisland and Leven with 260 redundancies, and major uncertainties surrounding Rosyth. All kinds of stuff we've heard about and seen before....many times (sadly) in our 5+ decades here on the planet, and a scenario we're seeing a carbon copy of here in the North East. Minx & I however, remain upbeat....there are always winners and losers in any situation. Big changes in politics, the march of extreme feminism, restriction of free speech, and a 'conversation' driven by an increasingly left leaning leaning social media present serious challenges...and opportunities for anyone peddling adult services. Gone are the days when one could start a business with a few hundred quid, duck and dive for a while and emerge a winner a decade or so later. Technology breeds technology at an ever faster rate...machine learning, artificial intelligence and all that. People used to say that the Internet was a great leveler....a one man band could compete against a multinational, but it now requires serious brainpower to compete against the big boys, and I don't mean degrees, I mean deep knowledge of one's niche and target demographic.....both time consuming & costly activities, and both areas becoming increasingly polarised in today's Britain. I think we've reached the stage where so much cost is involved in IT work to sell anything online independently and profitably (as opposed to being just another subservient Ebay or Amazon trader) it's probably not worth the bother....to make £40k pa out of sex toys you'd probably need to sell c£200k annually, £4k a week...and that ain't gonna happen without some serious investment in time and/or money...in short, there are a lot easier ways to make that kind of dough....a bricks and mortar sex shop strategically located being one of them. Britain is and always has been a nation where the 'pile it high and sell it cheap' mentality often wins the day...we see it with Ann Summers and the other crowd I wouldn't give the benefit of a namedrop too, nevertheless, there do seem to be a few niche outfits making a living, and that's where we strive to be. So guys if you're thinking of becoming a drop shipper of adult products with your own so called 'store'....take our advice, and forget it! You'll be working for peanuts, so don't be a monkey....the adult industry has always been very good at making most money out of telling others how to, BEWARE!
Check out the new DOUBLETREE by HILTON branded hotel situated adjacent to the North side of the Queensferry Crossing and clearly visible in the picture above...its a top quality establishment with service to match, RECOMMENDED. You can get some great deals on hotel breaks for couples HERE.

And lastly, you won't have missed all the hype this past fortnight surrounding Fifty Shades Freed the final film in the FSOG Trilogy, though I have heard rumours of a fourth sequel (read GREED & MILK). Last year we wrote about Fifty Shades Darker however, this time I'll link you to this fine review from Christopher Orr at 'The Atlantic' magazine....I couldn't put it any better myself. Minx enjoyed it though. The best part for me was the mega helping of nachos accompanied by a plastic cup of jalapenos which ensured I stayed awake for the first 59 minutes of the film. After that things stepped up a little, but not much I have to say; The other interesting thing for me from a business perspective was the audience.....95% female & under 35, most of them giggling, no wonder the likes of Summers and L*******y are rubbing their hands with glee. A poor film to put it mildly. 🙁
Fun50Couple-SCREWS
Keeping sex exciting, for many of us, means pushing limits and exploring new areas. That's especially true with our clientèle...., Gen-X Baby-Boomer and even Silent Generation men. Its also true of adult service providers...we too push limits both for our own self gratification and/or to keep up with industry trends and to stay in front of the competition. We know a well known London Dom who wouldn't go near 'needle play' five years ago, but now can't get enough of it. Six years ago we wouldn't have been interested in cross dressers...now we love'em, and find them in most cases to be a big turn on, that's just the way it goes.
After all, that's the reason why so many men and women 'stray', because they don't grow together, or can't because of their inability to communicate properly.
Working in the oldest profession means we get a bit blase about stuff, and it's very easy to become involved in acts most folk would consider extreme, and perceive them as commonplace even mainstream activities. Role play and humiliation are two examples. Minx has always liked certain forms of role play, but it's taken Geeze a couple of years to truly embrace the practice. Why? As a serious kind of person not given to 'playing around' the sense of realism fostered by the delivery of an authentic scenario (achieved through prior discussion and rehearsal between the two of us) took Geeze by surprise. Believe me, if you haven't been there, things can get VERY REAL, VERY QUICK.
Meet Stylianos....a successful 'businessman' with a Mediterranean background. When I say 'businessman' dear reader, I want you to think of gambling, casinos, property, waste recycling, and Sam 'Ace' Rothstein ...you get the picture? We've seen two or three of his kind
this year...fascinating characters with depth, intelligence and charm, and not bad folk to count as friends either. Stylo originally contacted us while we were on tour in London weeks before but couldn't arrange a mutually convenient time to meet, then out of the blue, he called again asking us when were due to return. March we told him, when Geeze attends Eroticon in Camden, but that turned out be no good either because our friend was due back abroad then. It seemed he split his time between the Med and the UK, coming over here frequently to attend to 'business'. So Geeze suggested we could come any time he liked provided he met our expenses, not expecting much of a positive response. The man sounded rough on the phone and ran through all kinds of scenarios; in fact he hardly ever stopped talking....was it nerves? Or was he masturbating? We suffer both....on a daily basis. He said he'd call us back, and true to his word, the phone rang a half hour later....'Could we come down before next Friday?' he was asking. Geeze replied we could come 'tomorrow' if it suited and it was agreed that we would call him back with a rate and a location. To cut a long story, our friend was tying up some legal stuff with solicitors in the East End, so we found a hotel close by and 'Voila' that was it, with Stylo transferring a hefty deposit into our bank account, way more than we asked for in fact. The man WAS FOR REAL. London's a 250 mile drive from us and it was a one off with no other bookings, so we had to make it worth our while and comfy too, so we booked a 5 star hotel. We'd vowed never to use Britain's so called premier hotel chain ever again after a string of problems and disappointments over recent months, so we were excited to be going to such a luxurious establishment...the guy sounded iffy for sure but at least he'd put his money where his mouth was...we were prepared to put up with quite a lot if need be, during what was supposed to be a two hour booking. The night prior to departure he phoned requesting a kidnap role-play. Sometimes guys send us pages of scripted notes directing us scene by scene, but Stylo's 'wants' were fairly brief and specific. We were to meet him in the bar and seduce him as strangers.  Geeze would then have to go to a 'meeting', leaving Minx to entertain Stylo and lure him to the bedroom.  Geeze would then re-appear as if by surprise, the pair of us were then to 'kidnap' him, immobilize and humiliate him.
Some of you I'd hazard a bet won't swallow this, but it's 100% true I kid you not (apart from name & location changes to protect identities).
It's also not the first time we've been asked to play out this kind of scenario. Approaching the hotel the following day we felt pressured because Stylo had hustled us several times on the journey down, it was almost as if he only half believed we were going to turn up. Sadly, there are a good many escorts who would have taken the deposit and run, scumbags who sour the profession, but hey-ho, that's life. So despite diligent forward planning, Minx and I found ourselves rushing as Stylo's legal appointment finished early and he found himself heading towards our direction, way ahead of time, WHOOPS! Minx had swapped description details...as we expected he was late 50's in age, fat (his words not ours), he'd be wearing dark navy, and he'd see us at the bar. 'At' being the operative word here! The hotel was fancy, with an impressive indoor atrium. Rooms surrounded all four sides; standard inner rooms looked out over the floor below with its 3 restaurants and two bars, outer rooms like ours were deluxe kings, overlooking buildings and a large field. We were on the 4th floor so could see the bar area from the bridge linking the lift, however, we could see no-one at the bar itself or anywhere near. There were, however, a number of men sat at tables most with drinks and laptops, so we decided to go down anyway. We ordered drinks while casually surveying the various suits seated around the perimeter of the lounge, with two guys looking like they fitted the bill. So we picked a table between the two of them. Could one of them be our man? Or maybe not, because Stylo had told us were to seduce him 'at' the bar before proceeding to table. Both guys were in their 50's by the looks of it, both were tubby, both wore dark blue...INTERESTING to say the least. Minx smiled at one, he smiled back, but then Geeze focused on the other guy to our right, asking him if he was alright, if he was alone, and did he wanna join us...the kinda thing we might do in real life....to see where things might take us....you never know. Minx and I are like that. I suppose it stems back to our younger days when a good night was defined as one of those where you went out hoping you'd wake up somewhere totally unexpected the next morning, next to someone warm and willing who's hopefully not too shocked to find you next to them when they awake heehee.
Consent? Dodgy territory these days with the march of the #MeToo and #TimesUp brigade but fortunately behind us at our age 🙂
(Or maybe not, for there's always the possibility that some 'ex' could come out of the woodwork and lodge a complaint about inappropriate behaviour two decades ago....SCARY STUFF, and what's worse...be taken seriously by our left leaning police force. The boys in blue seem to be far more concerned with pc matters such as these rather than burglary & knife crime, both of which are sky-rocketing, but that is what we're up against in Britain today isn't it, Happy Days 🙁 ). Anyway, the fat guy with a brandy in his hand sauntered over with hand outstretched, before settling on a soft seat close to Minx, facing Geeze. 'Fat man in navy Number 2' appeared now to be very interested in what was going on, and it dawned on us, that even after years of escorting, we should have prepared ourselves for this scenario with some sort of code word to establish correct identity...basic stuff I know but shit happens...and it was a good few minutes before we realised that 'fat man in navy #1' was indeed Stylo. PHEW. The upside to this though was the added realism....we really hadn't known know which guy was which, especially as Stylo was a little evasive at first, playing along perhaps, with a glint in his eye. The bloke was fun but serious at the same time, slightly menacing, deeply interesting, and faintly attractive...in a word...CHEMISTRY. Drink flowed; Minx had expected him to be driving so was surprised to see the brandy, but Stylo assured her she needn't worry, a driver was outside waiting...he nodded towards a shiny black Merc ticking over outside, just in view and parked up close to the hotel's helipad. After a while Geeze excused himself so he could go to his 'meeting', hands were shook, and Minx and Stylo were left to enjoy time together. Geeze went back up, stopping briefly to observe
the pair from the overhead walkway, out of sight... they looked happy and as if they were in deep conversation together, so without further ado, G continued to the bedroom. Stylo had asked for Geeze to maybe 'hide' in the bathroom, however, Geeze thought he'd surprise Stylo and chose to leave the bathroom door wide open, concealing himself instead in the tight space behind the smoked glass doors of a double wardrobe. And there he waited. And waited. Three quarters of an hour elapsed before the pair returned, talking loudly, laughing...there had obviously been a lot more drink consumed, and the couple appeared to be in high spirits. Still, Geeze lay silent...another five minutes or so, listening to the tell tale sound of kissing, and heavy petting. It was time to intervene. Stylo must have thought we'd misinterpreted his instructions, for, seeing the bathroom door open and no-one there, he let his guard down, enjoying 'the moment'. The harsh roar of the wardrobe door sliding open rapidly in its track accompanied by cries from Geeze surprised Stylo...'WTF do you think you're doing with my wife? WTF?' Geeze rushed at the man quickly grabbing him by the wrists and snapping them together with cuffs. Stylo didn't know what had hit him. Yes, he'd wanted to be 'kidnapped'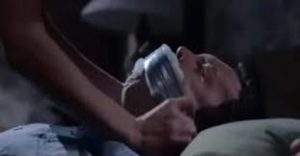 but he too now found himself immersed in the roleplay, momentarily confused, as we were in the bar before, with the two fat guys....this felt VERY REAL and a wee bit frightening. Who knows...these kinds of things, like dreams, sometimes take people back to places they'd rather not revisit from long ago.... Minx immobilized his legs with a red bondage rope threaded under the mattress....and some mattress it was too...an American Super King apparently at 80" x 80". In seconds, Stylo was bound and whimpering....Minx & I glanced at each other for an instant.....'This was what the bloke wanted wasn't it?' We interrupted the role-play for a moment to give him a safe word: 'RED ALERT' telling him to use it only if he felt genuinely uncomfortable and wanted things to stop, whilst also assuring him we wouldn't hurt him.
He'd told us he wanted to see a cock, he wanted to be made to drink female ejaculant, he wanted to be tightly bound and even asked if we had hoods...we didn't....only blindfolds.
He wouldn't allow us to de-robe him either save for his shirt....a stocky tanned body revealed itself, the guy though tubby, clearly looked after himself to a degree...we expected him to be the kinda guy who 'could handle himself' and for that reason, we were shocked as to how wimpy he became WTSHTF. Perhaps he was an 'organiser' who seldom did any 'dirty work' leaving it instead to his associates, his 'family' as they call themselves. It was clear now, that the other guy downstairs was indeed connected.....a minder perhaps. Nevertheless SEX is our business and we're always prepared to 'expect the unexpected'....this role-play was turning out to be enjoyable to say the least. It had been a hard fraught day with heavy traffic and a deadline to meet, on top of Stylos incessant phone calls and demands. Geeze found himself laughing as he twisted a red silk hog tie around his own wrist, forcing Stylo's down on to the pillow behind his head...its surprising how little effort is needed to restrain a man's arms when they are up behind his head. Minx told Stylo it was time for another drink, positioning herself over his head with one leg kneeling, the other outstretched to one side, lowering her cunt to his face ordering him to lick lightly. This calmed him down for a few minutes before Minx felt the need to press her sex hard up against his face, the sensation of the hard man's rough stubble against her fair skin sufficiently intense to take her over the edge, causing her to gush profusely and directly into Stylos's open mouth....'RED ALERT RED ALERT' stammered Stylo almost as if he was gargling, for indeed he was....Minx's heavy squirt subdued his cries, as he spluttered once more 'RED ALERT' . And so we relented untying his hands, and then told him it was time to taste a cock. But he was having none of it. RED ALERT RED ALERT, NO NO....and so it ended. We freed him, settled him down and switched into sex mode, thinking he might like to partake in some 'fun'...but No, that was it. What he did want though was company, and friendship. Geeze used to work in the West End of London and that was Stylo's fave place in the World apparently, so the two got on like a house on fire; Minx wasn't neglected either...we all enjoyed animated conversation about London, our three lives and business. Business was his lifeblood...and it seemed by reading between the lines that he was very successful at it.
The best part of escorting is the people you meet, especially the ones who you'd never expect to be anybody special, but in reality are....they are NEVER the ones who brag about money....
but you know they have it in spades from the little hints and snippets of information you can glean from careful conversation. The best bit was when he told us he wanted to take us out on a 'social' in the West End next time he was over, Thanks Stylo! It's not unknown for appreciative clients to take us out on the town at their own expense with no sex involved...again, it's part of the territory. So too is the next little escapade...yep, we're bringing you two meets this month, in way of apology for lateness in publishing, but also because the meet with Stylo was a little tame on the sex side....the guy never even got his trousers off FFS!...he paid all that money for the role-play; Anytime guys, we'll take that kinda job!
So lets now introduce you to Chris. Now guys, this meet was FULL-ON and paradoxically, similar to Stylo, in that the bottom line was HUMILIATION. We like bottom. Both these guys were super successful, and we suspect in Stylo's case he doesn't fully realise the reason the kidnap scenario appealed. Both men were surrendering themselves to others...an exchange of power...seeking comfort by giving their trust to others and allowing themselves to be humiliated...that is their kink. Chris though was no businessman or gangster...quite the opposite in fact....a VERY senior advisor to HM Government, charged with helping to solve the Brexit conundrum.
Many, I know, have scant respect for those in the corridors of power and Whitehall, but in truth these back room boys are taking a lot of flak right now, and our Chris needed some relief.
Could we humiliate him? He was on a long journey from Scotland of all places back home to Brighton, and sent us a steady stream of texts, each one getting kinkier and closer to WHAT HE REALLY WANTED. He agreed to send us an email while stopped at a motorway services, setting out his desires, and sure enough, a good few hundred words of scenario came through, describing in minute detail & without any grammatical or spelling errors, what it was he wanted. (another cue he was a sub by nature btw folks)  His kink was piss, or more accurately  UROLAGNIA. Taboo. So taboo in fact that it's illegal to view videos of it in the UK, or female ejaculation for that matter. There's a surprising numbers of convictions each year, set to increase over time as the BBFC move in to control and censor ever more XXX material in the name of the Digital Economy Act 2017, due to be implemented shortly. (I read the other day that Twitter and Google fall under their definition of porn sites, so it looks like the usual knee jerk UK legislation passed in haste and without proper consultation, then they've gone and gold plated it for good measure) So enjoy this tale while you can! Chris didn't just want to be peed on, he wanted it while fully clothed, then clothed in the bath, and, if we were able, later on while indulging in sex. WOW. We've had some heavy meets like this before using client's bathrooms and hotel wet rooms, but this time it was on home soil, so we busied ourselves laying PVC and toweling. Around an hour before his ETA, another text came through, requesting role-play be 'tacked on'. He wanted to be 'caught having sex with another man's wife and punished'. Mid afternoon arrived and a red Porsche drew up, about a hundred grands worth of Cayenne turbo, Special Edition. Out stepped a good looking man, aged around 50, dressed in beige chinos and a checkered polo shirt, carrying a sports bag. Geeze lay low while Minx welcomed him, breaking the ice, and it wasn't too long before laughter could be heard as the two got to know each other, followed by intermittent periods of quiet, as the couple kissed and fondled on the futon in the reception area.
A short while later they announced their impending presence while climbing the stairs, in loud conversation, as the excitement and anticipation began to build.
Soon they were romping on the bed.  Geeze had heard enough and broke cover. Striding in to the room he 'caught them in the act' just as the role-play demanded....it was a bit like the London meeting with Stylo, except this time Geeze accused the philanderer of 'taking the piss'...then adding 'I'll show you what taking the piss is all about son'....grabbing Chris by the arm while leading him towards the bathroom next door. 'Kneel' he ordered Chris....who complied without question....the man was dropping down into sub mode; sometimes with such people you can almost see them shrink into themselves; Whipping out his manhood while holding his other hand firmly against the back of Chris's head, Geeze inquired if he'd ever sucked cock, but didn't wait for an answer, contenting himself instead by rubbing his genitals against Chris's face...'I'll teach you to take the piss' exclaimed Geeze as he forced out a thin jet of pee....a somewhat uncomfortable feeling from a semi hard penis, but things got better as Chris started to moan and repeat over and over 'Awwwwwwwwwwwe that' s soooooooo humiliating......that's sooooooooo HUMILIATING!' The man's head was soaked, hair clamped to his skull. Kneeling within the confines of the small bathroom caused his head to intermittently make contact with the cold hard surface of the wash hand basin adding to the tension. Noting this, Geeze drew him away from under it, found the neckline of Chris's shirt, and then pulling it free from his neck, took aim with a solid stream of piss down between his shirt and back, soaking the garment and filling the void. Minx was close by, rubbing her pussy in front of Chris up close and personal but not touching...she too had drunk copious amounts of water beforehand but had signaled she wasn't ready to gush just yet; We suggested to Chris that he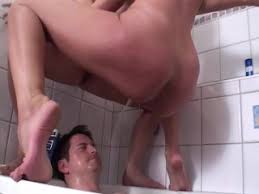 might be better off in the bath. Rising to his feet, face wet and red, polo shirt stuck to his torso and chinos patchy wet from the golden shower, Chris climbed into the bath fully clothed, and sat down in the warm water, partially concealed under a mountain of foamy bubbles. Geeze climbed in too, paddling in the space between Chris's legs and started to piss again, on to his chest, spurred on by Minx who by now 'had the urge' aiming her own stream at Chris's body.....'Awe this is fantastic...this is fantastic, FANTASTIC' he kept saying.
Guys, if you're reading this and don't 'get it' then don't judge.....every-ones different...this was Chris's kink, his 'thing'.
One never knows in the world of kink where one might end up one day....the only things that count are consent and an open mind. We felt for the man; clearly he was in heaven...never before had he felt able to be open up to any-one about his most intimate desire; we suggested he take a shower, and showed him to the en-suite and after a short while, Chris re-appeared smiling, a bath towel wrapped around his waist, revealing an upper body proportionate to weight, a few extra pounds around the tummy, but by no means fat or stocky, just right. We're not fans of slim and skinny in either male or female...things looked even better when he stripped off completely showing off a stiff 7" cock, arrow straight and hairy but trimmed; there was a fair amount of hair on his back and bottom too...the guy was attractive for sure and sensual too. Continually masturbating he feasted on Minx's tits; both men worked on her, one above, one below, before Geeze stood up, to watch Chris lick Minx's fair and silky thighs, taking care to avoid her most obvious sweet spots, bringing her to the point of intense arousal. The man had skill, unlike the many who think jabbing two fingers into a vagina hard and rough is the way to get a woman off. He was duly rewarded, as Minx
gushed her female ejaculant fair and square into his face and open mouth...incredibly, he was STILL masturbating constantly while taking her squirt! Geeze passed him a condom and helped him on with it, before Chris re-positioned himself to fuck Minx in a G-Whiz position. Geeze, stood over the pair, and as luck would have it, felt the urge to pee AGAIN, Bingo...the 4 pints of water consumed in the hour leading up to the meet needed out. 'Here you are Chris, take this too.....' urinating over Chris's back and body, a good flood, turning him on to the point where he felt the need to pull out of Minx. Ripping the 'skin' off his cock he wanked furiously cummming hard over Minx's suspender belt and tits. Geeze too was supercharged, piss gone, he too felt the need to cum and cum hard...Egged on by Chris, hot to the extreme and pouring sweat, Geeze climaxed violently and all over the submissive. Folks, this was a meeting that was HOT HOT HOT, all three of us C>O>N>N>E>C>T>E>D; its amazing when that happens....and contrary to popular belief it doesn't happen that often. Yes we have threesomes all the time, and Yes, guys are satisfied, but seldom does that CHEMISTRY really get to work, to react, but when it does it's WOW WOW and WOW again. There followed a good forty-five minutes of banter and closeness, as we warmed down, swapped stories and learned more about each other's lives. It's surprising the amount of information people divulge about themselves in those kinds of situations, and something that makes our job even more interesting; rest assured, those conversations always remain private and are never shared. Writing NEWS VIEWS n SCREWS has been a bit of a trial and a tribulation this month with computer woes, and numerous fuckwits robbing us of precious time and income through 'No Shows'. Yesterday though we experienced another HOT HOT HOT meeting believe it or not which went a long way to ease the stress....but that's another story....it must be Spring in the air, though the forecast is warning that we're about to be 'buried' in snow, yeah right! Snowflakes anybody?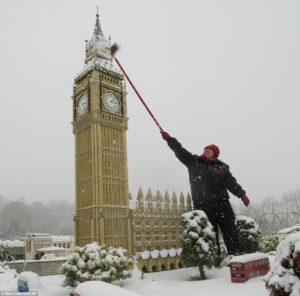 You subscribe to NVS to find out about Escort Couple life, We turn fantasy into reality, and we tell you the way it is….We thank you for your support, Stay tuned, safe sex always, until next time, Luv, fun50couple xxx
* Please note we NEVER divulge people's identities and we have changed some names and details to preserve complete anonymity.
Like what you see? Then please share with others and tell them to pop their name and email addy in the box below to receive more of the same monthly 🙂 AND, if you're not already doing so please FOLLOW US on TWITTER