Hello Sexy Friends
Well it's now nearly three months since we sold our Darlington dungeon playroom. We had hoped to be moving straight into bigger premises on Teesside but it was not to be. The hikes to commercial energy bills put paid to plans to buy the neighbouring adjoining property as well, which we'd intended to renovate & open as a bricks & mortar fetish club. The current owners, in poor health sadly, will likely struggle to remain viable, so there was a real risk we'd end up with a derelict building next door. Add to that, a vendor who turned out to be 'less than transparent' shall we say, and lawyers tossing it off while supposed to be working from home (NINE MONTHS OF LEGALS ENDURED before we called TIME) and you can begin to imagine the nightmare…. a snapshot of contemporary Britain post plandemic.
So, there's been a lot of soul searching in-between hot escort incalls in the North East, and a good sprinkling of independent escort outcalls and bespoke bookings nationwide. The delays have meant putting the heavy dungeon furniture into storage, though we've moved all the toys back home. We'd found what we thought would be a suitable alternative, however, covenants in the title deeds rang alarm bells, so now (November) we're back to Square ONE. As political activists, we're keenly aware of the potential this winter for financial collapse along the lines of 2008 if not worse, so we've decided to hold our position until the Spring. We have our eyes on another commercial building but right now we're focusing on investments & further education so we can best weather the storm and come out smiling. Stay tuned.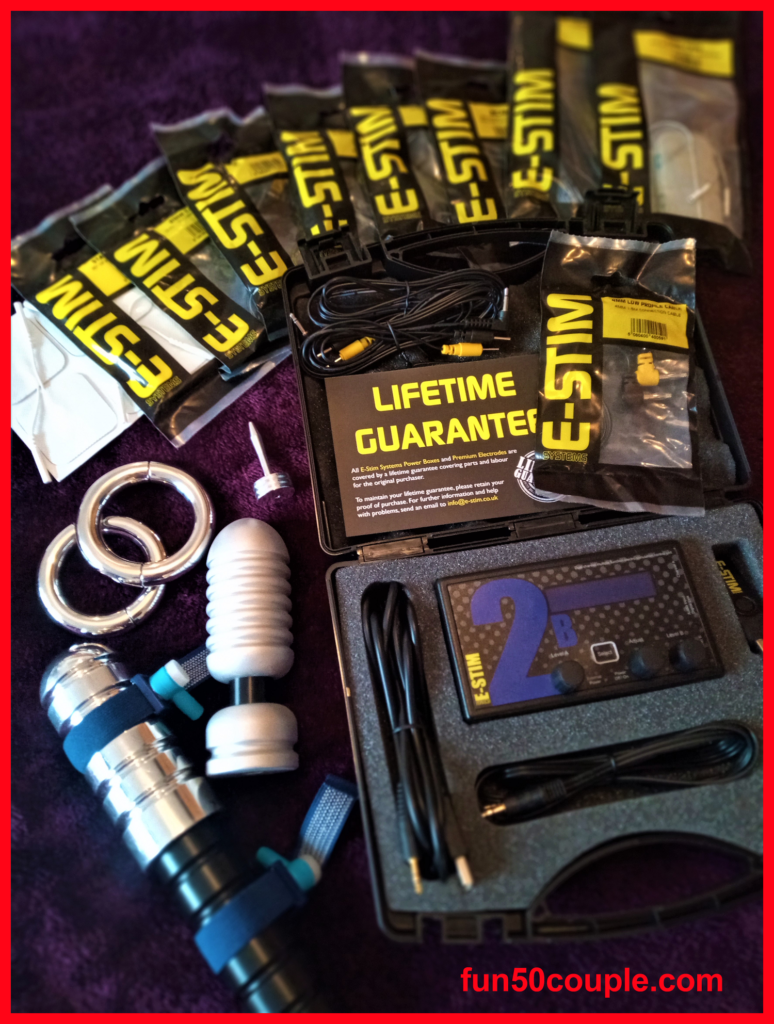 Regulars won't be surprised to learn that we're continuing to invest heavily in equipment. Just this week we've taken delivery of around a grand's worth of e-stim goodies to add to our already extensive collection. We've gone for a third power box, the ultimate in E-Stim Technology and Connectivity this time; a 2B unit with E-stim Connect Pack…. meaning we can stimulate you remotely from our dungeon playroom, over the internet to wherever you are in the World. Yep, you read that right.
For lovers of big insertions & assgasms we've added a 'Large Deviant' too, measuring a whopping 50mm diameter and 148 mm long, not as big as some of our latest synthetic dildos but that's not the point; Deviant is solid aircraft grade aluminium with stainless steel fittings, it's ribbed, and it's dual pole, though for best results we like to use it as a monopole combined with a loop or pad. Also in the e-stim shipment were new electro-cock-straps, so we won't be worrying anymore about sticky pads coming loose, also an electro PenisPlug™ with Diamond head & mirror finish. Not for the faint of heart we have to say. Mind, it never fails to amaze us how erotic e-stim can be! Guys, if you've experienced it before and been left underwhelmed, it's likely you've been at the hands of an inexperienced operator. It took me (him) years to get the best out of it, and I'm still pushing limits today. It seems almost like THERE ARE NO LIMITS save what you can physically stand. Trust the science, (heehee that's a feckin laugh isn't it) get relaxed, be 'open to exploration' 🙂 & you'll be wailing, literally, from the sexual highs this kinda kit can & will reward you with. If only you let it.
Interestingly, we've found the revamped Series ONE now called Helix to be way more powerful than Electro-Pebble, though admittedly it's not as refined. But when you're sexed up to the max 'refined' isn't something you care much about is it? We don't see a huge number of hard core e-stimmers; most recipients are regulars, experienced kinksters, who like to have it on the menu. To be fair, their kind don't need a whole lot of foreplay and warming up; its like another course of a gourmet meal to them. When they say at the end of a session 'You had me so so nearly saying Red' (our safe word) then we know we've well and truly DELIVERED. Music to our ears, and one reason we've more +++ escort feedback than almost any other escort couple in the UK. So, who's next?
Until next time,
Luv Minx & Geeze aka fun50couple xx
PS: What's happened to NEWS VIEWS & SCREWS? Well guys, atm, there simply aren't enough hours in the day. NVS takes two and a half to three full days a month to put together, & currently all our time is taken up positioning ourselves & educating ourselves to survive the economic downturn, & how to prosper from it. There'll be another issue coming out soon. Wanna know the best bit? We're planning a #giveaway, with one lucky subscriber set to receive something quite unique. Terms & Conditions apply.